Harry L. Rinker hosts
COLLECTOR INSPECTOR
An Antiques & Collectibles Series
on Home & Garden Television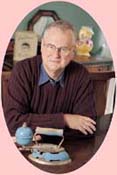 Host Harry Rinker, a national appraisal expert and prolific antiques/collectibles writer, embarks on a one-man roadshow, knocking on doors and ferreting through three homes in each episode to hunt for collectibles lurking there that could turn out to be unlikely treasures.
____Harry excavates the accumulated stuff in the attics, basements, living rooms, and closets of ordinary people to unearth antiques, collectibles, knick-knacks, flea market finds, and family heirlooms, and then appraises those items to reveal which personal treasures are truly valuable.
Harry L. Rinker, national antiques and collectibles expert, hosts the third season of COLLECTOR INSPECTOR, his popular antiques and collectibles series on Home & Garden Television (HGTV) airing weekdays at 11:30 am ET/PT. Check your local TV listings for the exact air time in other time zones.
In each episode, Harry visits three homes to hunt for antiques, collectibles, knick-knacks and family heirlooms that turn out to be unlikely treasures. Harry provides collecting and care tips in addition to appraising the items he discovers. In the show's final segment, Harry invites viewers to go "back to school," his school in Vera Cruz, Pennsylvania, to learn more about one of the items or further explain one of the tips he provided.
When asked to comment on how his show differs from other antiques and collectibles shows on television, Harry remarked: "I go directly into people's homes. They don't bring their things to me. I expect viewers to make one or more of the following remarks while viewing the show: I didn't know that; I remember that; I grew up with one of those; and/or there was one just like that at my parents', grandparents', or relatives' house."
In the show's first two seasons, Harry taped homes in Atlanta, Los Angeles, San Francisco, St. Louis, Delaware, Maryland, New Jersey, New York, and Pennsylvania . The third season will showcase homes in and around Anaheim, Los Angeles, Seattle, Honolulu, Washington DC, Maryland, and Virginia, in addition to Harry's home base in Eastern Pennsylvania. The program features homes: (1) filled with objects that descended through a family; (2) occupied by a second, third, or subsequent generation of family members, (3) built and furnished in the 1950s, 1960s, or 1970s and which still contain most of these items; or, (4) with an attic, basement, garage, shed, or barn loaded with several decades of stored material. Equally important are homeowners with strong personalities and stories to tell. The new show is as much about the stories as about the value of the objects.




FOR MORE INFORMATION CONTACT:
Harry L. Rinker
Rinker Enterprises, Inc.
22 Stillwater Circle
Brookfield, CT 06804
(484) 695-5628
harrylrinker@aol.com
Website: www.harryrinker.com