RINKER ON COLLECTIBLES — Column #1711
Copyright © Harry Rinker, LLC 2019
Questions and Answers

QUESTION: I have a tablecloth that was given to Edward Kennedy as a gift from an Asian orphanage. The tablecloth has embroidered roses on the corners. In the center of one side under an embroidered rose flanked by branches is "TO SENATOR EDWARD KENNEDY / THE VIETNAMESE REFUGES AND ORPHANS GRATEFUL / SUOI NGHE JUNE 1974." It eventually came into the possession of Wells Kline, a man who spent all his life in humanitarian rescue work involving famine, natural disasters, and wars around the world. Ted Kennedy also was involved in those issues and Wells knew Senator Kennedy. When Wells died, I inherited the tablecloth. What is its value? –JD, PA, Email Question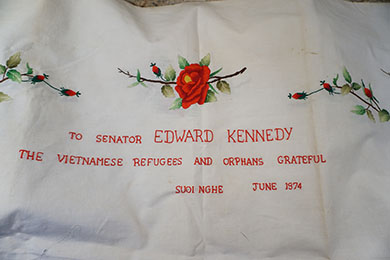 ANSWER: Su?i Nghê is a commune and village in the Châu Ð?c District, Bà R?a–Vung Tàu Province, in Vietnam. It is located on the coast of Southeast Asia.
Edward Kennedy was a member of the Senate's Subcommittee on Refugees and Escapees which focused on issues concerning Vietnam refugees. I found a reference that indicated that Edward Kennedy was chairman of the Subcommittee in 1968 and another that he still chaired the committee in 1975. In the late 1960s through the mid-1970s, the Subcommittee focused heavily on issues concerning Vietnam refugees.
Edward Kennedy made a number of trips to Vietnam prior to its fall in 1975. He first traveled there in 1965 and again in 1968. I could find no record of a trip in the 1970s, including 1974.
I suspect that someone, perhaps Wells Kline, urged the orphanage to create the gift for Kennedy. Whether Kennedy actually received it is undocumented. Could it be that Wells meant to present it to Kennedy but never did? If true, the only connection to Edward Kennedy is his name embroidered on the tablecloth.
Where does value rest? The number of collectors of Senator Edward Kennedy memorabilia is minimal. Senator Edward Kennedy's papers are housed at the JFK Presidential Library. While the JFK Presidential Library may accept the tablecloth as a gift, I doubt it would have any interest if required to buy it.
The Kennedy family remains a legend in Massachusetts, Edward Kennedy in more ways than one. Finding a marketing source in that state offers the best option to find a buyer.
The tablecloth is a minor historical curiosity. Its value is minimal, under $25.00. In terms of its history, most young people today would have little understanding of its origin or importance. Memory of the Vietnam War and its consequences are rapidly disappearing from America's collective memory.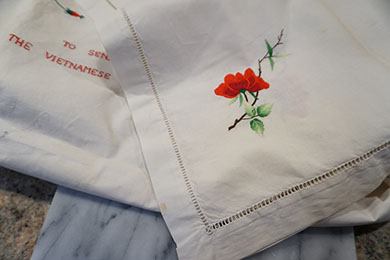 ---
QUESTION: I am helping a friend who was diagnosed with Stage 4 lung cancer and wants to sell a Thorens Music Box that she inherited from her family. The box is 24-inche long, 7-inches wide, and 8-inches in height. It has 100 discs inside. The box has an intricate design on all visible surfaces. The music box works. The box has an instruction sheet "use of Automatic Disc Musik Works 300 teeth." Because of the music box's weight, I do not want to ship it. I live in Southern California so the buyer would have to pick it up there. What is your advice? – BG, CA, Email Question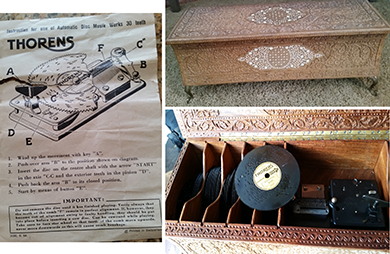 ANSWER: Thomas Thoren founded Thorens, first registered in 1883, in Sainte Croix (Ste-Croix), Vaud, Switzerland to produced music box and clock movements. The company supplied complete boxes and movements to Anri, Sliverite, and Fed Zimbalist. The first Thorens cylinder boxes were made in 1902, perhaps a few years earlier according to some sources. As the firm grew, it expanded into the production of Edison-like phonographs, pocket lighters, and skiing equipment. Thorens merged with Paillard in 1963. Three years later, Thorens ended its relationship with Paillard and entered one with EMT, forming Thoren Franz AG. In 1985-86, Reuge SA took over the production of the Thorens music boxes. Today, Thorens is a manufacturer of high-end auto equipment.
There are seven types of Thorens musical apparatus. The most common is a music box that plays 4 1/2-inch metallic discs with a 30-tooth comb called the AD30. This box dates from the 1940s through the early 1970s. A detailed list of disc titles is found at http://www.aerialphotolab.com/Thorens_Discs.htm.
WorthPoint.com has a listing for an exact match to your Thorens music box with 100 discs. eBay reported a sale on February 23, 2017, for $400.00. Individual discs usually sell in lots with the average price per disc ranging from $5.00 to $7.50 each.
Once again, this proves the point that the mathematical equation "the whole is equal to the sum of the parts" does not apply to the antiques and collectibles trade. Selling the discs separately in lots of 5 or 10 and then selling the music box will most likely lead to a return greater than $400.00.
Further, this demonstrates another truism in the antiques and collectibles trade. Instead of adding a premium to value, buyers expect a discounted price when a unit is complete or buying in quantity.
Do not break your Thorens music box apart to sell it. Assuming $400.00 is a fair secondary market retail, take any offer above $300.00. My suggestion is to put in on Craigslist in late October or November. Someone will buy it as a "fun" Christmas gift
---
QUESTION: A few years ago, I received six pieces of old cottage hickory furniture from my mother-in-law when she moved. There is a round table measuring 41 1/2-inches wide and five chairs. None have a manufacturer's mark on them. The furniture is extremely weathered, but otherwise in good condition. The furniture came from her sister and brother-in-law. They owned a cottage in Detroit Lakes, Minnesota. When the cottage was purchased in the late 1940s, the previous owners left the old cottage hickory furniture behind. The brother-in-law kept telling his wife not to throw the furniture out because it is worth money. Is it? – TD, MN, Email Question.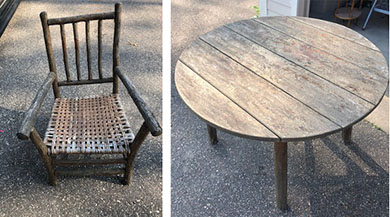 ANSWER: Using the images that accompanied your email, I tried to identify the manufacturer of your pieces. I was not successful.
Assuming they were made in the 1920s or 1930s, there are a number of possibilities including: Old Hickory Furniture Company (Martinsville, Indiana); Rustic Hickory Furniture Company (LaPorte, Indiana); Indiana Hickory Furniture Company (Colfax, Indiana); Columbus History Furniture Company (Bedford, Indiana); and Indiana Willow Products Company (Martinsville, Indiana). Most of these companies branded their furniture. A few used paper labels to identify their pieces. In addition, there were numerous other manufacturers scattered throughout the Midwest.
Compared to the pieces produced by the above companies, your table and chairs do not match the quality of their pieces. They definitely are not handmade; they came from a factory.
The secondary markets for cottage furniture are the upper Midwest and Adirondacks of New York. Craigslist is the obvious marketing tool. List the set at "Best offer above $150.00." You can try $200.00 but given the fact that the table and chairs need some restoration work, this number seems high to me.
---
QUESTION: I have a liquor decanter. The glass bottle is included in a brass container with openings on the side that reveal black alternating 19th century style silhouettes of a standing man with a top hat and a lady dressed in a formal dress. The base has a music box that plays "How Dry I Am." It belonged to my maternal grandfather who was born in Stuttgart, Germany and immigrated with his parents to the United States when he was one or two. My mother was born in 1915. What is its value? Would the value change if I polished the brass? – J, Email Question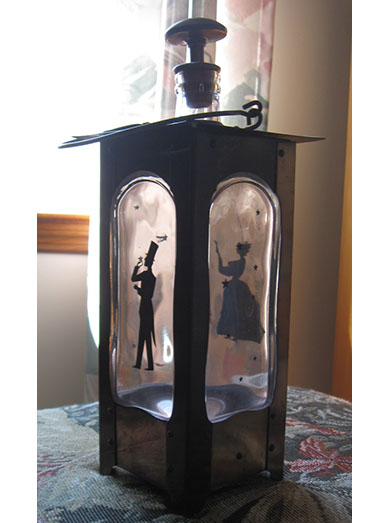 ANSWER: The critical piece of information needed to date this piece is in what year did your grandfather die. This is the last date he could have purchased the bottle.
Research reveals the bottle dated from the 1950s or 1960s, a time when music boxes, especially those that played "How Dry I Am," were commonly attached to the bottom of liquor bottles. I found an exact match on WorthPoint.com that sold for $20.00 on December 15, 2013, as reported by eBay. No date was given in the listing. Using a date search, I found similar examples but the price had dropped to $10.00 to $15.00.
Your liquor decanter has more sentimental/family value than collectible value. Unless you are dissatisfied with its surface appearance, I would not recommend polishing it. If not, then polish it. Try a test spot near one of the feet first to make certain the polishing works. If not, stop and let it remain as it is.
---
Harry L. Rinker welcomes questions from readers about collectibles, those mass-produced items from the twentieth and twenty-first centuries. Selected letters will be answered in this column. Harry cannot provide personal answers. Photos and other material submitted cannot be returned. Send your questions to: Rinker on Collectibles, 5955 Mill Point Court SE, Kentwood, MI 49512. You also can e-mail your questions to harrylrinker@aol.com. Only e-mails containing a full name and mailing address will be considered.