RINKER ON COLLECTIBLES — Column #1709
Copyright © Harry Rinker, LLC 2019
Questions and Answers

QUESTION: I have a card that features the presidential seal on the front beneath which is "WELCOME ABOARD THE COLUMBINE." The back of the card contains detailed information about the name, role of the aircraft, and construction and flight statistics. There is no mention of a specific president on the front or back. What is the card's value? –GJ, Email Question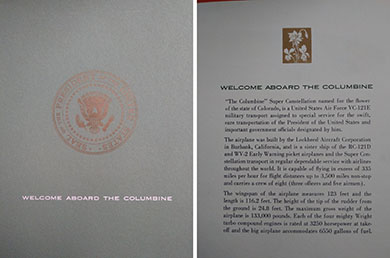 ANSWER: Your card is from Columbine III. Its predecessor, Columbine II was a Lockheed C-121A built at Burbank, California. and assigned to the Lockheed Air Service International maintenance facility at Keflavik, Iceland. In November 1952, President-elect Dwight Eisenhower used the aircraft to travel to South Korea. The plane was converted to a VC-121-LO for use by the president.
Columbine II was replaced by a United States Air Force VC-121-E, also built by Lockheed. This plane became the Columbine III, named after the state flower of Colorado and in honor of his wife. Mrs. Eisenhower christened the aircraft using a flask of Colorado water instead of champagne on November 24, 1954.
The plane's call sign became "Air Force One." In July 1955, the plane carried President Eisenhower and Secretary of State John Foster Dulles to Geneva, Switzerland, for the first peacetime summit between leaders of the West and the Soviet Union.
Once Eisenhower left office, it continued to be used as a VIP Transport. The aircraft was retired in April 1966 and flown to the National Museum of the United States Air Force at the Wright-Patterson Air Force Base, located near Dayton, Ohio. The plane has been on continual display ever since.
There is a critical question that needs to be answered about your card. Was it distributed to individuals who traveled aboard Columbine III when it was used for presidential and VIP service or was it a card provided to visitors who saw the plane at the National Museum of the United States Air Force?
If either is true, the secondary market should be flooded with examples. Such is not case. An extensive internet search resulted in my finding no identical copies. This also eliminates the possibility of a fantasy or fake item.
There is another possibility. There are so many examples around to the point where they have minimal secondary market value and no one is going to the bother of trying to sell them.
When teaching authentication, I tell my audience/students to view each object through the eyes of the French justice system—guilty until proven innocent. At this point, the innocence of your "WELCOME ABOARD THE COLUMBINE" card has not been proven to me. Until it has, the card has curiosity value of $2.00 to $5.00.
If a "Rinker on Collectibles" reader has more background knowledge regarding the origin of this card, email me at harrylrinker@aol.com.
---
QUESTION: My wife and I recently became owners of a unique piece of dining room furniture. It is essentially a dining room table in a dining room cabinet. When the false top drawer springs up and slides into the cabinet, four table leaves are revealed. The second drawer contains a leaf with two legs that extends outward to allow one, two, three, or four leaves to be inserted depending on the size of the table desired. The third drawer is lined with green felt for silverware. When the two cabinet drawers on the bottom are open, there are shelves to store glassware and china. The label on the bottom reads: "Alliance Furniture Company / Div. of Tilloston Furniture Company / Manufacturers of / DINING ROOM FURNITURE / JAMESTOWN….NEW YORK." Branded into the wood above the label is "TFC 10 4 38." What is my hidden table furniture cabinet worth? – AC, Email Question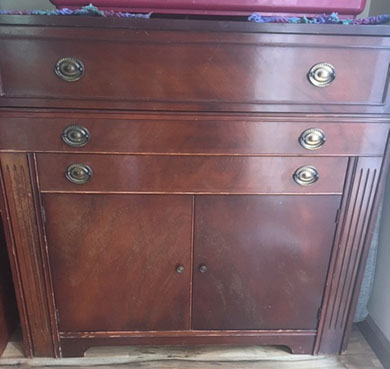 ANSWER: Before proceeding, I want to thank Barb Cessna, Cindy Dustin, and Reuben Fenton at the Fenton Historical Society in Jamestown, New York.
Clarence C. Carlson's "The Jamestown Furniture Industry: History in Wood, 1816-1920," published by the History Press in 2014, contains a detailed history of the Alliance Furniture Company. Eight individuals including Swedes Charles Berglund, Edward Bergquist, Joseph Carlson, Oscar Carlson, Gustaf A. Lund, and Augustus A. Sandburg founded the Alliance Furniture Company in January 1905. Alliance produced a better grade of dining room furniture in a wide variety of designs using mahogany and oak.
James Tilloston, Jr., came from Grand Rapids, Michigan, to work at Jamestown Table in 1906 and immediately became a stockholder. In 1916 or 1917, he became secretary/treasurer of the company. Eventually he bought the H.P. Robertson Company and renamed it Tilloston Furniture Company.
The Depression, World War II, and a series of labor strikes in Jamestown caused many firms to merge, sell, or go out of business. In 1952, Tilloston Furniture Company gained control of the Alliance Furniture Company. It continued to produced furniture under the Alliance Furniture tradename. James Tilloston, Jr., died in the same year. His wife Alberta became president of the company. James III became president upon Alberta's death in 1959.
Tilloston Furniture merged with Jamestown Sterling Furniture Company. Sterling discontinued the use of the Tilloston name.
Based on the above information, your dining room table in a cabinet was made in the mid-1950s.
Internet research revealed that Alliance Furniture was not the only firm making buffets with hidden foldout tables in the mid-20th century. In addition, the Amish Furniture Company makes a Frontier Island buffet foldout table that retails around $3,175.00.
I found several internet sale listings for mid-20th century cabinets containing hidden tables selling as low as $375.00 and as high as $500.00. In an urban market where less than 1,000 square feet apartments and condos are common, the reuse value of your piece increased considerably. This is case where I am going to allow my heart to trump my head. Properly marketed, your piece has a value between $650.00 and $800.00.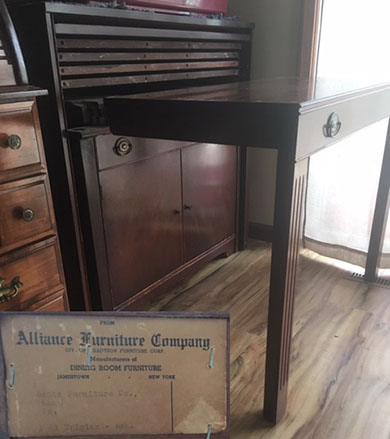 ---
QUESTION: What can you tell me about a book that is all in German and titled "REMBRANDT GEMÄLDE", copyrighted by Phaidon-Verlag of Vienna in 1933. It has a fabric cover and includes images of pictures by Rembrandt, mostly of him and his family. Does it have any value? – CB, Salem, OH, Letter
ANSWER: I did find a book by this title with a fabric cover. The copyright page reads: "COPYRIGHTED 1931 BY PHAIDON VERLAG / DR. HOROVITZ VIENNA/ ALLE RECTE AN TEXT UND BILDERN VORBEHALTER/ PRINTED IN AUSTRIA. However, the listings on Abebooks.com, eBay.com, and other sources indicate the author is A. Bredius and the publishing date is 1935. The Bredius edition may be an English translation.
The eBay seller is asking $13.99 which includes free shipping. An Esty seller has reduced the price from $20.00 to $16.00. A British seller on Abebooks wants £11.66 ($14.77). In summary, your book has minimal value. Given there are no buyers at the above prices, think $5.00 to $7.00.
---
QUESTION: I own an original Cabbage Patch Doll shipping box. What is its value? – Email Question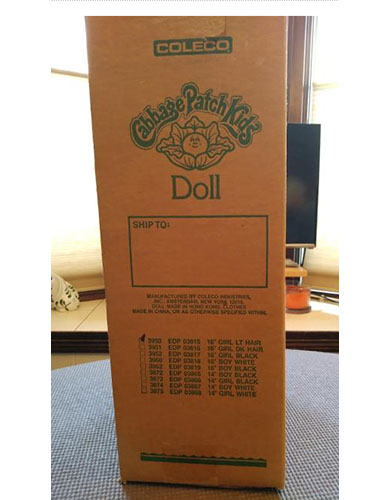 ANSWER: Your box is from Coleco. Martha Nelson Thomas of Kentucky created the Cabbage Patch doll. When Martha denied Xavier Roberts, a Georgia Gift Shop owner, permission to sell her dolls, he stole the design and began making his own version. Martha never saw a dime. Of course, this is not the official version of the story.
Xavier Robert and five friends organized the Original Appalachian Artworks, Inc., in 1978 to sell plush, handmade "Little People" dolls. In 1982, when Original Appalachian Artworks was unable to fill its orders, the company signed a contract with Coleco to mass-produce the dolls. The Coleco dolls have plastic head and were called Cabbage Patch Kids.
Collector demand for early Coleco shipping boxes is virtually non-existent. A collector might pay $3.00 to $5.00. Finding a collector who wants one is the problem.
---
Harry L. Rinker welcomes questions from readers about collectibles, those mass-produced items from the twentieth and twenty-first centuries. Selected letters will be answered in this column. Harry cannot provide personal answers. Photos and other material submitted cannot be returned. Send your questions to: Rinker on Collectibles, 5955 Mill Point Court SE, Kentwood, MI 49512. You also can e-mail your questions to harrylrinker@aol.com. Only e-mails containing a full name and mailing address will be considered.