RINKER ON COLLECTIBLES — Column #1699
Copyright © Harry Rinker, LLC 2019
Questions and Answers

QUESTION: My father-in-law was an avid collector of antiques, coins, and stamps. Several years ago, he gave my wife and me a collection of bicentennial items he assembled. Among the items were 100 two-dollar bills that had one or more stamps applied to them and then were cancelled. One group of 50 bills has a single flag from the US Postal Service 50 State flag stamp pane, each canceled on July 4, 1976, at the New Cumberland Army Depot Freedom Train Station. The stamps on the other 50 bills vary from Dag Hammarskjold and Bicentennial stamps to Olympic and First Man on the Moon stamps. We put them in a safety deposit box and basically forgot about them. After he passed away, I talked with several antiques dealers trying to find out about this combination of bills and stamps. I received basically the same answer from all of them – very unusual collection, probably the only one in existence but not sure they are worth anything. My wife and I are getting up in age and want to get rid of the things in which our children have no interest. What do I have and what advice can you provide about disposing of them? – BB, Grandy, NC, Email Question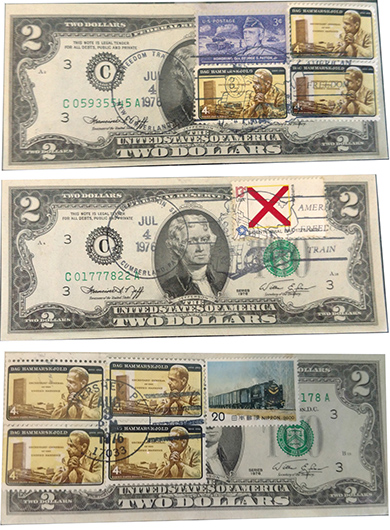 ANSWER: Your collection is not unique. The first two-dollar bill was printed in 1862 and pictured Alexander Hamilton. In 1869, Thomas Jefferson replaced Hamilton. The printing of two-dollar bills ended in 1966 due to insufficient use. The printing of the two-dollar bill resumed in 1976 as part of the Bicentennial celebration. The new two-dollar bills were released on April 14, 1976.
Individuals were told to take the new two-dollar bills to the post office, add a stamp or stamps, and have them canceled with a rubber stamp to create a special collectible keepsake. Some individuals just had the rubber stamp added to the bill. The result was a form of mass hysteria. So many people did this that release date postmarked bills are a glut on the market.
The two-dollar bill, stamp, cancellation craze received its second wind on July 4. Once again, post offices across the United States were flooded with requests to have a two-dollar bill with one or more stamps rubber stamped with a July 4, 1976 cancellation date. These bills are a glut on the market as well.
Your question brought back a personal memory. My mother was one of the people caught up in the craze. When she died in 1977, I found several two-dollar, stamp, and rubber stamp cancellation bills in her safety deposit box.
Let's start with the good news first. You have $200.00 worth of two-dollar bills. You can take them to a bank and deposit them. This is about the only good news there is.
There is no way you are going to recover the money spent to rent the safety deposit box for all those years. I have added the topic "it does not belong in a safety deposit box" to my list of future "Rinker on Collectibles" topics Safety deposit boxes and storage sheds fall into the same "avoid it if at all possible" category.
I decided to call Cheryl Ganz, former curator at the United States Postal Museum and member of the Citizens Stamp Advisory Committee (on which I also serve), to have her weigh in on your hoard of two-dollar bills. Cheryl noted that your two-dollars with a stamp and rubber cancellation are a subcategory within the PNC (Philatelic Numismatic Collectible) subcategory of stamp collecting. In the 1970s, philatelic and numismatic collectors were seeking to create products through which the two collecting groups could find common ground. A more traditional PNC is a first day cover with a stamp and commemorative medal included as part of the envelope.
Now for the tricky part. Large stamp dealers and currency dealers sell 1976 and other dated two-dollar bill with canceled stamps attached. The standard asking price is between $6.00 and $10.00 dollars. Depending on the stamp, the value can exceed $20.00. WorthPoint.com contained a listing for a February 10, 2017, eBay report of 5 two-dollar bills with one Bicentennial canceled stamp on each. The lot sold for $18.50, roughly $3.50 each.
The question is how much time and effort are you willing to spend to make more than the $200.00 you will receive if you simply deposit the bills at your local bank? Cheryl suggested you might want to contact some of the large philatelic or numismatic dealers found on the internet and offer the collection to them with a "best offer over $250.00" sale pitch. Avoid the philatelic and numismatic auctioneers. You will be lucky to receive the face value of the bills after the auctioneer's commission is deducted from the hammer price.
Thanks for the trip down memory lane. Since the children do not want the bills, the money is yours to spend. Enjoy!
---
QUESTION: I inherited a dragon spittoon from my grandfather's estate in the early 1990s. There are no markings on it except for "3621" on the bottom. It has a brass shell top, cast iron base, and circular, white enameled insert. I have not been able to find any information about this online in terms of who made it, where it came from, or its value. Perhaps you can help? – L, Sheridan, WY, Email Question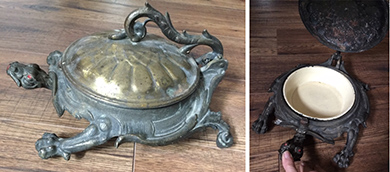 ANSWER: Your spittoon was made by Bradley and Hubbard in the late 19th or early 20th century. The "3612" is the Bradley and Hubbard catalog number. Because of its 11 x 9-inch size, it is often documented as a "Lady's" spittoon.
The Bradley and Hubbard Manufacturing company, located in Meriden, Connecticut, operated between 1852 and 1940. The company manufactured a wide variety of cast products including architectural grills, railings, and other ornamental pieces, brass tables, call bells, candlestick holders, clocks, lamp bases, lamp fixtures, match safes, and other household products. Like other manufacturers of the period, Bradley and Hubbard kept the same piece in inventory for decades, updating as time progressed.
I found several variations of your Bradley and Hubbard dragon spittoon. The majority have a cast iron top that matches the base. A "Sale Date" search on WorthPoint.com for "dragon spittoon" produced almost a dozen listings. Several all cast iron examples sold in 2019 for prices ranging from $158.00 to $295.00. The $295.00 seems high. An example with a brass top and cast-iron base brought less than $100.00. A fair secondary market retail value for your spittoon is between $100.00 and $120.00.
---
QUESTION: I have a large collection of Goebel Go-Boys. Other than eBay, is there anyone who buys them in quantity? – JS, Email Question
ANSWER: Goebel produced its Go-boy gnome figures between 1971 and 1987. Along with Charlotte Byj's Redheads, Go-Boys were an attempt by Goebel to take advantage of the 1970s collector edition figurine craze.
In order to market Go-Boys, Goebel created a fictional backstory. The Gnomes live in Coburg, Germany. There actually is a Coburg, Germany, a town of 40,00 inhabitants located on the Itz River in Bavaria. The fictional story is that the Coburg residents forgot how to laugh. One day a resident came up with the bright idea to construct a long-forgotten world of gnomes who lived in the area. It is not clear why this revelation caused people to laugh again, but it did. Or, at least, so the story goes. Given the initial sales success of the figures, clearly the Goebel management was laughing all the way to the bank.
All good things must come to end. The collectible edition figurine craze ended by the late 1980s. Goebel was smart enough to see the end coming and stopped producing Go-boys, thus saving the world from more gnomes than it possibly needs.
Much to my surprise the secondary market for Go-Boy figures is stronger than I expected. A "Sale Date" search on WorthPoint.com indicates that the average figurine is selling through between $15.00 and $25.00, with a few figures such as "Bill the Bachelor" selling in the mid-30 dollars range.
Given the above, sell your figures on eBay. You will not get higher prices anywhere else. If you sell to a dealer, expect to receive 30 cents on the secondary market retail dollar. Selling them at auction would be a disaster. You would be lucky to get a dollar each at a garage/yard sale.
Craigslist is the other alternative. Sell them as a lot with an asking price based on $5.00 each. It is less than eBay. But, do you really want to go to the trouble to list the pieces, track the prices, contact the seller, ship the merchandise, and wait for payment? I do not think so.
---
READER'S RESPONSE: Several columns ago, I answered a question about the collectability of mattress labels. I speculated that there had to be a collector for them somewhere, but I did not know where. Michelle Luck sent me an email informing me that Phil Ondersma, who cleans out estates, has a collection of mattress labels. Way to go Phil.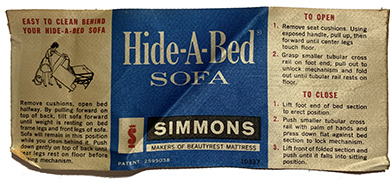 ---
Harry L. Rinker welcomes questions from readers about collectibles, those mass-produced items from the twentieth and twenty-first centuries. Selected letters will be answered in this column. Harry cannot provide personal answers. Photos and other material submitted cannot be returned. Send your questions to: Rinker on Collectibles, 5955 Mill Point Court SE, Kentwood, MI 49512. You also can e-mail your questions to harrylrinker@aol.com. Only e-mails containing a full name and mailing address will be considered.