RINKER ON COLLECTIBLES — Column #1697
Copyright © Harry Rinker, LLC 2019
Questions and Answers

QUESTION: I own a 1940 Royal Doulton Winston Churchill Loving Cup. The loving cup features a white (cream) glaze image of Churchill's face and two black handles. The base is marked: "WINSTON SPENCER CHURCHILL / PRIME MINISTER OF BRITAIN / 1940 / THIS LOVING CUP WAS MADE / DURING THE 'BATTLE OF BRITAIN' / AS A TRIBUTE TO A GREAT LEADER / MODELLED BY NOKE." The outside is in fine condition. There is a brown stain ring in the middle of the inside. In the sixth edition of Jean Dale's "Royal Doulton Jugs: A Charlton Standard Catalogue," published by Charlton Press in 2000, the Churchill Loving Cup is valued between $5,000.00 and $7,000.00. Is this a fair secondary market price? – Beaumont, Texas, Appraisal Clinic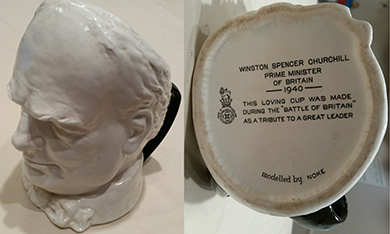 ANSWER: When using any price guide, pay close attention to the publishing date. The price guide you are using was written before the 2008-2009 Great Recession. Jean Dale's 10th edition and last of her "Royal Doulton Jugs" appeared in 2008. The reason is simple. No one will buy a reference book that indicates the values within their favorite collecting category are declining or have collapsed.
Churchill was not fond of Noke's likeness of him. As a result, Royal Doulton quickly withdrew the piece from production.
There are several firsts associated with the Churchill Loving Cup. It was the first Royal Doulton character jug modelled after a contemporary personality. It also was the first character jug to be retired. Noke did several new models using a "younger" face and adding color. Although prototypes were made, none were mass marketed.
Royal Doulton assigned the identification "D6170" to the Churchill Loving Cup. Its dimension are 5 1/8-inches wide, 7-inces in diameter, and 7 1/8-inches high.
Peggy Davies modeled a Winston Churchill character jug for Kevin Francis who issued it in a limited edition of 250. There are two version – full color and light brown.
Live Auctioneers lists a 2013 sale by Morton Auctioneers of Houston, Texas, of a Winston Churchill Loving Cup described as "off white (cream) with two back handles. Condition is excellent with no chips, cracks or hairlines. It does however have overall fine crazing with light age coloration, mostly on the inside of the jug." The estimate was $7,000.00. It sold for $1,600.00. Unless I miss my guess, this is the jug that you own.
WorthPoint.com contains a listing for a sale reported by eBay of the Royal Doulton D6170 Winston Churchill Loving Cup that sold on September 20, 2016 for $4,000.00. It is not clear if the Loving Cup was sold on eBay or by one of the auction companies who uses Ebay's live auction software.
The 1940 Winston Churchill Loving Cup has its maximum value in the English secondary market. It might bring between $3,000.00 and $3,500.00, a value based on the discoloration inside, in England. Appraisers are required to value objects in the marketplace in which they see them. Since Beaumont is close to Houston and Dallas and assuming the piece was sold by an auction house that uses live bidding on the internet, it is possible that the piece would sell through between $2,250.00 and $2,500.00. When considering the amount of money you will received from an auction, do not forget to deduct the commission and other charges assessed by the auctioneer.
---
QUESTION: I have two Belleek pieces that I would like you to value. The first is a pitcher with an elongated bulbous body upon which is a relief rose and stem motif. The blue mark on the bottom reads: "MILLENNIUM COLLECTION" in an arch above a black logo featuring the Irish Wolfhound, castle, and harp mark with "BELLEEK" in a banner beneath which is "EST. 1857," and "PITCHER" in a reverse arch underneath the logo mark. The second piece is a "PEACE" plate featuring two opposing doves flying over Ireland. The period box is marked "FINE PARIAN CHINA." – KS, Sinking Spring, PA, Email Question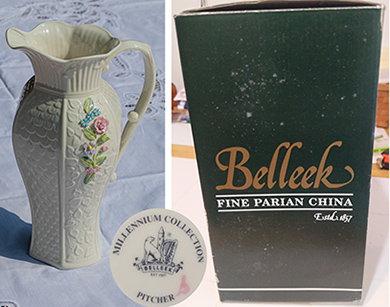 ANSWER: Since Belleek changed its backstamp marks and mark colors frequently, it is easy to date Belleek pieces. In respect to the vase, this is a moot point. "Millennium" clearly indicates the piece dates after 2000. Belleek issued its 10th mark (the Millennium mark) for pieces made during 2000. Obviously, Belleek continued to produce Millennium Collection pieces for several subsequent years. Your mark is a variation of the 10th and 11th Belleek marks.
The Millennium Collector pitcher is 10 1/2-inches high. The creamy white body has an overall fish scale design with a hand-molded multi-colored floral spray on one side and an exotic bird on the other.
The Peace Plate, #2135, measures 9 1/4-inch in diameter and has 24K gilt highlighting. The image depicts the island of Ireland above which hover two doves carrying an olive branch between them. A garland of hand-painted shamrocks rims the plate. The plate initially was produced as an exclusive for Cash's Ireland. Cash's plates have the 8th navy blue Belleek mark used between 1993 and 1996.
The recent nature of these plates caused their secondary market value to fall under Rinker's 30 Year Rule—for the first 30 years of anything's life, all its value is speculative. A strong secondary market value for your pitcher is between $22.00 and $25.00 and your "Peace" plate around $15.00.
The secondary Belleek market is very soft. The pieces are too delicate (not dishwasher safe), too formal, or not useful enough to attract younger buyers. Although younger secondary market buyers are brand name conscious, Belleek is not one of the brands with which they identify.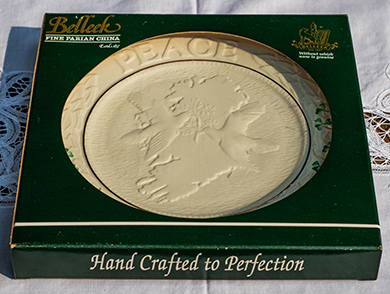 ---
QUESTION: A figurine of a buffalo made by Armor Bronze was included in a box lot I recently bought at auction. The buffalo rests atop a large mound. The shield Armor Bronze paper label is on the bottom. There is a mark on the side that appears to be a "G" inside a circle. I looked on the internet and only found a figurine called "Buffalo Hunt" which has an Indian on horseback behind the Buffalo. Can you tell me anything about this? Is it an earlier piece than the Buffalo hunter or maybe even a trial piece that got out by mistake? – TS, Email Question
ANSWER: When someone tells me they cannot find information about an object on the internet, my stock answer is where did you look? There are numerous images of your Armor Bronze buffalo scattered throughout the internet.
The founding date for Armor Bronze is subject to dispute. Some claim an origin dating back to 1880. Others favor a 1910 date. A 1915 print advertisement indicated Armor Bronze, initially The National Metalizing Company (dropped as the company name in 1920), had a main office and factory in Garwood, New Jersey and a studio/showroom at 333 Fourth Avenue in New York City. The company made bookends, doorstops, figurines, lamps, sculptures, trays, and other metal products in bronze and bronze plating. The company was located in Taunton, Massachusetts in 1934. In 1946, Armor Bronze Company became Armor Bronze and Silver Company, the latter ceasing operation in 1950. [See: http://www.antiquebookends.us/pg/makers-bronzeclad.php.]
Armor Bronze did a number of sculptures with western themes. J. K. Krupka modeled a figurine of a buffalo with its front feet resting on a mound. It is signed "J.K. Krupka 1914." The figurine was sold individually or as a pair of bookends. It is not a match for the buffalo figurine you own.
At some future point, most likely in the late 1920s or early 30s, the Armor Bronze Company had a new buffalo figurine modeled. Where the Krupka figurine only had the buffalo's front feet on the mound, this later figurine had all four feet resting on the mound. The buffalo image is nearly identical to the buffalo on the Indian on a horse hunting a buffalo figurine. Armor Bronze adapted its sculptural models to produce multiple products.
Your figurine is one of a bookend set. As noted, it also can be used as a standalone figure. Its secondary market value is between $100.00 and $125.00.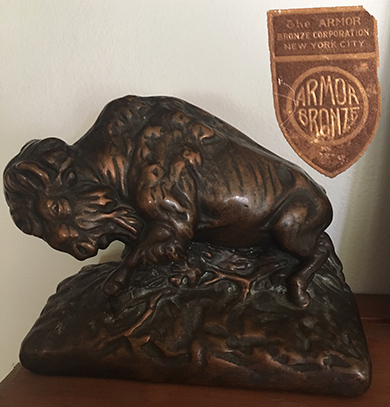 ---
Harry L. Rinker welcomes questions from readers about collectibles, those mass-produced items from the twentieth and twenty-first centuries. Selected letters will be answered in this column. Harry cannot provide personal answers. Photos and other material submitted cannot be returned. Send your questions to: Rinker on Collectibles, 5955 Mill Point Court SE, Kentwood, MI 49512. You also can e-mail your questions to harrylrinker@aol.com. Only e-mails containing a full name and mailing address will be considered.