RINKER ON COLLECTIBLES — Column #1693
Copyright © Harry Rinker, LLC 2019
Questions and Answers

QUESTION: I own an unused bag of Edison Cement. It is marked: "Net Weight 94 lbs. / [large arched letters] Edison / [signature] Thomas A. Edison / PORTLAND / [large letters] CEMENT / EDISON CEMENT CORPORATION / NEW VILLAGE / N.J. / [arched] Edison." I live in Warren County, New Jersey, and have often driven over the 1 mile of cement State Highway 57 in Franklin County, New Jersey, that Edison poured in 1912 to demonstrate the longevity of cement highways. Please provide some additional information about Edison's New Village Cement plant and the value of my empty bag. – BH, Warrren County, NJ, Email Question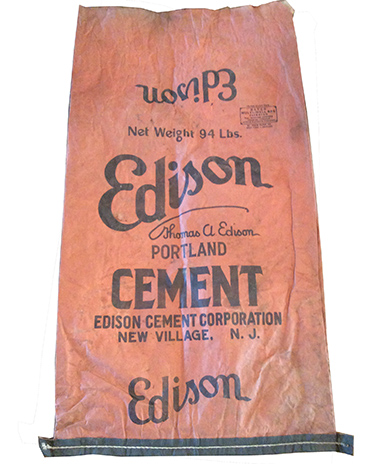 ANSWER: The list of Edison's inventions such as the electric light, Dictaphone, movie projector, and phonograph are well documented. Edison developed each into a major business enterprise. Edison's entrepreneurial efforts in other areas are less well known.
In 1881, Edison established the Edison Ore-Milling Company. He created new technologies for iron ore milling. His efforts met with limited success. Edison sold the large quantity of waste sand, a byproduct, to local cement companies.
In 1899, Edison formed the Edison Portland Cement Company. When his New Village Cement plant opened in 1901, it consisted of more than 60 buildings, underground passages for conveyors, and a rail system direct from the plant to the Ogdensburg quarry.
Once again, Edison turned his inventive genius to the task. His cement mill had the first 150-foot long rotating kiln. He licensed this technology to other cement companies. Edison's 10-ton rock crusher meant that large boulders did not have to be returned to the quarry and re-blasted.
In addition to the use of Edison Cement in the Concrete Mile, 180,000 bags of Edison Cement were used in the 1922 construction of Yankee Stadium (which explained the demolition difficulties when the stadium was being torn down), and concrete houses in Essex, Union, and Warren counties. Edison also used his cement in the construction of his personal automobile garage and gardener's cottage.
Edison Cement was only moderately successful. When the local limestone sources were depleted, the company took a slow path to bankruptcy. Edison's son Charles became the manager of Edison Cement when his father died in 1931. The plant closed in 1935. The company ended its existence in 1942.
[See: https://www.thehistorygirl.com/2017/10/edison-portland-cement-plant-new-village-nj.html for a more detailed account.]
A search of Edison Cement on WorthPoint.com resulted in a list of surviving objects associated with the company – cement bags, employee badges, limestone ores, paper clips, signs, and stock certificates. I did a "Sale Date" search to make certain I had access to the most recent prices. Empty Edison Cement bags sell between $45.00 and $60.00. On May 13, 2018, one sold for $300.00, an anomaly since there were bags before and after that listing that sold within the earlier range. Because your bag is in fine or better condition and in the area where the plant was located, I value it between $55.00 and $70.00.
---
QUESTION: In May 2019, I bought a 15-inch tall statue of a western figure at Vogt Auctions in San Antonio, Texas. The figure has a chamfered corner rectangular base. It is 4 1/2-inches wide at its widest point. A separate 6-inch long rifle accompanied the figure. It appears to be bronze coated, albeit when I scraped away part of the coating on the bottom on the base, there was a gold color to the metal. My wife took one look at it and said: "That's Wild Bill Hickok." The figure is not marked or initialed. I removed the felt pad on the bottom and found nothing. I paid $69.50, which included a 15.5 percent buyer's penalty, for the statue. The statue was part of a container load of material from Scandinavia. I am baffled why such a figure was part of a load from Scandinavia. What is your opinion? – AM, San Antonio, TX, Email Question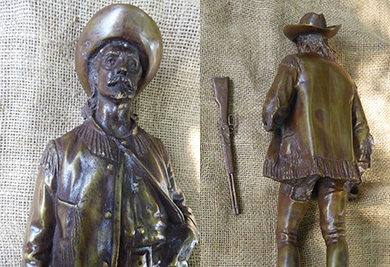 ANSWER: I will answer the last part first. Europeans, especially the Germans, always have been fascinated with the American West, especially the "wild west." Silver Lake City is a theme park in eastern Germany, not far from Berlin. It is designed to allow Europeans to "relive their Cowboy-and-Indian fantasies from their childhoods." Pullman City, another western theme park in Eging am See deep in the heart of Bavaria, entertains over a million visitors a year.
In addition to a fascination with American movie westerns, Europeans love television westerns, especially Bonanza. Western television shows licensed European products. Bill Boyd (Hopalong Cassidy) was one of the first Hollywood cowboy heroes to do this.
Given the above, it makes absolute sense that a Scandinavian would own a statue depicting an American western cowboy or buffalo hunter. It makes further sense that someone assembling container loads for sale in America would place the statue in a container destined for Texas rather than New Jersey.
There is no question the image in the statue closely resembles that of Wild Bill Hickock. I spent over an hour doing internet research trying to match the image of the statue with a known photograph of Wild Bill Hickok. I had no luck. Further, while I found some Wild Bill Hickok figures that closely resembled the statute you own, I did not find a direct match.
The lack of detail suggests that the stature is bronze patina coated metal. You indicated in your email that a magnet did not stick to the statute. While it is true a magnet does not stick to brass or bronze, it does not mean the base metal of your statue is either of these. There are other non-magnetic metals.
I am afraid the French system of justice prevails – guilty until proven innocent. Name the figure whatever you like. It is not a figure of Wild Bill Hickok until you have better proof than I was able to find.
The good news is that anything western sells in Texas. Although I found similar Wild Bill Hickok figures that sold within the range of $60.00 to $75.00, I assume you could easily resell it for $100.00 or more in Texas or throughout the Southwest and Mountain states.
---
QUESTION: I have a small sculpture I received as a gift in 1993. I have not been able to find out much about it. When I received it, I did receive a letter from Betty Johnston, the giver. The letter reads: "10/24/93 // Dear Jeanne and Mark // Congratulations on your wedding. I've never had the opportunity to meet either of you, but I've known and loved the Mikkelson family for many years. // I thought you'd like some background about my gift to you. // It is cold cast bronze and its interior is powdered metal. It was made by the firm "Heredities," an English firm, which may be out of business now. It is one of a series, designed by a sculptor, W. Elpeck [correct spelling Elphick] in 1917, long before you were born. // It pictures a Bealington terrier and a mongrel cat. Their names are Percival and Puss, but also appeared as pen and ink drawings in British newspapers. Each appearance shows puzzling behavior between animals, similar to the puzzlement between humans. This is the only sculpture that survived the closing of my shop and I know you'll give it a good home…."
I have not been able to find out much about it. Can you help? – L, Sheridan, WY, Email Question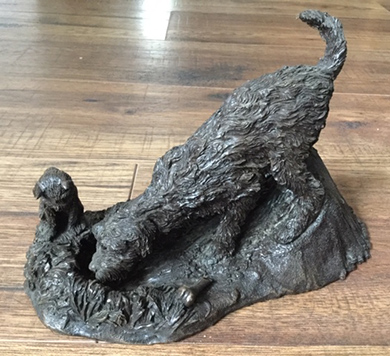 ANSWER: Kirby-Stephens, the location of the Heredities Limited foundry is a civil parish and small market town in Cumbira, in North West England. It historically was part of Westmoreland. Heredities was in production at the time your figurine was received. An article in the August 9, 2003 "Cumberland & Westmoreland Herald" entitled "Heredities Purchase Safeguards" noted that the Genesis Fine Arts, an Irish giftware manufacturer, bought Heredities, thus safeguarding 15 jobs in the town. The articles stated: "Tony Collins, managing director of Genesis, which is based in Mullingar, County Westmeath, said the Heredities line of cold cast bronze figures from the Crossfield Mill factory, which went into receivership at the end of June, would continue." Genesis made and continues to make similar products to Heredities. Morgan did announce the end to painted Heredities figurines.
Although there are hundreds of Heredities figurines listed as having been sold or for sale on the internet, I was not able to find an exact match for your figurine. Further, I was not able to identify the British pen and ink drawings featuring Percival and Puss. Perhaps they were characters in a strip by a different name. If a reader can shed some light on the origin of these characters, email me at harrylrinker@aol.com.
I found a WorthPoint.com listing for a figure with the same dog and cat by Elphick that sold for $8.35 on May 13, 2012. I value your figure between $15.00 and $18.00. Identifying the pen and ink drawings of Percival and Puss would increase the value by 25 percent. If you were lucky enough to find a collector of Bedlington terrier figures, the values would increase another 40 to 50 percent. The chances of the latter happening are somewhere between zero and none. Finally, the most viable secondary market for these figures is in the United Kingdom.
---
Harry L. Rinker welcomes questions from readers about collectibles, those mass-produced items from the twentieth and twenty-first centuries. Selected letters will be answered in this column. Harry cannot provide personal answers. Photos and other material submitted cannot be returned. Send your questions to: Rinker on Collectibles, 5955 Mill Point Court SE, Kentwood, MI 49512. You also can e-mail your questions to harrylrinker@aol.com. Only e-mails containing a full name and mailing address will be considered.