RINKER ON COLLECTIBLES — Column #1691
Copyright © Harry Rinker, LLC 2019
Questions and Answers

QUESTION: I recently purchased a Burley and Winter pitcher with a relief image of a man smoking a Sherlock Holmes-style pipe within a vertical oval with a rope-like border on one side and a windmill in a similar vertical oval on the other side. The decorations are painted using several different colors, unusual for a Burley and Winter piece. There is a heart mark on the bottom, but I am having difficulty reading it. Can you identify the origin and date of the piece? – DG, Email Question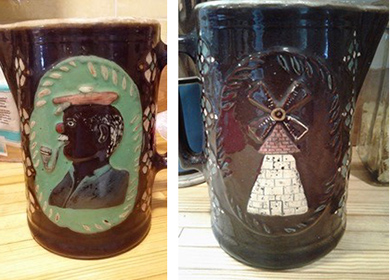 ANSWER: Burley Winter Pottery was located in Crooksville, Ohio. The company made utilitarian pottery beginning it 1872 and ending in the early 1930s. Lois Lehner's "Lehner's Encyclopedia of U. S. Marks on Pottery, Porcelain & Clay," published by Collector Books in 1988, provides this information about Burley and Winter: "Burley Potteries. Crooksville, Ohio. John Burley purchased a pottery from a man named Castete as early as 1825 which burned down in 1828, according to 'The History of Zanesville and Muskingham County, Ohio,' 1927, p. 365, and was rebuilt by John Burley in 1831 and operated until 1885. Lazalier Burley was the next Burley from 1846 to the 1860's. He was a Bluebird Potter operating at home in yard and sheds. In 1872, William Newton Burley and Wilson Winter started as Burley and Winter which was Burley Winter and Brown in 1885. Burley and Winter operated a general store from 1876 to 1901.
"They were makers of 'Heart Brand' stoneware and in later years, the 'Bur-win' garden ware. They made both highly glazed stoneware, bisque fired ware and painted ware. Brown left the plant in 1892 and the plant became known as the Burley and Winter Pottery [again]. Between 1900 and 1904, Z.W. Burley and S.V. Burley, two brothers, started the Keystone Pottery. In December 1909, the John G. Burley Pottery Company was incorporated by John G. Burley and two of Wilson Winter's sons. Around 1912 the Keystone Pottery, the J.G. Burley Pottery and Burley and Winter all merged. The plant continued until 1932 and a complete liquidation sale was held in 1937."
Burley Winter had two heart shaped marks. The first heart shaped mark consisted of a heart with a stroke line inner border and had "THE / BURLEY & WINTER / POTTERY CO. / CROOKSVILLE / O" in the center. This is the mark on the bottom of your pitcher. It appears to have been used into the early 20th century. Eventually, this was replaced with a simple heart mark consisting of an outline of a heart with the "BW" inside.
In addition to your windmill/man with pipe motif pitcher, I found a second stoneware pitcher with a relief image of a swan on one side and an image of a leaping deer on the other. These pitchers appear to date from the early 1890s through the 1900s. Glazes included light and dark brown, green, and dark blue fading to light blue. The windmill/man with pipe motif pitchers also came with a set of six matching glazed mugs.
A search on WorthPoint.com resulted in a series of listings for solid glazed windmill/man smoking a pipe pitcher with sell through prices ranging from $15.00 to $25.00. I had trouble finding prices on multi-colored pieces. They apparently are scarce. Given this, your Burley and Winter pitcher has a secondary market value around $50.00.
---
QUESTION: I recently received a 1915 calendar plate as a gift. The center decal features a clump of strawberries. Each month of the calendar on the border is separated by an Art Nouveau butterfly-like design. "COMPLIMENTS OF / G. W. SHANK & SON, / WOODSBORO, MD." is on the rim at 6:00 o'clock. What information can you provide about the history of my plate? What is its value? – MM, Reading, PA, Email Question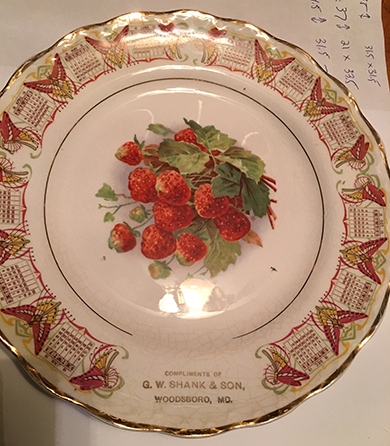 ANSWER: The earliest American calendar plates date from the middle of the first decade of the 20th century. Merchants and other businesses used calendar plates as end-of-the-year giveaways or promotions. Although their popularity waned by the end of the 1920s, calendar plates have been continually produced.
Early calendar plates were manufactured primarily by ceramic manufacturers located in and around East Liverpool, Ohio. Salesmen traveled the country offering a variety of patterns. One collector has documented over 190 patterns. [See: http://dishynews.blogspot.com/2014/11/discovering-america-through-historic.html.] It is common to find the same calendar year plate pattern with dozens of different merchants' names.
The plates are white glazed earthenware upon which decal transfers are added. Transfer patterns ranged from seasonal, usually Christmas or New Year, to generic themes such as fruits and scenic views. Some merchants ordered plates with pictures of their store or a prominent building from the town. The decorative patterns used were meant to encourage customers to display the plate long after the calendar expired.
Woodsboro is in Frederick County, Maryland. The town was named after Joseph Wood. The nearby LeGore Bridge was listed on the National Registry of Historic Places in 1978 and Woods Mill Farm in 2007. A clipping from the October 20, 1975 edition of "The Frederick Post" lists a number of business located in Woodsboro including: "…a general merchandise store was built in 1901 by J. E. Stoner…Other businesses were opened during Woodsboro's boom period:…George W. Shank ran a merchandise store;…" Stoner and Shank were competitors. Hence, Shank's use of a calendar plate promotion giveaway at the end of the year as a means of attracting business away from Stoner.
Since the plate's location is Reading, a good distance from Woodsboro, its value is between $6.00 and $8.00. If it was within a 25-mile radius of Woodsboro, its value would increase to $25.00 or more. Local collectibles bring their maximum value in the location from which they originated. The one exception would be a Shank heir located in Reading, PA. Finding a connection like that is like finding a needle in a haystack.
---
QUESTION: I have a wooden wall hanging that my mother picked up in New York State. Its center panel has a Gothic arch top beneath which is a relief sculpture with a scene of two monks discussing dinner over fish they are preparing. An ornate spear-like finial rests atop a swirled column on each side. My mother told me it was the back of a chair. I cannot see it. What are your thoughts? As always, a value would be appreciated. -- DS, Easton, PA, Email Question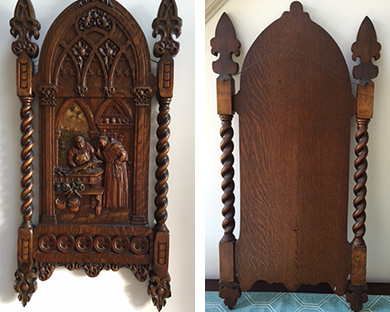 ANSWER: Your mother is correct. The main section of the wall hanging was once the back of a Gothic Revival chair dating from the end of the nineteenth to the early part of the 20th century.
After a detailed look at the images that accompanied your email, I concluded the relief images of the Gothic arch top and monks preparing dinner were the result of steam pressing with some possible hand carving to create the illusion that the entire piece was hand carved.
By the middle of the nineteenth century, furniture makers were aware that by steaming wood, it was possible to make the wood pliable enough to press designs into it. Allowing the wood to cool in the mold resulted in the design becoming permanent.
The monk decorative motif became popular in the 1890s and extended into the 1910s. Prints, ceramics, and other decorative objects featured images of monks, always a bit robust, drinking wine or beer, preparing food, or engaged in conversation.
The image of the back of the wall hanging provided the final proof. There is a major color difference between the wood used in the top finials and the bottom drop compared to that of the block above and below the twisted spiral column. Further, the finals and drops are over the top, that is to say, they are much more elaborate than they should be.
While your wall hanging has little collector value, it does have strong decorating and conversational value, especially where there are a large number of surviving late Victorian era homes. In the Easton, Pennsylvania, area, its value is between $100.00 and $125.00. Take it 40 miles east into New York City and its suburbs and the price doubles.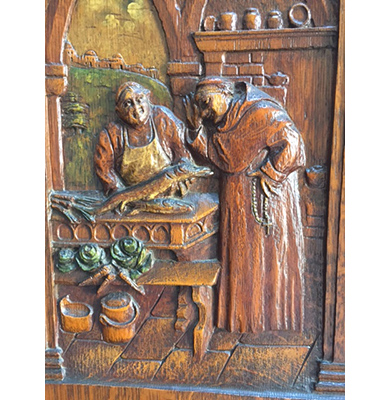 ---
Harry L. Rinker welcomes questions from readers about collectibles, those mass-produced items from the twentieth and twenty-first centuries. Selected letters will be answered in this column. Harry cannot provide personal answers. Photos and other material submitted cannot be returned. Send your questions to: Rinker on Collectibles, 5955 Mill Point Court SE, Kentwood, MI 49512. You also can e-mail your questions to harrylrinker@aol.com. Only e-mails containing a full name and mailing address will be considered.