RINKER ON COLLECTIBLES — Column #1689
Copyright © Harry Rinker, LLC 2019
Questions and Answers

QUESTION: I own two push-pull toys. The first has a round wooden base with a cowboy sitting atop a horse. The portion of the label that remains reads: "[script] Bronco Bi-- / A KOHNER PRODU__." The second is a dog on a square base. Its ears are missing. Although it resembles Walt Disney's Pluto, the incised name on the front is "Wakouwa." I would like to learn more about these two toys. Can you help? – IG, Eastern PA, Email Question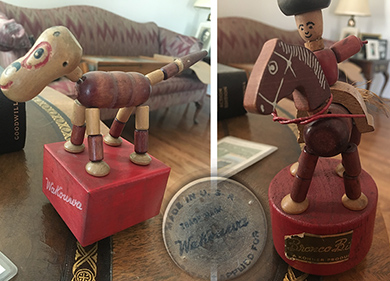 ANSWER: Your push pull toys were made by The Kohner Brothers Toy Company founded by Frank and Paul Kohner in 1940.
The Kohner brothers linked their family history to an 1870s company owned by Moritz Kohner that was located in Tachau, a small town in the Austro-Hungarian Empire which made wood-turned bases for curtain handles and sword decorations. The wooden pieces were spun over with silk.
In 1851, Moritz Kohner traveled to California to take part in the Gold Rush. Unsuccessful, he returned home a year later. In 1890, Moritz's sons Emil and Max joined the business which was renamed M. Kohner & Sons. Moritz died in 1900 and was succeeded by Emil. Following World War I, Tachau became part of Czechoslovakia. Emil's sons Frank and Paul joined the firm.
Paul Kohner escaped from Czechoslovakia in 1940. He brought his family and brother Frank to the United States. They founded the American version of Kohner Brothers and made pocketbooks and necklaces out of colored wooden beads. Pull toys joined the product line immediately following the end of World War II. Tricycle Tom is among the best known Kohner pull toy.
In 1947, Kohner secured the rights from Marty Meinard, a Swiss inventor, to produce "Push Button Puppets." They were an immediate success. Fisher-Price and dozens of other companies created knockoff in an effort to capture a portion of the market. By the 1950s, Kohner had over 400 employees working on manufacturing push pull toys.
In 1947, Kohner Brothers had an American office located in New York City. The company's push pull toys were noted for their eye-catching colors, flexibility, originality, and sturdiness. Kohner received U.S. Patent No. 2,432,279 for a press action toy.
Early Kohner push pull toys included an Acrobat, Bronco Bill, Hangover Pete, "Happy" the barking dog, Hit and Miss (boxers), Santa Claus, and Swing Dancers. Your two push pull toys date from this early period.
Kohner Bros. was aggressive in acquiring comic, movie, and television licenses. A partial list of licensed push pull toys includes Atom Ant, Bam Bam, Clarabelle, Davy Crockett, Dino, Donald Duck, Flub-a-dub, Goofy, Howdy Doody, Lone Ranger, Magilla Gorilla, Mickey Mouse, Olive Oyl, Popeye, Pluto, Ricochet Rabbit, Scooby Do, Secret Squirrel, Top Cat, Touché Turtle, Wilma, and Yogi Bear. Dozens of generic push pull toys also were made. Monkey, Peter Pan, Sailor at the Wheel, and Trix (version of the barking dog) are examples.
Kohner Bros. switched from wood to plastic in the late 1940s. General Foods purchased Kohner Bros. in 1950 and sold it a few year later. The company no longer exists.
[For a more detailed history, see http://www.oldwoodtoys.com/kohner.htm.]
Kohner Bros.' Bronco Bill was made in multiple color and style variations. The round wooden base is early. A "Sale Date" check on WorthPoint.com shows prices ranging between $15.00 and $40.00, depending on condition. Your example has a value of approximately $20.00. I found a listing for "Wakouwa: the animated dog," with its period box that sold through on eBay on December 30, 2018, for $40.00. The dog did not have ears. I did find other examples that had ears. The value for your Wakouwa push pull toy missing its ears and lacking its period box is between $5.00 and $8.00.
---
QUESTION: While serving as a member of the Army in Germany following World War II, my uncle acquired an oil painting of a heavy-set monk holding a wine goblet. The painting is 11-inches wide by 14-inches high. It appears to be signed by an artist named Puls. Does it have any value? – TS, Reading, PA, Email Question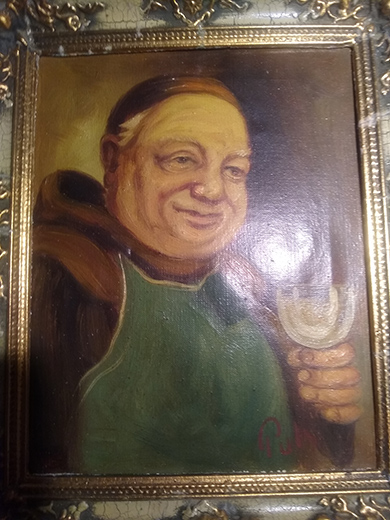 ANSWER: I keep threatening to write two badly needed antiques and collectibles reference books – Things G.I.s Buy and Things Tourist Buy. If you detect a note of cynicism you should. Based on the thousands of examples that I have seen during my career, the two common elements involved in all of these purchases are that they are (1) of questionable quality and (2) cheap. Most are brought back to the United States, displayed for a time, and then stored away and forgotten.
The monk, often pictured in a semi-drunken state and always with a goblet or tankard in his hand, has been a common theme in German tourist trade material since the early 20th century. In fairness to members of German religious orders, they owned and operated some of the best breweries, liqueur manufactories, and wineries in Germany. Those that still remain in production enjoy a favorable reputation.
Forget about identifying the artist's signature. I agree it reads "Puls." Chances are that it is a fictitious name used by multiple artists who cranked out copies of the painting to be sold to G.I.s and tourists.
The painter had some academic training, albeit also could be a skilled amateur. The brush strokes indicate the painting was done quickly. It was designed to serve as a decorative wall hanging and not an example of high art.
Its value is solely decorative. Because of its age and theme, it has a basement male-cave decorative appeal. Although small, its size is a plus. It does not require a lot of wall space.
The secondary market value of your painting is between $35.00 and $45.00.
---
QUESTION: I have an old cloth label from an Englander box spring I threw out years ago. Does it have any value? – TP, Buffalo, New York, Email Question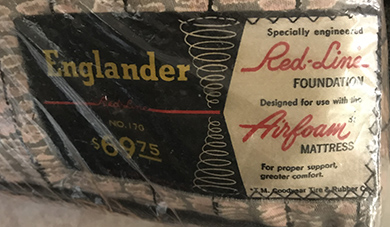 ANSWER: To the best of my knowledge, there are no mattress label collectors. Of course, having stated this, I would not be surprised if one of my readers wrote and told me I was mistaken.
Englander still manufactures mattresses and box springs. According to the company history on its website (http://www.englander.com/history.html), the Red-line Boxspring was introduced in 1949.
Note: Before reselling a mattress or box spring, carefully research the laws of the state in which the sale will take place. All states have some restrictions—some harsher than others.
---
QUESTION: I own two swords, one shorter than the other (both with scabbards), a bayonet (with a scabbard), a canteen with some writing on it, and a parasol bought in Sasebo, Japan. My father acquired these on Iwo Jima or during the occupation of Japan. I am not certain which. I would like to sell them at a fair price. What are your recommendations? – BS, Pottstown, PA, Email Question
ANSWER: Given the shaky provenance of the pieces, the exception being the parasol, you need to have them authenticated. There was strong secondary market for battlefield souvenirs among G.I.s serving in the Pacific during and following World War II. During the early years of occupation, enterprising Japanese began making reproductions (exact copies) and copycats (stylistic copies) of Japanese military equipment to fuel the demands of the American G.I.s.
My suggestion is to take the two swords, bayonet, and canteen to a local gun show. Locate a dealer who deals in World War II Japanese militaria and ask him to authenticate them. There may be a fee involved, but it should not exceed $50.00 to $75.00 if you ask for an oral rather than a written appraisal. Another authentication avenue is to take them to a military museum and ask the curator to help you authenticate them. Do not ask for a value.
Until you know exactly what you have, it is impossible to establish a value. Your descriptions are too general and no illustrations accompanied your email. Hence, I am unable to determine value.
One final note: When allowing a person to examine the objects, insist on standing and watching the process. Do not ask a friend to take them for you or allow anyone to keep them for several days to do research. The goal is to avoid someone switching out a blade, sword guard, or scabbard, an all too common practice.
---
Harry L. Rinker welcomes questions from readers about collectibles, those mass-produced items from the twentieth and twenty-first centuries. Selected letters will be answered in this column. Harry cannot provide personal answers. Photos and other material submitted cannot be returned. Send your questions to: Rinker on Collectibles, 5955 Mill Point Court SE, Kentwood, MI 49512. You also can e-mail your questions to harrylrinker@aol.com. Only e-mails containing a full name and mailing address will be considered.