RINKER ON COLLECTIBLES — Column #1687
Copyright © Harry Rinker, LLC 2019
Questions and Answers

QUESTION: I have a postcard that was sent to me in 1984. The front features a head and shoulder photograph labeled "SONNY SHROYER / IS / "ENOS." A panel beneath reads: "WATCH FOR SONNY ON 'LOVE BOAT,' 'ALICE,' / AND 'DUKES OF HAZZARD' AND LISTEN FOR HIS NEW RECORDS." An autograph "Love [heart] / Sonny / Enos" is above the left shoulder. The reverse has a return address: "SONNY SCHROYER / Enos of the Dukes of Hazzard / c/o CBS TV / 7800 Beverly Blvd. / Hollywood, CA 90036." The written message is "Hi y'all / Nicole / Thank you so much very / much for watching 'The / Dukes of Hazzard' and / caring for Enos and Sonny/ Schroyer! I care for you! / Love and May God Bless, / Sonny [smile symbol]. The postcard is postmarked "VALDOSTA, GA / Feb 4 / PM / 1984 / 316." There is damage and some surface paper loss in the lower left corner of the front. Does my childhood treasure have any value? – NL, Popular Bluff, MO, Email Question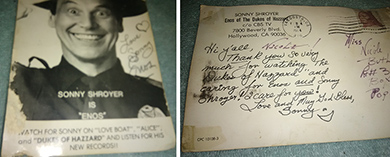 ANSWER: The postcard has no financial value. It obviously has emotional and sentimental value to you.
This is a stock publicity postcard. The surface image and the text are printed. "Nicole" written after the "Y'all" and the address are the only non-printed portions of the card.
The Dukes of Hazzard, a television action-comedy, aired on CBS from January 25, 1979 to February 6, 1985. A total of 147 episodes spread over seven seasons were produced.
The show became a cult classic for a variety of reasons among which were the customized 1969 Dodge Charger that belonged to the Dukes and Catherine Bach's Daisy Duke character, sexy and sensuous at the time and politically incorrect in the 21st century.
Shroyer was born in Valdosta on August 28, 1935, which may explain the postmark. He was written out of The Dukes of Hazzard at the end of the third season and given his own show Enos in 1980. It was cancelled after 18 episodes.
If in fine or better condition, your postcard has a value between $3.00 and $5.00. Shroyer still is alive and maintains his own website https://www.sonnyshroyeronline.com.
---
QUESTION: I recently acquired a clown cookie jar. The clown is wearing a pale blue jester's hat and has a pale blue clown costume. The cookie jar measures 13-inches tall and has no markings. Can you identify the maker and provide me with more information? – JS, Quakertown, PA, Email Question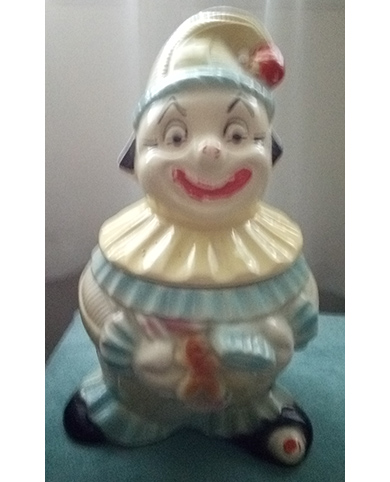 ANSWER: It would be great if the axiom "seek and ye shall find" applied to identifying antiques and collectibles. The closest antiques and collectibles axiom is "if you look long enough, chances are that you may find the answer." After a great deal of looking, I did identify the maker of your cookie jar.
In the old days, I would have pulled three or four cookie jar reference books off my library shelf and paged through them looking for a match to the illustration that accompanied your email. Today, I log-in to WorthPoint.com, identify the main category (in this case, ceramics), and type in a reasonable search line. I used "Clown cookie jar" and selected "Ceramics." More than 500 listings appeared. Starting with the first and selecting 100 listings per page view, I finally found your cookie jar mold on the second page. The jar had a different paint scheme. I kept looking and eventually found one with an identical paint scheme to the jar you own.
When World War I interrupted the importation of German Kewpie dolls, the American Bisque Company, located in Williamstown, West Virginia, was founded in 1919 to supply the continued American demand for Kewpies. B. E. Allen, a part owner of the Sterling China Company, purchased the American Bisque Company in 1922. The Allen family owned the company until it ceased operations in 1982.
American Bisque introduced its cookie jar line in the 1930s. The jars feature novelty designs that included popular cartoon characters as well as animals and figures. The brightly colored, cheerful jars were an instant hit.
Al Dye and Louis Bauer, daughter of the designer Walter Bauer, designed cookie jars for American Bisque. Working as a freelance designer, Bauer's American Bisque cookie jars included a cat, clown, Donald Duck, Pip, and Thumper.
The 1980s and 1990s cookie jar collecting craze is past history. The secondary market took a major price hit during the 2008-2009 Great Recession. Looking at recent sale histories for the American Bisque clown cookie jar, the average sell through price is around $40.00.
---
QUESTION: I have a tapered square bottle of Trump Vodka. There is a blue "T" at the top of one side. Does it have any value? – LB, Email Question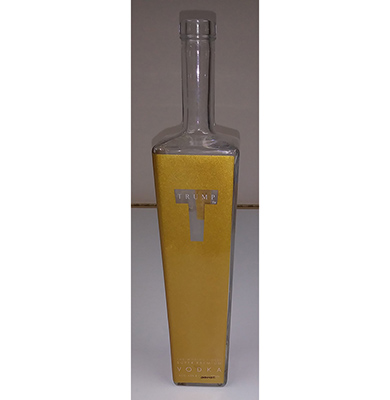 ANSWER: In 2005, Donald Trump signed an agreement with Drinks America to market Trump Vodka. The sales slogan was "Success Distilled." As usual, Trump claimed his Vodka would outsell Grey Goose and a T&T (Trump and tonic) would become the most popular cocktail in America. Neither happened.
In 2007, Drinks America signed a deal to export 50,000 cases of Trump Vodka annually to Russia. Drinks America discontinued production in 2011, due in part to the high cost of the gold leaf labels. Trump Vodka was subject to several lawsuits, one of which resulted in the destruction of 5,000 mini-bottles in a furnace. Trump Vodka still is sold in Israel by H. Pixel International. It is extremely popular, especially around Passover.
A WorthPoint.com search by "Sale Date" reveals sell through prices that are inconsistent. Empty liter bottles sell between $10.00 and $90.00. Full bottles bring between $250.00 and $350.00. Apparently, there also were Trump Orange and Trump Raspberry vodkas. A full bottle starts at $250.00 but several closed at above $400.00.
What does all this prove? The answer is that "Rinker's 30 Year Rule"—for the first 30 years of anything's life, all its value is speculative—is in play. Given the above numbers, this is the time to sell not to buy. In 25 years, current prices will be dreams rather than reality.
---
QUESTION: My question is a general one and philosophical in nature. You have written in the past about collector's etiquette and touched on seller's etiquette. I do not remember reading anything about buyer's etiquette. My hypothetical scenario involves a garage sale. As you shop a garage sale, an object catches your eye. It could be a piece of furniture, a lamp, an old tin toy, a work of art, or jewelry. The piece is marked $25.00 but you know its true secondary market retail worth is ten times that or more. Does the buyer have a moral obligation to educate the seller as to the true value of the object or is the buyer within his rights to pay the $25.00 and walk away? Does it make any difference if the seller is a person who clearly needs the income? – GC, Ocean Beach, New Jersey, Email Question
ANSWER: The IRS defines a fair price as having three parts: (1) a willing buyer and willing seller; (2) neither under the compulsion to buy or sell; and (3) both equally knowledgeable. This definition usually fails when the second and third criteria is put to the test.
Garage/yard sales are the exception to the rule. As long as the buyer does not hold himself/herself out to be an antiques/collectibles expert, he/she is free to pay the asking price and walk away. There have been several court rulings supporting the concept that a garage/yard sale seller has no right to assume that those attending the sale are experts. Each person who attends is a member of the general public.
Although the law protects the buyer, your question is whether there is a moral obligation for a knowledgeable buyer to level the playing field. In an ideal world, the answer is yes. In the real world, the answer is no.
There is no universally agreed upon and enforceable ethical/moral code in the antiques and collectibles trade. Each person in the trade is responsible for developing his/her own.
When anonymously visiting a garage/yard sale and seeing an object that is badly underpriced, my recommendation is to pay the full price. Do not bargain. It is not fair to kick a person when he is down. I have seen plenty of dealers I know violate this rule both at garage/yard sales and other sale venues.
There is nothing to prevent you from paying more if you wish. Do what your conscience dictates. You are the one who has to look in the mirror after the sale. If you do not like what you see, then you did wrong. Otherwise, move on.
---
Harry L. Rinker welcomes questions from readers about collectibles, those mass-produced items from the twentieth and twenty-first centuries. Selected letters will be answered in this column. Harry cannot provide personal answers. Photos and other material submitted cannot be returned. Send your questions to: Rinker on Collectibles, 5955 Mill Point Court SE, Kentwood, MI 49512. You also can e-mail your questions to harrylrinker@aol.com. Only e-mails containing a full name and mailing address will be considered.