RINKER ON COLLECTIBLES — Column #1685
Copyright © Harry Rinker, LLC 2019
Questions and Answers

QUESTION: I am in California. While going through some family memorabilia, I found an unusual item. It consists of five rows of three leather postcards held together by a leather tie. The cards are addressed to a family member who lived in Lookout, California. One still has the stamp. Most are postmarked. The back of the cards are printed with comic, floral, and seasonal scenes and signed by the senders. Can you tell me the use of this unusual item and if it has any value? – DB, Shillington, PA, Email Question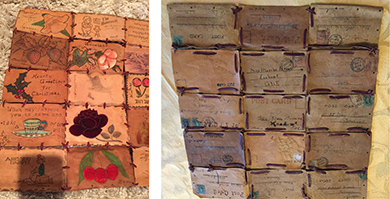 ANSWER: Leather postcards date from 1903. They were novelty postcards sold to tourists. The cards were made from deer hide with the reverse images burned into the postcard using a technique known as pyrography. The United States Postal Service banned leather postcards in 1907 because they jammed the postal canceling machines. Nonetheless, they remained in production as souvenirs until 1910. Postal collectors continued to exchange them because of their novelty.
Comical pictures were very common. One of the postcards in your item features the cartoon character Happy Hooligan sitting on a box. The caption reads "ARE YOU HAPPY."
When breaking apart a postcard album dating from the first decade of the 20th century, finding one or more leather postcards is common. Some images such as flowers and holiday cards were extremely common. A few featured animal and landscapes. Since they were sold as souvenirs, it is common to find the location or site printed on the card. One of the images on your item shows an older gentleman standing in front of a wash pitcher and bowl on a stand and looking out the window. The caption reads: "I'm Homesick."
The value of a leather postcard depends on its condition and image. Since these cards are sewn together and have holes punched in the corners, their condition would not be acceptable to most individual postcard collectors.
Your item as a whole is the exception. It was common practice to stich leather postcards together to create a pillow cover or wall hanging. You have a pillow cover.
A more detailed history of leather postcards is available on "Auction Finds" (https://myauctionfinds.com/2016/08/08/short-lived-frenzy-over-leather-postcards/).
When I checked Worthpoint.com on Sunday, May 5, the site contained 98,980 listings for leather post cards. A check by sale date suggest an average sell through price is between one and two dollars. Leather postcards with special themes, for example, extremely humorous or political images, bring more. Leather postcard pillow covers sell through between $20.00 and $35.00. Again, a special theme such as all Valentine cards results in a higher price.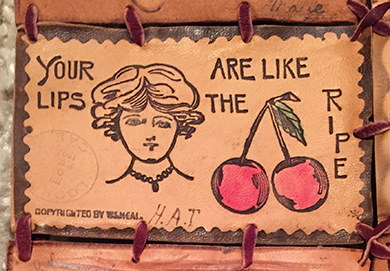 ---
QUESTION: During a recent garage sale in central New Jersey, I encountered a table filled with Avon bottles. The asking price was twenty-five cents each. Normally, I would have just walked away. But, there was an Avon Greyhound bus bottle. Having worked for Wheaton Glass's Millville, New Jersey plant where many Avon bottles were made, I could not resist purchasing it. Few memories cost so little. It brought a smile to my face. Admittedly, the back of my mind, as it does for all collectors, thought "it has got to be worth more." What is your opinion? – AC, Atlantic City, NJ, Email Question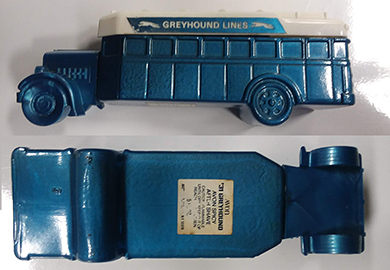 ANSWER: I have a short list entitled "if these ever become valuable again, I am going to retire from the trade." Avon bottles are on that list. I was active during the Avon bottle collecting craze. My first wife Bonnie sold Avon, a circumstance that I have chosen to ignore to date but may share in the future because it is a fascinating one.
In an effort to confirm whether your twenty-five cent purchase was a bargain, I did a WorthPoint.com "sale date" search. The average sell through price is $15.00. Much to my surprise, it made no difference whether the period box was included or not.
I suspect the principal buyers are Greyhound bus collectors or simply bus collectors. I cannot imagine an Avon bottle collector paying this much.
I suspect you are not going to sell it. Twenty-five cents is a die with it price. Its memories are far more valuable than a financial profit.
A Collector's Memories
Often individuals who inquire about objects share their family stores and personal memories with me. Normally, I do not include them in this column. AC's memories are worth sharing. Like so many memories, they caused me to revisit many past collecting paths and adventures. Hopefully, they will do the same for you.
"There was a time when Wheaton Collector Bottles [early 1960s through the end of the 1970s] were a big collectible. I am friends with the former curator of the Americana Museum of American Glass located at the Wheaton Arts Center in Millville, New Jersey. The Glass Industry was one of the biggest employees in these parts for years, but mass-production consumer glass container manufacturing, like everything else, moved South and then on to China.
South Jersey has the finest sand in the world for making glass. Scientific glassware and high-quality consumer goods are still made here. Glassblowing is still taught at one of the local schools [Carlisle School of Glass Art and Wheaton Art].
My father-in-law was a glassblower. He knew the American and German methods of glassblowing. My wife and I have a case of his knock off work [pieces done at the end of the day] that includes glass paperweights and other items. Even if all the orders for work were filled, the furnaces had to be kept going. As a result, workers took the opportunity to make canes, paperweights, and other novelties."
For more information about glass manufacturing in Millville, see Wheaton Village in New Jersey and the Wheaton Arts Center (http://www.wheatonarts.org/?gclid=EAIaIQobChMI-8C96qaF4gIVVf_jBx3f-gedEAAYASAAEgJwqvD_BwE).
---
QUESTION: I am trying to clean out my life mess and am not making much progress. I have an accumulation of political signs from the last 20 or 30 years of local elections. I have put them on the local marketplace several times and have gotten no response. I also have several bundles of newspapers from the 1970s and 1980s, not necessarily in pristine condition. I do not think either of these two groups have any collector value. Should I just scrap them? – RH, Reading, PA, Email Question
ANSWER: My initial response is to tell you to send both piles to the landfill. The amount of time you will spend sorting through these things will not justify the potential financial return.
Before you do this, I have two suggestions. First, contact your local historical society, in your case the Berks County Historical Society in Reading, Pennsylvania. The local political signs may hold some interest.
In terms of interest to general political collectors, there are a number of truisms involved. First, political collectors are interested primarily in presidential election material with emphasis on examples distributed by the winners as opposed to the losers. There is some interest in Senate and House of Representative races if the person is a major player in his/her party. There is minimal interest in state governor races. Forget state senate and house races and local municipal and township elections.
Also, the revolution in election signage from presidential to local that resulted in yard signs that did not picture the candidate or neglected to include party affiliate lessened their value. Text is text. Pictures and slogans are another matter.
If the Berks County Historical Society has no interest, sell them at a garage sale starting at fifty cents and taking any offer above a quarter.
Newspaper value focuses on a major headline, such as Nixon's resignation, or local sports team winning a national championship. Take a quick look to see if any of your papers qualify. If yes, remove these and consider selling them on eBay. Do your homework first. If sell through prices do not top $5.00, think about junking the whole pile.
Alas, age is not value. Value is based on someone wishing to buy. Good luck.
---
Harry L. Rinker welcomes questions from readers about collectibles, those mass-produced items from the twentieth and twenty-first centuries. Selected letters will be answered in this column. Harry cannot provide personal answers. Photos and other material submitted cannot be returned. Send your questions to: Rinker on Collectibles, 5955 Mill Point Court SE, Kentwood, MI 49512. You also can e-mail your questions to harrylrinker@aol.com. Only e-mails containing a full name and mailing address will be considered.