RINKER ON COLLECTIBLES — Column #1683
Copyright © Harry Rinker, LLC 2019
Questions and Answers

QUESTION: I have a black painted, cast-iron Scottie doorstop that stood guard next to our fireplace until I packed it away. I have owned it for over 30 years and bought it from a reputable local antiques dealer. It has a flathead screw on the side. The screw was painted over when first made. The screw head is beginning to rust and its paint is peeling off, a minor issue for a piece I believe is over 75 years old. The gap between the two halves of the casting is very tight. It is impossible to slip a piece of paper through it. When was it made and what is its value? – GC, Ocean Beach, New Jersey, Email Question.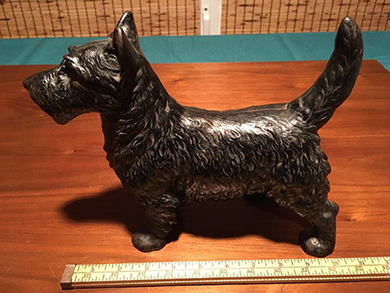 ANSWER: Because of the large number of reproduction doorstops, the first step is to authenticate the piece. The flathead screw is a good start. Post-World War II reproductions and copycats often were held together with a Phillips screw. The castings on period pieces fit tightly to the point where it was impossible to slip a piece of paper between the cracks. Period pieces also were finished, meaning flanges and gate marks were removed. Grinding marks are a sign of a modern reproduction or copycat (stylistic copy). Period pieces were cast in a finer grain sand than reproductions. Finer casting sand allows for greater detail. Period paint is applied more thickly than the paint used on reproductions and copycats. Examining the 12 images that accompanied your email, I reached the conclusion that you own a period cast-iron Scottie dog doorstop made between 1920 and 1940 with the likelihood the piece is early rather than later in this timeframe.
I found several listings on eBay and WorthPoint that were exact matches to your Scottie dog doorstop. Several of the sellers attributed the doorstop to the Hubley Manufacturing Company located in Lancaster, Pennsylvania.
Joseph E. Hubley founded the Hubley Manfacturing Company in 1893. Initially, Hubley made cast-iron equipment and accessories for electric trains. When financial troubles forced Hubley to liquidate his toy train inventory, he began producing cast iron toys and other cast iron products. Hubley introduced a line of cast iron doorstop, many of which were three-dimensional images of animals, especially dogs. Hubley continued to produce cast-iron doorstops, toys, and household goods until the late 1930s. Following World War II, Hubley switched from cast-iron to diecast metal.
A search on WorthPoint.com using its "sale date" search for a "Hubley cast-iron Scottie doorstop" produced over a dozen 2018 sales for a doorstop identical to the one you own.. Prices ranged from a low of $50.00 for an example in good condition to between $175.00 and $190.00 for an example in very fine or better condition. The condition of your Hubley cast-iron Scottie doorstop is between fine and very fine. A fair market secondary retail value is around $150.00.
---
QUESTION: I have a Murphy Chair Company, Model 408, Windsor-style, armed, wooden chair. It has a rectangular metal plaque on the bottom that reads: "Murphy Chair / Company / SINCE 1872….INC….OWENSBORO, KY." The overall design style of the plaque motif and lettering suggest a transition between Art Deco and Streamline Modern. What is the value of my chair? – CS, Slatington, PA, Email Question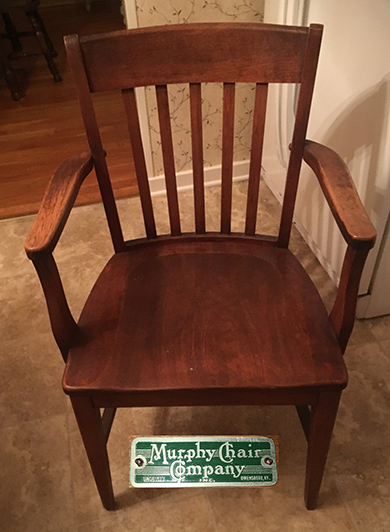 ANSWER: Your chair is a generic piece of office seating furniture. It could serve as a desk chair, client's chair before a desk, office seating, or boardroom seating. Based on the label design, it dates between 1920 and 1940.
Normally when I encounter this type of chair at an auction or estate sale, it sells between $20.00 and $30.00. In the course of doing internet research to confirm my field observations, I found an identical chair listed on Chairish for $375.00. Chairish identified it as a "lawyers/bank desk chair." While there are no fixed prices in the antiques and collectibles trade and viewing this and past Chairish asking prices as somewhat over-the-top, it was clear I needed to do more pricing research.
To my surprise, M. J. Murphy of Detroit, Michigan, founded the M. J. Murphy Company in 1872. By 1874, Murphy switched from making bed springs to manufacturing wooden chairs. He served as its president until he died in January 1940.
The company changed its name to the Murphy Chair Company in 1915. In 1916, the company moved its plant to Owensboro, Kentucky. Gleeson, M. J. Murphy's son, managed the factory. When Gleeson died in 1931, he was succeeded by his son Gleeson Murphy, Jr. who served as general manager until 1951. At its peak, the Murphy Chair Company billed itself as the "largest chair manufacturing company in the world." Labor unrest and competition forced the company to close in 1954. Younger family members revived the company. It still is producing chairs.
A "sale date" search of "Murphy chair" on WorthPoint.com resulted in several 2017-2018 listings for Model 408 armed chairs that sold through between $30.00 and $45.00. A pair did realize $75.00. Why would any buyer pay the Chairish asking price when with a little patience and comparison pricing, he/she would save over 80 percent of the Chairish asking price?
---
QUESTION: I have been searching for information about my grandmother's Little Red Riding Hood cookie jar. The jar is marked "967 / Hull Ware / Little Red Riding Hood / Patent Applied For / U.S.A." It measures 13-inches high. The hair is black and the eyes are blue. The website Thoughtco.com (www.thoughtco.com/little-red-riding-hood-cookie-jars-photo-gallery-4122959) notes: "The consensus is that the jar was a second or blank that was never sold." The jar is cold painted, something Hull and Regal did not do. The jar is in excellent shape. The grandchildren were not allowed to touch it. The first time I did was as an adult when I removed it from her house after she died. It has been wrapped up and stored in a cedar chest ever since. I want to give the cookie jar to my adult daughter and would like to pass along information about the jar when I do. Can you help? – DS, Festus, MO, Email Question
ANSWER: A variety of companies made Little Red Riding Hood cookie jars. Hull, Regal, and Royal China and Novelty Company are three examples. Louise Bauer of Zanesville, Ohio, patented the Little Red Riding Hood cookie jar design in 1943. Hull produced the blanks which were then sent to the Regal China and Novelty Company in Chicago for decorating. Regal also bought blanks, decorated them, and marketed them under the Regal brand. Collectors have noted the similarity between the red on the Hull Little Red Riding Hood cookie jars and Regal China's Peek-A-Boo-Baby. The reason is simple. It is the same red color.
There are dozens of variations of the supplemental paint scheme used on Little Red Riding Hood cookie jars. The one constant is that Little Red Riding Hood's hair is blond. Since Little Red Riding Hood has black hair on your cookie jar, an explanation is necessary. The most plausible explanation is that at some point Hull must have had a surplus of Little Red Riding Hood blanks or seconds and sold them to a decorating firm. One of the terms of the sale most likely was that the hair color needed to be black rather than blond.
Examples of your cold-painted, black-haired Little Red Riding Hood Hull 967 cookie jar appear in the secondary market from time to time. When they do, they sell for between $45.00 and $60.00. Collectors buy them for their curiosity value. Just as with the Hull/Regal jars, examples of the black-haired Little Red Riding Hood cookie jar come in a variety of different paint schemes.
NOTE: Hull's Little Red Riding Hood pieces are so popular that an entire reference book has been devoted to them—Mark E. Supnick's Collecting Hull Pottery's "Little Red Riding Hood": A Pictorial Reference and Price Guide (L-W Book Sales, copyright by author 1989, 1992 value update; 64 pages).
---
QUESTION: I have two old books—"Alice's Adventures in Wonderland" copyright in 1897 by Henry Altemus and a "Jack the Giant Killer" pop-up book with illustrations by Harold Lents and published by Blue Ribbon Books, Inc., New York, and copyrighted in 1932. The books are a little worn but otherwise in good condition. – JC, Reading, PA, Email Question.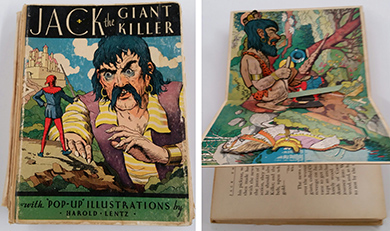 ANSWER: After reviewing the images of your books, "a little worn" is an optimistic appraisal of their condition. The spine is missing from the "Jack the Giant Killer" book. A better description of the "Alice's Adventures in Wonderland" book is poor to fair condition.
Because of their condition, these books have little secondary market value. Five dollars would be a lot. A dollar or two is more reasonable. In the case of your "Alice's Adventures in Wonderland," its value is decorative, something to sit on a table or dresser in a guest bedroom. Guests can admire the aged cover and never open it. More likely than not, a dealer will remove the pop-up from the "Jack the Giant Killer" book and try to sell it as a tear sheet/print. This is another case when the value of childhood treasures is sentimental and not monetary.
---
Harry L. Rinker welcomes questions from readers about collectibles, those mass-produced items from the twentieth and twenty-first centuries. Selected letters will be answered in this column. Harry cannot provide personal answers. Photos and other material submitted cannot be returned. Send your questions to: Rinker on Collectibles, 5955 Mill Point Court SE, Kentwood, MI 49512. You also can e-mail your questions to harrylrinker@aol.com. Only e-mails containing a full name and mailing address will be considered.