RINKER ON COLLECTIBLES — Column #1671
Copyright © Harry Rinker, LLC 2019
Questions and Answers

QUESTION: About 40 years ago, my mother bought a large collection of Salem's Heirloom, red transfer dinnerware. She was told at the time it was about 50 years old. The dinnerware service consists of 131 pieces. I can set a service for twelve (dinner plate, cup and saucer, salad bowl, desert plate, and fruit bowl plus a luncheon plate). There are four open serving bowls, two covered serving bowls, a soup tureen, one large and two smaller serving platters, butter dish, gravy with underplate, large pitcher, teapot, and more. I would like to learn more about the pattern and its worth. I would consider selling it if someone is interested. –KD, Dellroy, OH, Letter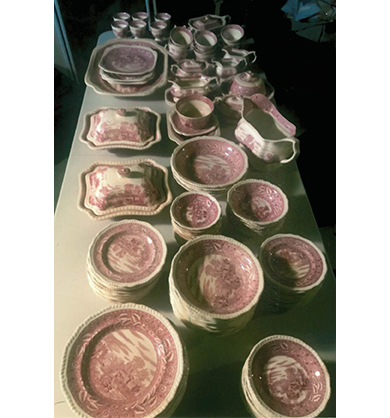 ANSWER: Desirability, condition, and size are among the key considerations when valuing a dinnerware service. English Village was the only Salem China Company pattern listed in my "Dinnerware of the 20th Century: The Top 500 Patterns," published by House of Collectibles, a trademark of Random House in 1997.
On Replacements.com, the pattern was not high in their popularity listings for Salem China Company patterns. Replacements was out of stock for all forms listed for the red transfer pattern. One interpretation is the pattern is in high demand. A second interpretation is that Replacements has few buyers for the pattern and is not making a strong effort to keep it in stock. WorthPoint.com listings show only a few pieces sold successfully during the last 10 years. Finally, a few pieces are listed on eBay, but these did not appear to be attracting buyers.
The conclusion is that Salem's Heirloom red transfer pattern does not have a high level of desirability. This is offset somewhat by the condition and size of your service. Although the pieces show some crazing, they appear to be in very good condition. The service is glazed earthenware and not porcelain, meaning that washing it in a modern dishwasher puts the pieces at risk. The ability to set a service for 12 (with some extra back up pieces) is enhanced by the large number of accessory pieces. It is a full service and can be used for lunch, dinner, or dessert.
The following brief history contains information that helps date your dinnerware. William Smith, John and Patrick McNichol, and Dan Cronin founded the Salem China Company 1898 in Salem, Ohio. Initially, the company made heavy hotel ware. Due to financial problems, it was sold to F. A. Sebring in 1918. Under the management of Frank McKee, who served as general manager from 1918 to 1950, and Sebring's son Frank, Jr., the company became very successful through the sale of dinnerware.
Viktor Schenckkengost created many of Salem's shape lines and designs during the 1930s and 1940s. Shape lines included Century, Heirloom, New Yorker, and Tricorne. A continuous decorating kiln was installed in 1937. At its peak, Salem employed 500 workers. In the 1930s, Salem China supplemented its retail outlet sales through bank, drugstore, movie and supermarket promotions.
Heirloom is not the name of a pattern but rather the shape line on which the transfer pattern appears. The pattern does not have a name. Replacements designates it as SLM28. Your pattern most likely was introduced in the late 1930s, albeit possibly as late as the mid-1940s.
Your dinnerware service has little collectible value. Although the pattern is red and nostalgically appealing, the reuse value is minimal. A buyer offer between $200.00 and $250.00 would be generous. If you placed the full dinnerware service at auction or offered it through an estate sale, you would be lucky to receive $100.00 to $150.00 after the sales commission costs were subtracted. My suggestion is to offer the full service on Craigslist in May or November in hopes a summer bride or a person looking for an inexpensive Christmas gift comes forward.
---
QUESTION: My New Year's Resolution is to get rid of the stuff that is not working for me and that my kids do not think they want someday. I have a Westinghouse-Home Radio Model H-166 AM/FM / Phonograph made by the Home Radio Division in Sunbury, Pennsylvania between 1947 and 1948. I bought it at Zern's [a farmer's market formerly located in Gilbertsville, Pennsylvania] for around $60.00. It is fun and very cool. It works but has to warm up. I think it will be difficult to sell. What is your advice? -- CN, Reading, PA, Email
ANSWER: The collector demand for your radio is near zero. My internet research using Google, eBay.com, and WorthPoint.com resulted in no sell through results. I did find the schematics for the Westinghouse Model H-166 and two blogs, one by a person trying to sell an example (there were no takers) and another from an individual in the process of restoring one.
Until recently, late 1940s through early 1960s home entertainment furniture (a combination that included a radio, phonograph, and occasionally a tape deck) fell into the auctioneers' please-do-not-ask-me-to-sell-it category. Few sold for over $25.00. $50.00 was a victory.
The current revival of vinyl has changed that somewhat. The phonographs on these machines played 33 1/3 rpm, 45 rpm, and 78 rpm records. Further, the tuners, decks, and speakers used in these home entertainment units usually were high quality. The reason your set has to warm up is that it takes several seconds for the filaments in the vacuum tubes to get hot.
As a standing unit, your set has a secondary market value between $50.00 and $75.00. The case appears to be in very good condition. If the components were stripped out and restored, they should bring over $100.00.
There is a radio show twice a year at Renninger's Flea Market on Noble Street in Kutztown. Check the dates. Take a picture of your radio with you and show it to the attendees. The Kutztown Renninger's also has a gentleman who restores phonographs and radios. He may be willing to buy your radio for parts. Finally, there always is Craigslist.
When you do offer it for sale, you must make it clear the person has to come to your home to pick it up. The cost to ship it is prohibitive.
---
QUESTION: I have a two-sided, sliding text block, Noah's ark child's toy. It measures about 4-inches long by 3-inches wide by 3/4-inches thick. It is made of 11 laminated cardboard pieces. The center features a colorful cutout silhouette of the ark beneath which are four squares for letters. When tilted to the left, a figure of Noah appears and the letters "NOAH" appear in the square openings. When tilted to the right, a dove appears and the letters "DOVE" show in the squares. When viewed from the opposite side, a lamb and "LAMB" appear when tilted left and a mule and "MULE" when tilted right. A stencil or screen was used to create the painted design. There is no maker's mark. I acquired the piece about 35 years ago when my wife and I stopped at a house sale in Mountainside, New Jersey. I paid a couple of bucks. I am thinking pre-1950s, perhaps a "wartime toy" since it is made of cardboard. What can you tell me about it? –GC, Ocean City, MD, Email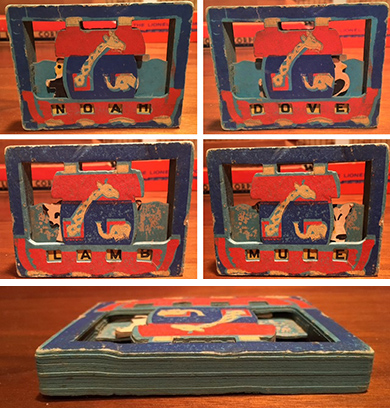 ANSWER: You know almost as much about it as I do. After 30 minutes of internet research, I found only one reference to it. WorthPoint.com contained a listing for an example that sold on eBay on July 25, 2018, for $10.00.
My gut instinct tells me that it was part of a large set of sliding text block puzzles. All attempts to confirm this possibility failed.
The color scheme suggests 1940s or early 1950s. I do not favor an earlier date. As the toy industry went to war between 1941 and 1945, the industry turned to cardboard, paper, and wood. Many of these toys were made by small companies that were short-lived.
As an infant toy (appealing to pre-school age children), the Noah's ark sliding text block toy has little appeal to toy collectors. Its ideal home is with a collector of Noah's ark or religious memorabilia. I like it for its conversation value. Ten dollars seems a bit low. I favor $12.00 to $15.00.
If any "Rinker on Collectibles' readers can provide more information about this Noah's Ark toy, please email me at harrylrinker@aol.com. I will share it in a future column.
---
Harry L. Rinker welcomes questions from readers about collectibles, those mass-produced items from the twentieth and twenty-first centuries. Selected letters will be answered in this column. Harry cannot provide personal answers. Photos and other material submitted cannot be returned. Send your questions to: Rinker on Collectibles, 5955 Mill Point Court SE, Kentwood, MI 49512. You also can e-mail your questions to harrylrinker@aol.com. Only e-mails containing a full name and mailing address will be considered.
You can listen and participate in WHATCHA GOT?, Harry's antiques and collectibles radio call-in show, on Sunday mornings between 8:00 AM and 10:00 AM Eastern Time. If you cannot find it on a station in your area, WHATCHA GOT? streams live on the Internet at www.gcnlive.com.