RINKER ON COLLECTIBLES — Column #1659
Copyright © Harry Rinker, LLC 2018
Questions and Answers

QUESTION: I collect paper items. Recently, my father and I attended an auction where we bought a 1922 Pennsylvania paper fishing license, 1923, 1924, 1926, and 1927 Pennsylvania fishing pins, a 1924 Pennsylvania hunting license, and two peanut butter glasses. The total for all my purchases was $515.00. My question concerns something I did not buy. During the preview, I noticed a postcard lot that included an Old Reliable Coffee child's drawing book advertising premium. I had no interest in the postcards but wished to buy the Old Reliable Coffee advertising premium. When the lot came up for sale, the auctioneer held up three of the postcards. Fearful that the Old Reliable Coffee advertising premium was no longer part of the lot, I did not bid. The lot sold for $15.00. The person who purchased the lot sat in front of me. Watching her review the lot, I noticed the Old Reliable Coffee advertising premium. I asked her if she was willing to sell it to me. She was. I bought it for $20.00. My question concerns the auctioneer. Was he unethical to the buyer and seller by not showing the full lot at the time of the bidding? – LH, State College, PA, Email Question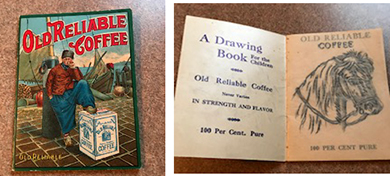 ANSWER: The answer is no. Box lots and lot groups are a standard auction practice. Given the overhead cost and time, auctioneers can no longer sell individual items, especially when their potential value is only a few dollars. Mid-range auction companies now have an estimated $100.00 to $300.00 minimum hammer price per lot.
It is common for box lots and lot groups to contain ten or more items. In October 2018, Vogt Auctions in San Antonio sold as a single lot a group of 39 Hummel figurines. The hammer price was $700.00. Once the buyer's penalty and sales tax were added, the final purchase price was close to $800.00. It took the auctioneer less than a minute to sell the lot. Imagine how much time and paper work would have been involved in selling each Hummel separately. There is no way the auctioneer could have held up all 39 Hummel figurines at the same time when selling the lot.
What should you have done? First, after previewing the lot, you should have approached the auctioneer to ask if he/she would be willing to remove the Old Reliable Coffee advertising premium and offer it separately. To be fair to the auctioneer, you needed to provide the auctioneer with a reasonable opening bid, in this instance $10.00, as an incentive. If the auctioneer is hesitant remind him about the amount you spend at his/her auctions. Also, helping an auctioneer getting bids started, even though you may not buy the item, does not go unnoticed. It also can result in a quick hammer on lots you do wish to buy.
Second, when the postcard lot came up for sale, you should have yelled out: "does the lot also contain the Old Reliable Coffee advertising premium?" As a courtesy, the auctioneer has an obligation to respond. Auctioneers do not like when this happens because it slows the bidding pace. Yet, auctioneers represent two parties – the buyer and the seller. They should provide equal service to both.
Third, the problem with lot groups is that there may be only one item of interest to a buyer. When the lot price goes beyond what a person is willing to pay for that single item, they drop out of the bidding. When this happens, do not hesitate to go to the successful bidder and inquire about the item of interest. As you discovered, the person who bought the lot was more interested in the postcards than the advertising premium. Be careful not to overpay.
WorthPoint.com has a listing for an Old Reliable Coffee drawing book for children premium that sold for $12.50 in December 2013. Given the fact that the example you bought has the tracing complete and an owner's name written on the back, the $20.00 you paid is on the high side. Auction fever does not occur only during bidding. "I just got to have it" is an invitation to financial disaster.
---
QUESTION: I recently acquired a cylindrical wire cage that has three dice in it. It is attached to a frame that allows the cage to be flipped over. On the top of the cage is a decal that reads: "W. J. Robinson / The Organization Man / Reading, PA." I also have the case that is used to transport the device. What is the history of my device and its secondary market value? –KO, Reading, PA, Email Question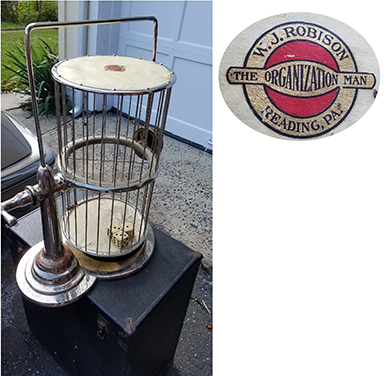 ANSWER: You own a Chuck-a-luck, also known as a birdcage, gambling device. The game has a long history tracing its origin back to grand hazard and sic bo casino games. Although found in casinos, it is more likely found in carnivals and as a charity fund raising device.
Chuck-a-luck was a common game in English pubs where it was known as Crown and Anchor. Rather than have numbers, the dice were marked with an anchor, crown, club, diamond, heart, and spade. The game first appeared in the United States around 1800. By 1900, the game was referred to as Birdcage. Lazar plays it in the James Bond movie "The Man with the Golden Gun."
Your question brought back some wonderful adolescent memories. Each year when I lived in Hellertown, Pennsylvania, first the American Legion and then the Dewey Fire Company held a summer carnival in Dimmick Park, located across from the community swimming pool. The American Legion carnival is past history. The Dewey Fire Company held its 102nd Annual Carnival in 2018.
The carnivals contained multiple games of chance utilizing a variety of devices such as wheels and Chuck-a-luck machines. Not allowed to participate at my young age, I settled for throwing softballs at 78 rpm records and milk bottles. Of course, the real treat was the food.
Almost every small town had one or more carnivals each summer. Few owned the gambling equipment that was used at them. Rather, they rented it. W. J. Robinson was one such supplier.
Although I found several Chuck-a-luck machines on the internet that were exact matches to the one you own, none of the listings provided any information about the manufacturer. I also found no information about W. J. Robinson, albeit a trip to the Reading Library or Berks County Historical Society would most likely provide some details.
Because Chuck-a-luck is considered recreational or social gambling, local law enforcement tends to ignore its use. A Chuck-a-luck owner still needs to check local and state laws.
It is possible to buy modern Chuck-a-luck devices for under $75.00. Mid-20th century examples sell on the secondary market between $225.00 and $300.00 depending on style and condition.
---
QUESTION: In 2017, I acquired a small farm in Medina County, Ohio. The purchase included an "antique grain wagon" that appears to have been constructed on a rear transaxle of an old truck. The cast iron wheels have solid rubber tires. I am trying to determine the car from which the transaxle came. Can you help? – JV, Medina County, OH, Email Question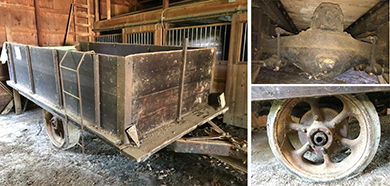 ANSWER: In this instance, help is a relative term. I cannot identify the car from which the transaxle came. I do have suggestions as to how you might be able to do it.
Take copies of the images that accompanied your email to a local (1) car show or (2) antique farm equipment show. Share them with the exhibitors.
Looking at the images, I am not certain this is a car transaxle. My first thought was that it came from a truck. The more I looked at the images, I am not convinced that assumption is correct either.
The body of the wagon does appear to be rebuilt. Is it possible, it was done on the base of an older wagon?
If one of my readers knows the answer, send an email to harrylrinker@aol.com. I will forward it to JV.
---
Harry L. Rinker welcomes questions from readers about collectibles, those mass-produced items from the twentieth and twenty-first centuries. Selected letters will be answered in this column. Harry cannot provide personal answers. Photos and other material submitted cannot be returned. Send your questions to: Rinker on Collectibles, 5955 Mill Point Court SE, Kentwood, MI 49512. You also can e-mail your questions to harrylrinker@aol.com. Only e-mails containing a full name and mailing address will be considered.
You can listen and participate in WHATCHA GOT?, Harry's antiques and collectibles radio call-in show, on Sunday mornings between 8:00 AM and 10:00 AM Eastern Time. If you cannot find it on a station in your area, WHATCHA GOT? streams live on the Internet at www.gcnlive.com.