RINKER ON COLLECTIBLES — Column #1657
Copyright © Harry Rinker, LLC 2018
Questions and Answers

QUESTION: I have a box of World War II greeting cards. They were designed for wives, fiancés, or female friends to send to GIs in the service. The box contains 13 cards, two of which are duplicates. Are they worth anything? – AK, Reading, PA, Email Question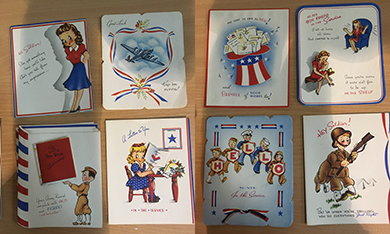 ANSWER: Your box of greeting cards is a "Home Front" collectible. During World War II, everyone went to war, whether in the military or not. This was not true for subsequent wars when American opinion was more divided and vocal.
Thirteen is an odd number. Most likely, the box initially contained 24 cards, two examples of each card.
Thank you for sending detailed images of the front of the cards, several interior messages, and the box. My initial hope was to find information on the manufacturer. None was evident. I date the cards circa late 1942 to late 1943. The cartoon artwork, upbeat imagery, and use of the "V" for victory symbolism were common during this period.
The text suggests these cards were designed primarily for GIs who had just entered the service. I cannot imagine someone sending them to an individual in a combat zone.
Your card set sold well. Using WorthPoint.com, I found several listings for the set as well as individual cards. The biggest surprise was recent sell through prices for individual cards. They start at a low of $10.00 and can reaching $16.00 to $18.00. While a boxed set containing thirteen cards sold for over $100.00, another boxed set containing 18 cards sold for about $40.00.
With sell through prices covering such a broad range, value is time dependent, that is to say, value depends on what buyers are in the market at any given time. As is often the case, it appears you can obtain more money selling the cards individually than as a boxed set. "The whole is equal to the sum of the parts" works as a mathematical formula, but it does not always apply to the antiques and collectibles trade.
When someone asks me if something is worth anything, the implication is that if it is not, the person most likely will throw it out. Your boxed set of World War II greeting cards is most certainly worth something. Given the condition of the box and cards, the box set has a value between $60.00 and $70.00. As already suggested, the value of the cards sold separately will exceed this. If you know an eBay seller, have them list the cards for you. Do not forget to the sell the box. It has great World War II Home Front memorabilia display value.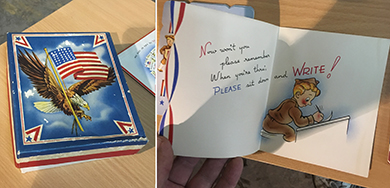 ---
QUESTION: I must have seen over 1,000 canes and walking sticks at auctions which I attended. Recently, I saw an example I had never seen before. It was carved wood. The top was the head of an octopus with its arms forming an open box at the top of the body. The main section of the body featured relief carvings of fish on a scored ground. The cane was 40-inches long and its diameter varied from 3/4-inches to 1 1/2 inches. There is wear on the bottom. I took a chance and paid $100.00 for it. Did my gamble pay off? – AM, San Antonio, TX, Email Question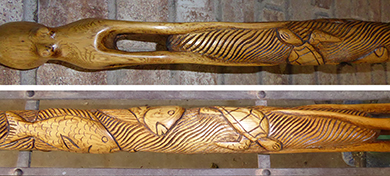 ANSWER: You violated several basic rules when buying antiques and collectibles. First, do not buy what you do not know. Second, just because you have never seen one does not mean others do not exist. Third, if it looks new (forget the wear on the bottom), it is new. Fourth, always be suspicious of things outside the norm. Finally, "I have to have it" is a sign of auction fever.
My initial reactions when I saw the pictures of the cane attached to your email were: (1) the cane is relatively new, if not brand new and (2) the cane's origin is probably Far East, possibly the Philippines.
While the bottom does show signs of wear, I could find no evidence of wear anywhere else on the cane. If the cane had been used, the body would have nicks and the top of the octopus's head would be worn smooth by contact with the hand. Further, the surface would have developed a patina from the chemicals and dirt in the area.
Although convinced this is not a one-of-a-kind cane or walking stick, I could not find another exactly like it online. I found plenty of canes/walking sticks with octopus heads, most of which were much more detailed than the one you bought. I widened my search to include carved canes from Africa, Mexico, and South America in case my initial "Far East" origin was not correct.
There are times when appraisers and experts trust their gut with no plausible explanation other than the gut is more right than wrong. This is one of those times.
Did you overpay? You are happy with the price. From this perspective, the price is fair. My evaluation is in the $40.00 to $50.00 range, a value based more on the conversational rather than collectible value of the cane.
---
QUESTION: I own a late 1940s Motorola small screen television that came down through my family. Accompanying the television is a 1993 newspaper clipping that reads as follows: "Seats were hard to find in 'Peanut' Trusky's pool room in the late 1940s Mahanoy City. People flocked there for billiards, poker and seafood platters. But in a borough crowded with taverns, Edward Trusky offered something new. On a shelf in the back right corner of his West Spruce Street bar stood a black-and-white television, the first working one in town, many people say. Children came in bunches to watch it after school. Adults streamed in in the evenings. 'It packed them in and sold all the sodas and ice cream,' Peanut's wife, Violet, said recently." What is the value of my television? – ET, Mahanoy City, PA, Email Question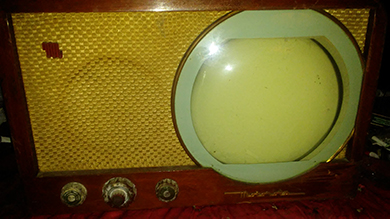 ANSWER: You own a Model 7VT3 Motorola television. The set dates from 1948, thus making it 25 years old in 1993. In 1948, Motorola made seven and eight-inch screen sets. I assume your set has a seven-inch screen because of the "7" in the model number.
Because of the new digital television signal, the set no longer will work without being converted. In addition, tubes, wires, and other parts often need to be replaced. Because of the unknown costs to refurbish and convert, I assumed most collectors would not pay a large amount to obtain a restorable example. This was confirmed by a WorthPoint.com search. Sell through prices ranged from $50.00 to $75.00.
As in life, there always are exceptions to any general rule. One non-working example listed on eBay as having "display value only" sold for $315.00 on August 14, 2016.
Since your television has stayed in the family, I assume you have no wish to sell it. However, I have a suggestion. Given the set's documented historical history, I recommend you consider donating it to your local historical society. The Mahanoy Area Historical Society celebrated its 20th anniversary in 2018, evidence that its long-term survival is high. Check out their website at www.mahanoyhistory.org. .
---
MILESTONE: "Rinker on Collectibles" Column No. 1657 is a milestone column. Columnist Frank Deford wrote 1,656 sports-related commentaries for NPR starting in 1980. Frank Deford was the penultimate sports columnist – witty, thought provoking, and insightful. He had a grasp for the wide world of sports. I think my impact in the antiques and collectibles trade is similar to his in the sports field.
1,656 or 1,657 commentaries/columns will not be impressive to most. But, the number is to those who write weekly commentaries/columns. It took Frank 37 years to reach 1,656. He took a break from time to time. I reached 1,657 as "Rinker on Collectibles" approaches its 32nd birthday in the middle of December 2018.
I identify with Frank Deford because we exhibit an unrequited love for our subjects and a commitment to leave our professions a better place than we found it.
Frank Deford's column ended when he learned a debilitating disease would soon take his life. When the time comes to end "Rinker on Collectibles," I hope it will not be for a similar reason.
---
Harry L. Rinker welcomes questions from readers about collectibles, those mass-produced items from the twentieth and twenty-first centuries. Selected letters will be answered in this column. Harry cannot provide personal answers. Photos and other material submitted cannot be returned. Send your questions to: Rinker on Collectibles, 5955 Mill Point Court SE, Kentwood, MI 49512. You also can e-mail your questions to harrylrinker@aol.com. Only e-mails containing a full name and mailing address will be considered.
You can listen and participate in WHATCHA GOT?, Harry's antiques and collectibles radio call-in show, on Sunday mornings between 8:00 AM and 10:00 AM Eastern Time. If you cannot find it on a station in your area, WHATCHA GOT? streams live on the Internet at www.gcnlive.com.