RINKER ON COLLECTIBLES — Column #1655
Copyright © Harry Rinker, LLC 2018
Questions and Answers

QUESTION: I purchased a child's tricycle with an identification plate at the end of the main frame that reads" TUBECRAFT / by / HEDSTROM / UNION / Trademark …. / FITCHBURG / MASS. / PAT. PENDING / MADE IN / U.S.A." I am trying to determine the date it was made. I think between 1936 and 1950. It needs restoration. What is its value fully restored? – BR, Email Question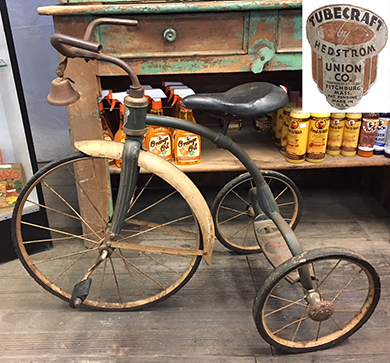 ANSWER: Carl Hedstrom, E. Gustaf Hedstrom, Knute Hedstrom, Wilfred Shuffleton, and Walter Beaman founded the Hedstrom Company in 1915. Located in Gardner, Massachusetts the company made baby carriages and hoods. In 1922, a merger between Hedstrom and Union resulted in the creation of the Hedstrom-Union Company. In 1928, Hedstrom-Union acquired Children's Vehicle Company of Templeton. Hedstrom-Union leased a plant in Fitchburg in 1936. In 1950, labor difficulties resulted in Hedstrom-Union closing its Massachusetts factories and moving to Dotham, Alabama and Bedford, Pennsylvania.
Given the above, your assumption that your tricycle dates between 1936 and 1950 is correct. Because of World War II, you can eliminate mid-1941 through 1945. I favor a 1946 to 1950 date based on the identification plate topography.
Asking prices from dealers selling unrestored Hedstrom-Union Co. tricycles over the past five years range from $60.00 to $75.00. These prices appear high, especially given the amount of work a restoration involves. Speculating on a value after restoration is difficult. The quality of the restoration impacts the price. A well done, amateur restoration is worth a quarter or less than a professional restoration to "factory new" specifications.
The desirability of your tricycle is a value factor. During the same period as your tricycle, Hedsrom-Union made a streamlined modern tricycle that featured batwing handle bars and a half-circle wheel frame. This is the Hedstrom-Union tricycle model that collectors seek. Compared to its design, your tricycle is "ordinary."
Hedstrom still makes tricycles. The company is best known among collectors for its 1980s line of character tricycles such as Care Bears and Strawberry Shortcake.
---
QUESTION: I own a .999 fine silver bar that measures six inches in length and 2 1/2 inches high and contains the images of a $100.00 bill on the front and back. The bill is dated 2005. On the back, there appears to be a "G" mint mark. It is sealed in a plastic casing. I do not know the weight. What is the bar worth and where can I sell it? – R, Altoona, PA, Email Question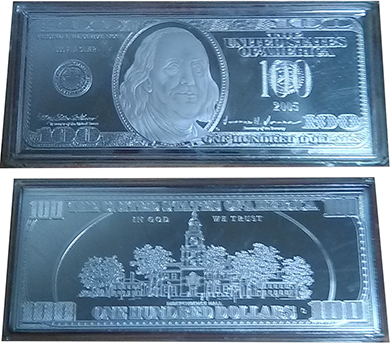 ANSWER: Your silver ingot $100.00 bill replica was produced by the Washington Mint. It weighs four ounces.
Washington Mint is not the same as the U.S. Mint in Washington, D.C. In 2000, the United States of America filed suit against the Washington Mint, LLC., Suvon Limited Partnership, Movus Marketing, Inc, Thomas Brokl, Henry Cousineau, Scott Jagodzinski, and Damien Topouise for "copyright infringement, trademark infringement, and false advertising" for its gold coin replica of the Sacagawea dollar. The court ruled that while the names are very similar and could be confused, circumstances were such that refusing to allow the Washington Mint to continue to use its name would cause an undue financial loss for the company.
Mints, such as Washington Mint, sell fine silver commemorative ingots impressed with the faces of personalities, historical events, and other images suggesting but not actually guaranteeing that these objects will increase in value over time. The cost for these commemorative pieces, often sold as sets and attractively packaged in books and boxes, is two times or more of spot/melt value of the silver found in each ingot.
In reality, the only way these pieces can increase in value is if the melt value of silver rises significantly from the value of the ingots when minted. At the moment, the spot or melt market for silver is depressed. As of July 18, 2018, the spot value was $15.85 per ounce, meaning the maximum melt value of your ingot was $63.00.
I checked WorthPoint.com's 2018 listing for sales of your Washington Mint $100.00 bill. The bill initially came in a box with a certificate of authenticity. The box and certificate need to be present to achieve maximum resale value. Sell through prices for the complete unit ranged from $55.00 to slightly over $100.00. The majority sold below $75.00. By the time you pay commission to an internet seller or auctioneer, you will receive less than the spot/melt value.
My suggestion is to wait until the spot/melt rises above $30.00 an ounce. It has happened before and will likely happen again. When it does, sell your ingot for spot/melt value.
One final note: The secondary market is flooded with Washington Mint fine silver material. Scarcity will never be an issue.
---
QUESTION: I have a figural whiskey bottle of a woman holding a pan of gold in her left hand and putting her cupped right hand by her mouth as though she is shouting. She has red hair and is wearing a rose-colored shirt and blue jeans rolled up to her knees. The label reads: "LIONSTONE / WHISKEY / Kentucky Straight Bourbon / Bottled in Bardstown, KY / By LIONSTONE DISTILLERS, Ltd." What is the history and value of my bottle? If I sell it, what should I ask? – H., West Chester, PA, Email Question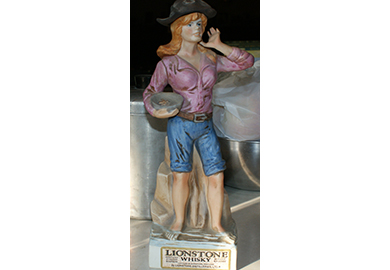 ANSWER: Lionstone Distilleries did not manufacture whiskey. It was a distributor of figural whiskey bottles during the 1970s collector/limited edition whiskey bottle collecting craze. The whisky was purchased from a variety of Kentucky distillers in Bardstown, Lawrenceburg, and the surrounding area.
Information concerning the history of Lionstone Distilleries is limited. Michael Polak's "Antique Trader Bottles: Identification & Price Guide, 7th Edition" (KP [Krause Publications, a division of F+W Media, 2012) notes: "Lionstone bottles, manufactured by Lionstone Distillery, incorporate a great deal of detail and realism in their designs….The Lionstone Bottles are issued in series form…..The most popular among collectors is the Western series…." Lionstone distributed figural whiskey bottles between 1971 and 1980. By 1977, the company was touting the bottles as "Sculptured Porcelain Limited Edition" pieces. Given the quantities produced of each bottle, "limited" is a laughable claim.
I identified the title of your bottle by a picture search of Lionstone Bottles on WorthPoint.com. You own a "Molly Brown" bottle. If I still had a copy of "H. Montague's Modern Bottle Identification and Price Guide, 3rd Edition" (1984) in my reference library, I would have used it.
[Author's Aside: Montague's modern bottle price guides helped fuel the whiskey bottle collecting craze, just as Miller's did for the Hummel market and numerous guides did for the Beanie Baby speculation. Montague never published a fourth edition. The reason is simple. The collector/limited edition market collapsed. No one wants to buy a price guide to learn their collection is worth half or less of what they thought it was worth. The Miller Hummel and Beanie Baby price guides disappeared for the same reason.]
Polak values a Lionstone Molly Brown bottle between $30.00 and $35.00 in the seventh edition of his bottle price guide. The value is identical to that found in his sixth edition (2008), a surprise given the decline in the collectibles secondary market following the 2008-2009 great recession. The last "Molly Brown" bottles listed on WorthPoint.com sold in 2012. One sold for $14.99 and the other for $19.99. The best interpretation of these data is that current interest in the Molly Brown Lionstone Bottle is almost non-existent.
My recommendation is to take any offer above $5.00. It may be a difficult sell even at this price. The risqué nature of Molly's shirt will appeal to some buyers. If your prospective buyer's mouth drools, raise the asking price to $10.00.
---
QUESTION: I have a seven ounce, green, Wenner soda bottle from Allentown, Pennsylvania. What is its value? – J, Allentown, PA
ANSWER: In 1921, E. Jacob Wenner purchased the West End Bottling Works, founded by Lewis D. Clauss in 1910, and changed its name to the Whistle Botting Company. His son William Wenner succeeded his father as manager. In 1930, Wenner created Wenner Beverage Company, an offshoot of Whistle. Wenner Beverage closed in 1969. William Wenner died in 1988. [Information obtained from a Frank Whelan column that appeared in the "Allentown Morning Call" on June 12, 2002.]
In the Allentown, Pennsylvania region, your bottle has a secondary market value between $4.00 and $6.00. Outside the area, it would sell for a dollar or less.
---
Harry L. Rinker welcomes questions from readers about collectibles, those mass-produced items from the twentieth and twenty-first centuries. Selected letters will be answered in this column. Harry cannot provide personal answers. Photos and other material submitted cannot be returned. Send your questions to: Rinker on Collectibles, 5955 Mill Point Court SE, Kentwood, MI 49512. You also can e-mail your questions to harrylrinker@aol.com. Only e-mails containing a full name and mailing address will be considered.
You can listen and participate in WHATCHA GOT?, Harry's antiques and collectibles radio call-in show, on Sunday mornings between 8:00 AM and 10:00 AM Eastern Time. If you cannot find it on a station in your area, WHATCHA GOT? streams live on the Internet at www.gcnlive.com.