RINKER ON COLLECTIBLES — Column #1651
Copyright © Harry Rinker, LLC 2018
Questions and Answers

QUESTION: I live on a ranch in Parkman, Wyoming, in which I have a display cabinet that family lore says was shipped here on a steamship on the Yellowstone River. The display cabinet is asymmetrical with a combination of alternating layers of shelving, storage units, and mirrors. It has squat cabriole legs. Can you identify the design style, date the piece, and tell me its value? – DJ, Parkman, WY, Email Question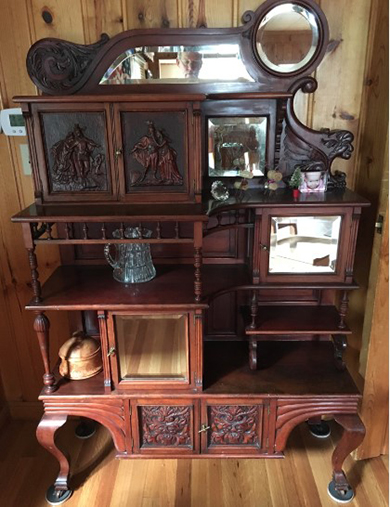 ANSWER: Your display cabinet is an etagere, a piece of furniture for displaying and storing objects. Your etagere is in the American aesthetic design style and dates between 1890 and 1910.
Aesthetic furniture is asymmetrical, a reaction to the symmetrical appearance of most furniture styles of the period. Among the aesthetic movement features exhibited by your piece are the open shelves, storage areas with carved door panels, contrasting curves and linear features, and the incorporation of mirrors. The piece is sculptural, as much a work of art as it is a functional piece of furniture. The Aesthetic movement is a precursor of American Pre-Raphaelite and Arts and Crafts furniture.
Creating a word picture of your etagere is difficult, but I will do my best. The top section consists of an oval with a round carved spandrel to the left of a horizontal mirror with shaped ends and a round beveled glass mirror in a frame at the opposite end. The left portion of the piece consists of a storage unit with two cupboard doors, each with a relief carving of a couple in medieval costumes, set back on a shelf that serves as the top for an open unit with turned spindle supports. A turned spindle trellis serves as a drop to the top shelf. The section beneath this second shelf is divided into an open pillar support display area on the left and a cupboard door with a beveled glass mirror on the right. The right side of the etagere has a square mirror beside the two cupboard doors on the left and a large open shelf. To the right is a large "C" scroll ending in a carved head. A cupboard with a mirror over two open display areas fills the lower two-thirds of the right side. A large vertical open area separates the left from the right section. The apron (or base) has a central section featuring two carved cupboard doors flanked by opposing quarter arches. The piece is supported by squat cabriole legs.
Your etagere was very fashionable and high-style for its time. As such, it represents some of the earliest quality furniture to find its ways to Wyoming. In your area, your piece has a secondary market value between $800.00 and $1,000.00, a third to a half higher than it would if located in the New England or Mid-Atlantic market.
---
QUESTION: I have a copy of Volume 1, No. 1 of "Playboy." The cover features a picture of Marilyn Monroe. The "Golden Dream" centerfold is intact. The front and back cover is heavily crinkled and some of the edges are rough. The inside is clean and free of damage. I would like to sell my copy but do not know what to ask. What is your advice? – MD, Reading, PA, Email Question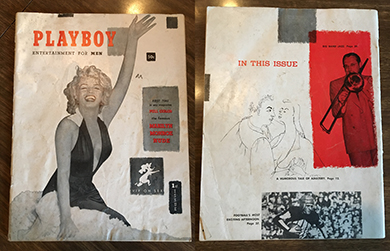 ANSWER: Hugh Hefner released Volume 1, No. 1 of "Playboy" in December 1953. The cover did not have a date. Hefner was not certain there would be a second issue. The press run was 54,000 copies. The cost was fifty cents. The cover stated that is was "not a family magazine." The Marilyn Monroe centerfold was referred to as the "Sweetheart of the Month." The term "Playmate" came later.
A surprising number of copies survive. Value is contingent first on the issue being complete including the centerfold and second on condition, condition, and condition. The cover condition is paramount. At best, your example is in fair condition.
Fine or better examples sell between $2,500.00 and $3,000.00. An overly optimistic eBay seller has one listed at $5,995.00 with a willingness to do a $250.00 per month layaway program. It remains unsold. Julien's Auctions did sell a Volume 1, No. 1 in fine condition for $19,200.00 on April 28, 2017. Hype works.
Given the cover condition, your issue has a retail value between $800.00 and $1,000.00. If sold privately, a more realistic price would be between $650.00 and $700.00. I will mention your desire to sell on WHATCHA GOT?, my syndicated antiques and collectibles call-in radio show. If any listeners respond, I will forward their emails to you.
Given Julien's (www.julienauctions.com) strong prices, you might consider approaching this firm. This is a long shot, given the condition. If you do work with an auctioneer, make certain he/she lists their items on internet auction sites and takes bids via the internet.
[Aside: There was a page numbering glitch in Volume 1, No. 1. The third page in more than 90 percent of the press run is not numbered. Based on my research, a numbered variant does not add to the magazine's value.]
---
QUESTION: I have a large Capodimonte ewer. My mother bought it in 1976 or 1977. It has an elaborate relief filigree design and a motif of two intertwined naked lovers. An attached tag reads: "KERAMOS / logo of five-point crown over "N" / R. Capodimonte / ITALY" opposite "PRODUZIONE / ARTISTICA / ISPIRATA ALLE / CERAMICHE / CAPODIMONTE / E FLAMMINGO / Art. 109." How much is my ewer worth? – SC, Modesto, CA, Email Question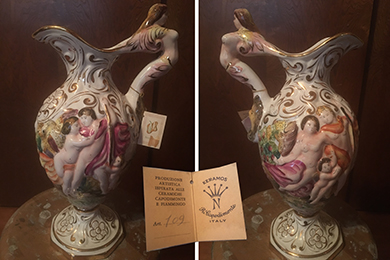 ANSWER: Capodimonte or Capo-di-monte is a generic term used to identify porcelain manufactured in Naples and its surrounds. It denotes location and not age.
Do not confuse the historic Capodimonte Porcelain produced in Naples by Real Fabrica di Capodimonte and other Italian manufacturers in the eighteenth century with later mass-produced, lesser quality twentieth pieces. Many of these later pieces had an Etruscan motif and were of poor quality. Twentieth century manufacturers purposely used marks almost identical to those found on historic pieces in order to confuse buyers. "Made in Italy" is another clue a piece is of modern origin.
The Capodimonte mark with a five-point crown (coronet) was first introduced in 1771. The mark has been in continuous use ever since. When the Royal Factory in Naples closed in 1834, many of the artisans opened their own shops. Lombardo Porcellane Artistche (LPA), later IPA, dominated production in the pre- and post-World War II period.
The translation of the information on your tag is "Artistic production inspired by ceramics of Capodimonte and Flammingo," a clear indication that the piece is a later copy.
Numerous "Keramos / R. Capodimonte / Italy" pieces are offered for sale on the internet. Asking prices range from $25.00 to $65.00. A check of listings on WorthPoint.com confirms these prices ranges. A fair secondary market retail value for your ewer is around $30.00. This value is more decorator than collector driven.
---
QUESTION: While attending the 75th anniversary of the Titanic Historical Society in 1987, I purchased a souvenir poster and had the 10 surviving members in attendance sign it. My three favorites are Ruth Becker Blanchard, Eva Hart, and Michel Navratil. I had it professionally matted and placed in a 30 by 24 inch frame that I owned. The piece has a great deal of personal value. What is its market value? – BN, Yellow House, PA, Email Question
ANSWER: Twenty years later, the Titanic Historical Society (https://titanichistoricalsociety.org/) is still operating. Millivina Dean, the last survivor, died in 2009.
The market is flooded with souvenir Titanic prints signed by one or more survivors. Galleries and dealers ask between $750.00 and $1,000.00 dollars for a framed autograph print. These are asking prices. Sell through records suggest these asking prices are two to three times above what a comparable piece realizes.
Because of the problem with fake autographs, you need to assemble provenance documentation that you were at the event. At the very least, type out the story of how you acquired the signatures and have it notarized. Back up information, like a souvenir program or other documents from the convention and local newspaper accounts adds to the credibility of the signatures.
A viable secondary market value for your print is between $250.00 and $300.00.
---
Harry L. Rinker welcomes questions from readers about collectibles, those mass-produced items from the twentieth and twenty-first centuries. Selected letters will be answered in this column. Harry cannot provide personal answers. Photos and other material submitted cannot be returned. Send your questions to: Rinker on Collectibles, 5955 Mill Point Court SE, Kentwood, MI 49512. You also can e-mail your questions to harrylrinker@aol.com. Only e-mails containing a full name and mailing address will be considered.
You can listen and participate in WHATCHA GOT?, Harry's antiques and collectibles radio call-in show, on Sunday mornings between 8:00 AM and 10:00 AM Eastern Time. If you cannot find it on a station in your area, WHATCHA GOT? streams live on the Internet at www.gcnlive.com.