RINKER ON COLLECTIBLES — Column #1647
Copyright © Harry Rinker, LLC 2018
Questions and Answers

QUESTION: I recently purchased a glass Blanke's aerial globe baking powder bottle for a quarter. It has a screw on top. There are no chips. It might be World's Fair related. I would appreciate any information you can provide. – LC, Alamogardo, NM, Email Question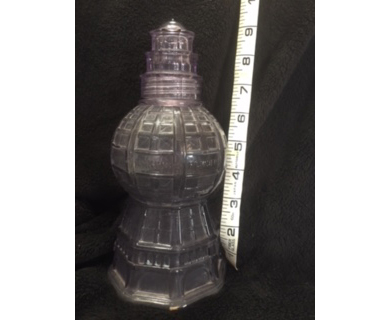 ANSWER: Dick Sheaff's "Fantastic Monumental World's Fair Globes" appeared in the February 13, 2013, issue of the "Ephemera Journal." [www.ephemerasociety.org/blog/?p=210] The article described a globe designed to rival the French Eiffel Tower that was purposed for the 1904 St. Louis World's Fair:
"St. Louis businessman C. F. Blanke of the Blanke Coffee Company purposed to build a…huge globe…
"Beside (the Aerial Globe), the promoters say, the Eiffel Tower and the Ferris Wheel [from the 1893-1894 Chicago's World Fair] are crude engineering feats. The Aerial Globe will be an immense steel structure, 700 feet high from the stone base to the roof of the observation tower on the top. At the height of 110 feet will be a roof garden about 1,000 feet in circumference. On that floor will be two restaurants, one German and the other American, and two theaters. At the height of 295 feet a coliseum will [be] located, with iron-bridges walks around the globe, giving a complete view of the grounds. Below will be two regular circus rings and a track surrounding them, and underneath the tiers of seats will be a menagerie viewed from the circular walk. At an elevation of 420 feet will be a great music hall, and at 450 feet a palm garden.'… 'Mr. Blanke and Samuel M. Friede have organized a company with $1,500,000 capital, named the Friede-Blanke Aerial Globe Company, and have begun active work to have this feature constructed.' (New York Times, August 29, 1902). Samuel Friede was an architect and inventor. The structural engineer for the project was to have been Albert Borden."
A blueprint measuring five feet by ten feet was unveiled on September 9, 1901. The structure was never built.
Cyrus Blanke (born 1862 in Marine, Illinois), owner of C. F. Blanke Tea & Coffee Company, was one of several late-19th/early 20th-century St. Louis coffee manufacturers. He began his career working for the Steinwender-Stoffregen Coffee Company At the age of 28, Blanke established C. F. Blanke & Company, specializing in the sale of coffee and tea. He is credited with being the first person to have an entire trainload of coffee, 16,000 bags, delivered to his plant. He served as a member of the Board of Directors for the 1904 St. Louis World's Fair.
Blanke marketed its coffee utilizing a number of different brand names, for example, Defy, Faust, Fancy Blend, Popular, and Quick Cup. Blanke memorabilia ranges from advertising to signage to tins and sells well in the secondary antiques and collectibles market.
In addition to the glass Blanke's aerial globe bottle, Blanke also issued a 1902 postcard picturing the globe. The Aerial Globe also is featured on a pre-Fair opening trade card for Stultz & Bauer pianos.
Worthpoint.com contains a listing for an April 6, 2008, eBay sale of the glass bottle that realized $273.00. This is the only price information I was able to locate on the internet. This suggests the bottle is scarce. How scarce remains to be determined. 2008 is a long way from 2018. As always, my suggestion is think conservatively. A viable secondary market value for your bottle is between $165.00 and $185.00.
---
QUESTION: I have a few 5-inch black & white, battery, 110 volt powered televisions. Popular brands included Craig, Panasonic, and Sony. These 5-inch portables were popular promotional giveaways at timeshare and other presentations. I received a Bentley 100c, made in Korea, at a timeshare promotion in the Poconos. The case measures 8-inches by 13-inches. Since these battery-operated televisions have old tech tuners and no inputs for convertors, they basically are good now only as night lights. Is there a collector market for these or are they only recycling fodder? – RD, central Montgomery County, PA, Email Question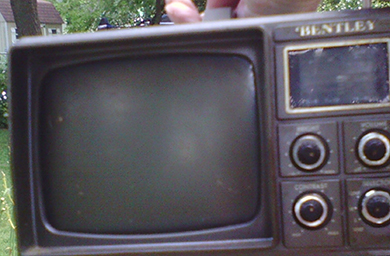 ANSWER: Portable televisions still are being made today. Most have 9-inch screens and are digitally driven. Collectors differentiate between portable televisions (too large to fit in a pocket), pocket televisions, and wearable televisions (often found in wristwatch form).
The golden age of handheld televisions, which closely resembled handheld transistor radios in design, was the 1970s and early 1980s. Panasonic and Sinclair Research's initial release of its Panasonic IC TV Model TR-oo1 and MTV-1 used a miniscule CRT unit. Eventually, these units were replaced by LCD technology. Sony released its Watchman in 1982. A color model followed a few years later.
I found a listing on eBay for a "Vintage Bentley Model 100 C Portable TV" mint in the box for an asking price of "$65.00/Free shipping/Best Offer." A competing eBay listing for a "Bentley Portable 5" Black and White TV Model 100C and Accessories." asked $55.00 plus $17.00 for shipping. The listing also included a "Best Offer" option. Asking and getting are two different matters.
There were multiple eBay listings for the Bentley Model 100C. Asking prices ranged from $40.00 to $70.00. Two possibilities exist. First, there is some collector interest. Second, sellers are copying each other's selling price points. A check of sell through prices on WorthPoint.com for the Bentley Model 100C suggests the second point is most likely the accurate one. Sell through prices range from $15.00 to $25.00.
To my surprise, most listings for handheld and portable 1970s/1980s televisions indicated the sets worked. There was no information on level and quality of reception.
In summary, if there is a collectors' secondary market for 1970s/1980s battery operated, 5-inch screen televisions, it is a limited one.
---
QUESTION: I have my great-grandmother's Valmont Haviland china. She was born in 1866 and died in 1938. There are 12 dinner plates, salad plates, dessert plates, cups and saucers. In addition, I have two serving bowls and a platter. I am seeking a value estimate for estate purposes. Can you help? – DM, Darby, MT, Letter
ANSWER: First, value is contingent on the popularity of the pattern—the more popular the pattern, the greater the ability to find replacement pieces if one is broken. The pattern does not appear in my "Dinnerware of the 20th Century: The Top 500 Patterns," published by Random House in 1997.
Second, value in any china service rests in the serving pieces. At a minimum, a service should have three platters, creamer, sugar, gravy boat, and two different size vegetable bowls, ideally one of which is covered.
Third, the phrase "my kids do not want grandma's china" is the most common lament heard in the antiques and collectible trade today. This is especially true if the dinnerware is not dishwasher safe.
Finally, one cannot rely on the asking prices on www.replacements.com to value a service. Rather, they serve as an indicator as to the level of secondary market demand—the lower the price, the lower the demand.
A fair estate value for your set is around $100.00. My best advice is to use the service and create memories. Hopefully, this will create a desire among one of your heirs to keep the service in the family.
---
QUESTION: In reviewing Facebook, I recently saw a Hopalong Cassidy, black case radio with a price reading: "Hoppy Radio, As Found $395.00." It is not worth $80.00. Do you agree? – H, West Chester, PA, Email Question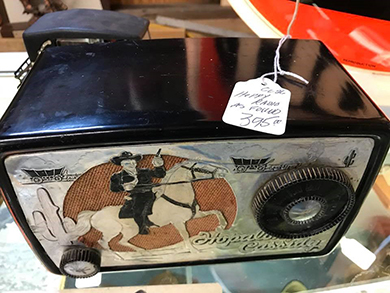 ANSWER: I disagree. It is not worth $40.00. If it was guaranteed to be in working condition, $80.00 might be the right price, assuming there was a radio collector who wanted it. Forget the Hoppy collectors. Like Hoppy, most are now members of the great roundup in the sky.
---
Harry L. Rinker welcomes questions from readers about collectibles, those mass-produced items from the twentieth and twenty-first centuries. Selected letters will be answered in this column. Harry cannot provide personal answers. Photos and other material submitted cannot be returned. Send your questions to: Rinker on Collectibles, 5955 Mill Point Court SE, Kentwood, MI 49512. You also can e-mail your questions to harrylrinker@aol.com. Only e-mails containing a full name and mailing address will be considered.
You can listen and participate in WHATCHA GOT?, Harry's antiques and collectibles radio call-in show, on Sunday mornings between 8:00 AM and 10:00 AM Eastern Time. If you cannot find it on a station in your area, WHATCHA GOT? streams live on the Internet at www.gcnlive.com.