RINKER ON COLLECTIBLES — Column #1645
Copyright © Harry Rinker, LLC 2018
Questions and Answers

QUESTION: While visiting Renninger's Market in Adamstown, Pennsylvania, I encountered a dealer selling two paintings by Antonio Romano. He is asking $350.00 each. Romano used the back of old framed prints and photographs as his canvas and returned his finished work to the period frame. The first is a side-profile, bust portrait of an Indian. The second is an "early" American map with a powder horn attached. The seller knew Romano and considered him a friend. I have several questions: (1) is $350.00 a fair price, (2) should I buy one or both if I decide to buy, and (3) what is your prediction about the long-term value of Romano's work? – BN, Yellow House, PA, Email Question
ANSWER: Until I received your email, I had never heard of Antonio Romano, proof once again that one cannot know everything. An internet search provided the following information about Romano.
Antonio Romano is touted as a primitive modernist, a term very much open to interpretation. The bio on the American Designs website notes that he "developed a distinctive style combing modernism and narrative folk art, with an aura of surrealism and mystery. The influence of Man Ray, Giorgio De Chirio, the Indian purists, Paul Delvaux, and Rene Magrite is acknowledged…." Those familiar will gallery hype will recognize this as a two-word phrase associated with a male bovine and excrement.
Romano is a classically trained artist, meaning his work does not fit the technical definition of folk art even though his paintings utilize a folk art style. Romano, born in Italy in 1953 and educated at the School of Visual Arts in New York City, settled in New York in the 1980s. His frescos are found on the walls of several New York churches and restaurants. He also has had several showings at galleries in New York and its surrounds. I checked out the Mary Boone Gallery. When listing the notable artists that she represented and the detailed list of artists that exhibited at her gallery, the name of Antonio Romano is missing. Why am I not surprised? After his time in New York, he resided in Bordentown, New Jersey.
Artists need hooks to sell their work. Romano's hook was applying his fresco technique to the back of "found" canvases. Focusing on historical images is another hook. Portraits of American Indians, rouges, and soldiers were his favorite subjects. His later work featured Wild West landscape and town scenes along with other "historical" subjects. The internet contains multiple examples of his work.
Researching the secondary market was a delight. On websites such as eBay, his work usually listed and sold (not in every instance) for under $300.00. A few optimistic eBay sellers asked in the $400.00 to $500.00 range. On the other hand, gallery asking prices ranged from the low to middle thousands. Of course, these prices reflect the perceived value associated with a gallery provenance and the ability of the gallery owner to hype anything and everything to the unknowledgeable nouveau riche.
Romano died in 2018. His obituary does not appear on the internet. It is safe to assume there was no celebrity bounce in respect to Romano's art work.
When buying this type of art, buying what appeals to you is the first criteria. The second criteria is to buy a work that a knowledgeable person will say: "Oh, that is an Antonio Romano." Given this, my recommendation is to buy the portrait of the Indian and ignore the map. $350.00 is a "high" price, especially because the seller has a high perceived value based upon his friendship with Romano. Try some bargaining. In the end, the "best" price is one that pleases the seller and buyer.
I do not see any long-term investment opportunity in Romano's work. Like so many artists of his type, he is a passing fancy. His art may be include in the collections of some minor museums but most certainly not the MET in New York.
---
QUESTION: I recently purchased a plaster millinery mannequin head of a young woman. The bottom has a paper label that reads: "Art Original by PACINI SCULPTURETTE." There is a map of Italy in a vertical box separating "by" and "PACINI." There is paint loss at the bottom of the neck. I cannot find anything about Pacini in terms of age or value. Can you help? – W & T M, Grand Rapids, MI, Email Question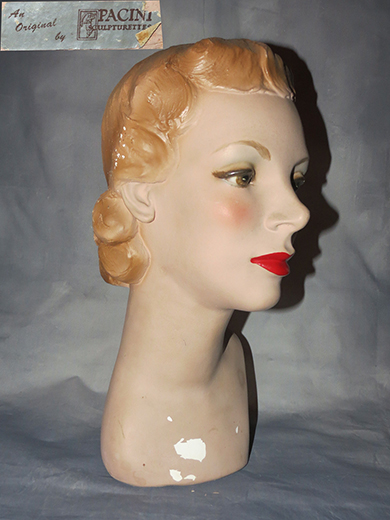 ANSWER: First, you do not have a millinery mannequin, albeit it could be put to that use if a person so desired. You have a 1950s decorative sculpture that was meant to be displayed as a work of art. This sculpture is in the tradition of 1950s female bust portraits of women, many of which were females of African, Asian, or Polynesian descent. The goal was a statuette in the image of the "ideal" woman.
While helpful, labels do not always contain enough detailed information to research their source. Try searching "Pacini Novelty Company" which was located at 3437 Bagley Avenue in Detroit, Michigan. I found a blog question from a grandson of the owner seeking information about his grandparent's firm. His blogs states: "For about 30 years from 1950's thru the late 1970's, my grandparents owned a business in the building [3437 Bagley Ave.]. It was called Pacini Novelty Co. specializing in plaster statue's [sic.]." A response came from an individual who talked to "my dad and he said he worked there back in the early 60's with his dad and brother."
Esty and other picture websites have dozens of chalkware examples produced by the Pacini Novelty Company. Subjects include animal figures, female busts (some of which wear black masks), figurines such as clowns, holiday items such as wall plaques, religious themes (especially bust portraits), and wall plaques. Several of the religious statuettes were available as lamps. Pacini also supplied chalkware figures to carnival concessionaires. I found an illustration of a 15" tall soldier on WorthPoint.com.
The vast majority of Pacini Novelty chalkware retails on the secondary market for under $20.00. If in fine or better condition, you Pacini female figure would have a value between $65.00 and $80.00. The visible damage on the neck reduces the value to around $25.00. A buyer will likely place a scarf around the neck to hide the damage when displaying it. You do not have this option if you wish to sell it honestly.
---
QUESTION: I recently purchased two gargoyles at a local flea market for $20.00 each. The Chinese-style dogs are made of white plaster and painted blue. One weights 14 pounds and the other 13 pounds. I do not know anything about them. – BC, West Plains, MO, Email Question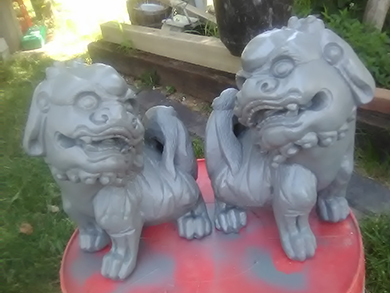 ANSWER: A gargoyle is a grotesque carved animal or human figure projecting from the gutter of a building. It is used as a spout to allow rain water to run off a roof and clear the side wall.
You do not own a pair or gargoyles. You do own a pair of reproduction Chinese Foo Dogs designed to be used as garden, gate, or porch ornaments. The value of the examples you purchased is purely decorative. They have no collectible value nor will they in the long term.
You paid a fair price. These Foo Dogs would retail in a garden shop or Big Box store between $35.00 and $50.00 each.
---
QUESTION: While cleaning out a house, a friend found a set of the 12 folios that comprise an illustrated history of Reading, Pennsylvania. The folios were published by H. R. Page & Co. in 1891. Each part consists of 20 pages featuring pictures of buildings with text. In 1897, the parts were consolidated into a single volume. I paid $100.00 for the set. The local historical society has a copy of the bound volume. I have not encountered hard bound or loose copies of the folios in my search for the title. What are your thoughts? – JY, Reading, PA, Email Question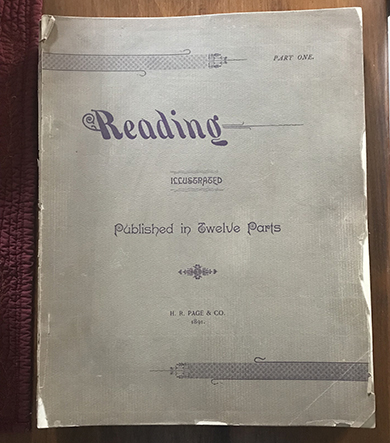 ANSWER: The secondary market for period regional histories is soft, even when copies are scarce. There are two primary reasons. First, many of these volumes have been reprinted. Second, many volumes are available on the internet. More often than not, there is no charge for access, albeit the printing of pages is difficult unless one knows how to bypass the "do not print" restriction. For individuals solely interested in the information these volumes contain, it makes little to no difference if that information comes from a reprint or online source as opposed to a period copy.
You treated the seller fairly. My guess is that you plan to keep the folios separate rather than have them bound. In this instance, the binding cost is likely to exceed the purchase cost of a bound period volume.
You own a local 110-year-old treasure. Enjoy.
---
Harry L. Rinker welcomes questions from readers about collectibles, those mass-produced items from the twentieth and twenty-first centuries. Selected letters will be answered in this column. Harry cannot provide personal answers. Photos and other material submitted cannot be returned. Send your questions to: Rinker on Collectibles, 5955 Mill Point Court SE, Kentwood, MI 49512. You also can e-mail your questions to harrylrinker@aol.com. Only e-mails containing a full name and mailing address will be considered.
You can listen and participate in WHATCHA GOT?, Harry's antiques and collectibles radio call-in show, on Sunday mornings between 8:00 AM and 10:00 AM Eastern Time. If you cannot find it on a station in your area, WHATCHA GOT? streams live on the Internet at www.gcnlive.com.