RINKER ON COLLECTIBLES — Column #1643
Copyright © Harry Rinker, LLC 2018
Questions and Answers

QUESTION: I have two framed, limited edition prints of paintings by Alan Bean, the Apollo XII astronaut who walked on the moon and commander of the Skylab II Mission. "Homeward Bound" measures 19 inches x 17 inches inside the frame. "Too Beautiful to have Happened by Accident" measures 29 inches x 22 inches inside the frame. I have the certificate of authenticity for "Homeward Bound" but cannot find the certificate for "Too Beautiful to have Happened by Accident." How important is the certificate to value? Further, Alan Bean died on May 26, 2018. How does his death impact the value of the prints? – S &J S, Bozeman, MT, Email Question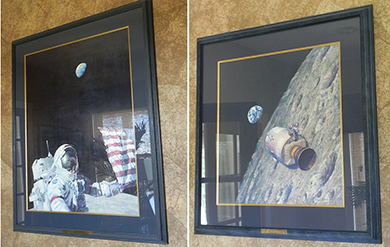 ANSWER: Alan Bean painted as a hobby. He first honed his skills by attending night classes at St. Mary's College in Maryland in 1962. When training and serving as an astronaut, he took private lessons. While in space, Bean observed events and scenes that left a deep impression on him. His landscape focus quickly changed to outer space. Bean also continued his art studies.
Bean's paintings are realistic in approach. They document a specific moment. His aeronautical training resulted in a devotion to detail. Bean resigned from NASA in 1981 to devote the balance of his career to art. His book "Apollo: An Eyewitness Account," published in 1998, featured his artwork.
To enhance the value of his art, Bean created collector edition, signed and numbered prints of his paintings. The print run ranged from 550 to 600 copies. In addition, approximately 50 "artist proofs" and a few printer's proofs were made. The prints were framed and marketed through internet sites such as Astronaut Central and the Meredith Long Gallery in Houston.
First, Bean's prints are copies of a specific painting. They are not a work of art in the true sense of the meaning. The painting upon which each print is based is the true work of art.
Second, Bean's prints were sold through agents, such as internet sites and galleries. The typical agent commission is 50 to 60 percent. If a print sold for $215.00, chances are that Bean received around $100.00. Internet and gallery sale profit is not value. Like a new car, the minute a print was purchased, it technically lost half its value or more on the secondary market.
Third, contemporary secondary market value is influenced by whether an edition of a specific print sold out or remains in inventory. When in possession of a sold out print, galleries and other sale sources automatically increase the asking price to imply a "rise in value" as a means to encourage individuals to buy non-sold out editions, almost always listed at a lower price. If this appears to be market manipulation, it is.
Fourth, Rinker's 30-Year Rule applies – "For the first 30 years of anything's life, all its value is speculative." Bean's prints do not have an established reliable secondary market value. The secondary market is speculative because of the celebrity bounce associated with Bean's recent death and the current astronaut/space collecting craze. The celebrity bounce fueled by Bean's death should end soon. Once over, primary and secondary market prices will adjust to Dean's pre-death level.
Fifth, while nice, the certificate of authenticity adds very little to the value of the prints. The information found on the certificate is readily available on the internet as is the images of the certificates themselves. Certificates of authenticity are marketing gimmicks. Collectors know to ignore them or, at the very least, distrust them.
Sixth, people who bought Bean prints are likely to keep them. As a result, there always will be Bean prints on the secondary market. Will a point be reached where supply will exceed demand? The answer is yes. The only question is when. The answer is sooner rather than later.
Bean's prints do sell, albeit secondary market prices appear to have dropped between 20 and 25 percent during the past three years. Sell through prices for "Homeward Bound" range from $500.00 to $600.00. The print initially sold for $215.00. It is sold out. "Too Beautiful to have happened by Accident" still is available with asking prices between $950.00 and $1,200.00 dollars. Recent secondary market sales were $135.00 and $270.00.
This is the time to sell if that is your goal. Finding the right market will be difficult. Galleries will pay only 25 to 30 cents on their retail value. eBay is iffy—good days and bad days. Auction companies that hold specialty space auctions such as Bonhams, Heritage Galleries in Dallas/Fort Worth and RR Auction in Boston are your best bet.
---
QUESTION: I recently paid $56.50 for a pair of Art Nouveau, bronze, seated nude bookends. Each is 10 inches high by 5 inches wide. The marble base is 6" in diameter and 1 1/2 inches thick. They were part of container load of antiques from Amsterdam that was sold by a local auctioneer. I could find no signature. They look old, but I am concerned. Further, if I sell them, should I sell them as a pair or separately? – AM, San Antonio, TX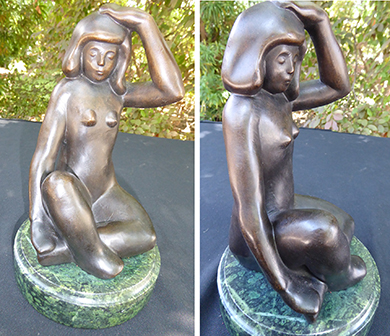 ANSWER: If bookends, breaking them apart would have a negative impact on value. The good news is they are a pair of statuettes, not bookends. Bookends do not have round bases. In order to be effective, they need to have a flat back or an extension out the side to slip under the books if the format is a three-dimensional sculpture.
The .jpg photograph attached to your email was extremely helpful in determining exactly what you have. Each historical art style has idealist images for women, nude or otherwise. Your statuettes definitely are not Art Nouveau. At best, they are 1960s or 1970s. More likely, they are of recent origin.
The statuettes fall into what I call "dirty old man" collectibles. Because the young girl/lady is sans clothes, they have sale appeal. "Nudity sells" is a basic sales tenant in the antiques and collectibles business.
Given the above, there is no problem with you selling the statuettes separately. A secondary retail market price of $40.00 to $50.00 each should sell them, albeit to a person more enamored with the subject matter than the origin, date, or quality of the piece.
---
QUESTION: I have a Kittinger writing desk. The rectangular top has a leather writing pad. There is a central drawer above the knee hole that is flanked by a panel of two side drawers. The fluted legs are tapered and end in brass casters. The desk is accompanied by a barrel-back, leather upholstered chair. Inside one of the drawers is a burnt brand label featuring an oval with "KITTINGER" in an arch at the top and "BUFFALO" on the bottom and in the center a scale flanked by "18" and "66." What is its value? -- MT, State College, PA, Email Question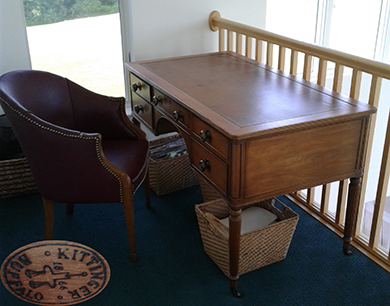 ANSWER: Kittinger is a high-end furniture brand. George and Oliver Colie established a paper factory in Buffalo, New York, in 1866. In 1885, they opened a furniture plant that specialized in the reproduction of eighteenth century furniture. When Irvine J. Kittinger, George Cole's son-in-law, took control, the furniture factory became The Kittinger Furniture Company. The Kittinger family owned the company until 1966 when it was sold to General Interiors Corporation.
Kittinger made two variations of a "mahogany Regency-Style writing desk." The first had only one row of drawers under the top. The second had a second level of drawers with a kneehole in the center. Also, the drawer moldings were done in different stylistic interpretations.
WorthPoint.com has a listing for an identical desk to the one you own that sold on eBay on April 10, 2016, for $650.00. Although I found some examples that sold at lower prices, $650.00 is a fair retail secondary market price at an antique shop or show. The chair adds another $100.00.
The secondary market for "brown" goods (dark colored Colonial Revival furniture) is depressed. A "fair price" is not always a selling price. A more realistic selling price for your Kittinger Regency desk and barrel back, leather chair is between $400.00 and $450.00.
I hope I live long enough to see the secondary retail market for high-end brand name furniture recover. I am not holding my breath.
---
QUESTION: I have a complete 20 volume set of the "World's Greatest Literature," published by Spence Press in 1936. What is its value? – P, Fleetwood, PA
ANSWER: The good news is the book set looks great sitting on a shelf. The books are bound in a light brown leatherette binding with ornate guild designs on the spines, an imitation of the binding style used by Roger Payne, an English binder. It makes little difference if they were read. Their presence conveyed an image of intelligence and respect for the past on the part of the owner.
I checked out a list of the 20 titles. There were some questionable ones – "Autobiography of Benvenuto Cellini" and "Last Days of Pompeii" by Sir Edward Lytton. Of course, I am not applying a period contemporary perspective.
Such sets are known as "shelf sitters" in the trade. They sell by the foot. In the case of your set between $20.00 and $30.00 a foot. If they were not read in 1936 by owners, they most certainly will not be read in 2018. Asking prices on www.abebooks.com range from $100.00 to $200.00. A more realist retail price is $75.00 to $90.00 and a selling price around $50.00.
---
Harry L. Rinker welcomes questions from readers about collectibles, those mass-produced items from the twentieth and twenty-first centuries. Selected letters will be answered in this column. Harry cannot provide personal answers. Photos and other material submitted cannot be returned. Send your questions to: Rinker on Collectibles, 5955 Mill Point Court SE, Kentwood, MI 49512. You also can e-mail your questions to harrylrinker@aol.com. Only e-mails containing a full name and mailing address will be considered.
You can listen and participate in WHATCHA GOT?, Harry's antiques and collectibles radio call-in show, on Sunday mornings between 8:00 AM and 10:00 AM Eastern Time. If you cannot find it on a station in your area, WHATCHA GOT? streams live on the Internet at www.gcnlive.com.