RINKER ON COLLECTIBLES — Column #1637
Copyright © Harry Rinker, LLC 2018
Questions and Answers

QUESTION: I recently rediscovered my husband's matchcover collection. There are 1,600 to 1,800 covers from the 1940s and about another 150 from the 1950s and 1960s. Most of the covers are from Reading, Pennsylvania, and its surrounds. Seventeen of the covers feature pinups. The matches have been removed from the covers. I put some of the local business covers on Craigslist but received no response. I would like to sell the collection. What advice can you offer? – LL, Reading, PA, Email Question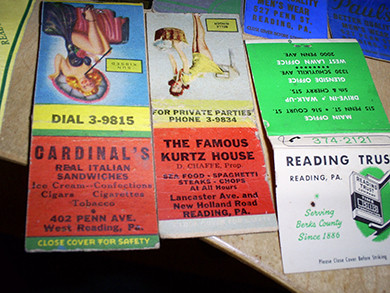 ANSWER: Your husband's collection rekindled a fond memory. My father worked at Bethlehem Steel's Sparrows Point Shipyard during World War II. Shortly after the war ended, my family moved from Dundalk, Maryland, to Bethlehem, Pennsylvania. For two years, we lived with my mother's parents at 717 High Street. In high school at the time, my Uncle Bill Prosser still lived at home. One of his bedroom walls featured long lines of string from which hung hundreds of matchcovers.
Uncle Bill was one of the catalysts that triggered my collecting gene. By kindergarten, I was collecting matchcovers with many of my earliest examples coming from street gutters on the route to and from school. My matchcover collecting career was short lived. By the fall of 1948 when my family moved to Hellertown, Pennsylvania, the collection was gone.
Your question raises a number of key issues in respect to determining value and collectability. First, matchcover collectors are well organized. The Rathkamp Matchcover Society (www.matchcover.org) bills itself as "The Oldest Phillumenic Organization in the World." Confused? So was I. The Merriam-Webster dictionary defines phillumenist as "one who collects matchbooks or matchbox labels." Learn something new every day.
I had the privilege of attending the Rathkamp Matchcover Society's annual convention when it was held in Allentown in the late 1980s or early 1990s. Over the years, I have encountered matchcover albums and large collections when doing appraisal clinics and interacted on occasion with members of The Society.
The golden age of matchcover collecting occurred in the 1990s. Like many collector clubs, the membership base is aging. The club's strength is that matchcover collecting always has been a very affordable hobby. Within the collecting community, common covers sell for a few pennies. Twenty-five cents is a lot. As with any hobby, there are certain matchcover types, especially those featuring figural matches, which command more.
These prices differ from the asking prices found on eBay and at flea markets, malls, shops, and shows where dealers think matchcovers are gold as opposed to fool's gold. Hence, attempting to determine value of a collection by using the prices found on eBay and in the field provides a false impression of worth. When a common matchcover commands over fifty cents, chances are it is bought by a one-time crossover collector buyer, such as a local or subject collector, not a matchcover collector.
The Rathkamp Matchover Society has a URL entitled "Want to Sell Your Covers?"(www.matchcover.org/Selling%20Covers.html). It begins by suggesting a detailed inventory be made. Inventorying a 1,600 to 1,800 collection will be time consuming. The information continues: "Regarding condition, there is very little market for used (struck) or damaged covers unless they are very old (1920s for example), and even then they have to be of certain types….Almost all collectors collect most matchcovers without matches, as long as no matches have been struck on the covers striking surface." In respect to value, the site notes: "There are no set prices in this hobby. Some types are worth more than others, and older covers generally have a higher value, but you should be aware from the outset that the vast majority of matchcovers will only sell for a few pennies each…" The URL suggests four selling options – selling to a local collector, selling to a national buyer, putting the collection up for the highest bid within the hobby, and club auctioning.
To gain additional perspective, I talked with Donna Longenecker. She and her husband are ardent matchcover collectors and attend local club shows as well as the annual conventions. Donna confirmed the above information. Think pennies, not nickels or dimes when valuing a collection entering the market. Donna told me that she recently acquired a large collection from a woman who was delighted to give the collection to her free, knowing it would find a good home rather than be thrown in the trash.
The best approach is to sell the collection as a whole. If you allow someone to cherry pick the collection, what remains will have little to no value.
When individuals have large collections, I tell them "do the math." At two cents each, your collection has a value of between $35.00 and $39.00. At five cents each, the numbers jump to $87.50 to $92.50. Ten cents each, raising the value to $175.00 to $195.00, is unrealistic. If someone offers between $50.00 and $65.00 for the collection, my recommendation is to sell it.
I fully appreciate the above numbers appear low and unfair compared to internet asking prices. The key point is that the same matchcovers keep appearing over and over again on eBay. Many listings include: "Or Best Offer." The internet sellers will not sell the matchcovers for a few cents to a dime. To them, the matchcovers are worth more. If they maintain their position, they will die still owning the matchcovers. Their heirs will throw them out. .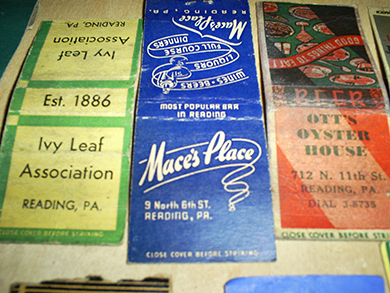 ---
QUESTION: There is a 1990 Fleer Jose Uribe baseball card listed on eBay for $758,000.00. What is going on? – BWT, Email Question
ANSWER: As The Rathkamp Matchcover Society URL dealing with selling a matchcover collection noted: "There are no set prices in this hobby." The first eBay listing under a "Jose Uribe Baseball Card" search was a "Graded 10 Jose Urbibe 1900s Fleer #74 Giants Baseball Card Gem Mint" currently up to $0.30 with a "Buy It Now Price" of $49.95 with free shipping. An 8.5 graded card with a requested opening bid of $0.25 and a "Buy It Now Price" of $39.95 had yet to attract a bid.
In a world where fools and their money are soon parted, such a fool need only spend $100,000.00 instead of $758,000.00 from a seller who believes under listing a competitor is a competitive selling technique. I just noticed that the cards are not graded and appear to be the same photograph. Skeptic that I am, I suspect the person listing the card at $758,000.00 is the same person listing it at $100,000.00.
While the immediate respond to these ridiculous price listings is to laugh, they make a mockery of the trade and its secondary market. Historically, I would have called the seller or sellers idiots. I recently found idiot is not the lowest mental qualification. Hence, the seller or sellers are imbeciles as far as I am concerned.
---
QUESTION: As a young adult, I made a special trip through adverse weather conditions to a nearby town to be first in line to by Neil Young's Harvest album on the first day of its release on February 1, 1972. My local record shop told me the day before that they had not received copies. By the time I returned home the album was available at my local record store. Feeling sorry for me, the local store owner gave me the full size promotional cardboard standup of Neil Young. It is a treasured position. What is its value? – S, Schuylkill Haven, PA
ANSWER: What a great story. The bad news is that this promotional cardboard standup still is available. The average price is $39.95 plus shipping. The modern piece is an exact duplicate of the period piece. I was unable to find any information about how to differentiate the period from the modern example.
While reason would seem to dictate that the period piece has to be worth more than the modern example, in this instance, reason is wrong. I found several period (vintage) pieces listed on eBay between $40.00 and $45.00.
Will this change over time? I doubt it. This is a personal collectible whose value to you is its story as opposed to its physicality.
---
Harry L. Rinker welcomes questions from readers about collectibles, those mass-produced items from the twentieth and twenty-first centuries. Selected letters will be answered in this column. Harry cannot provide personal answers. Photos and other material submitted cannot be returned. Send your questions to: Rinker on Collectibles, 5955 Mill Point Court SE, Kentwood, MI 49512. You also can e-mail your questions to harrylrinker@aol.com. Only e-mails containing a full name and mailing address will be considered.
You can listen and participate in WHATCHA GOT?, Harry's antiques and collectibles radio call-in show, on Sunday mornings between 8:00 AM and 10:00 AM Eastern Time. If you cannot find it on a station in your area, WHATCHA GOT? streams live on the Internet at www.gcnlive.com.