RINKER ON COLLECTIBLES — Column #1635
Copyright © Harry Rinker, LLC 2018
Questions and Answers

QUESTION: I bought a large Baroque-style vase at a thrift store for $2.65. It is extremely ornate with gilded scrollwork applied throughout the piece. The main body has a white ground with a large floral decoration. The flared base, which also has scrollwork, has a scalloped edge. The KPM mark on the bottom suggests the piece is from the 1880s. I am interested in selling it. What is the best way to go about this? – SQ, San Jose, CA, Email Question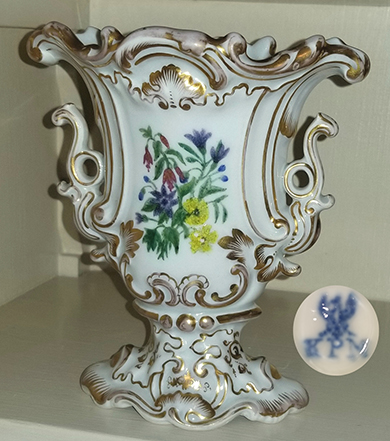 ANSWER: Before offering your vase for sale, it is critical to determine exactly what you own.
King Frederick II established the Konigliche Porzellan-Manufaktur Berlin (The Royal Porcelain Factory in Berlin) in 1763. Its origins actually rest with a combination of three German firms who were trying to duplicate the Chinese porcelain formula. The company's logo is a hand painted, cobalt blue scepter, a key point to remember. The Imperial orb was added in 1803. In the late 1830s, the Royal Prussian eagle became part of the trademark.
KPM's history is long and involved. Numerous changes of ownership occurred during its history. It continues to market ceramic products.
The mark on your piece is blurred, often a sign that a mark is a fake or created by another manufacturer to confuse buyers. Mark Chervenka's "KPM Porcelain" (www.realorrepro.com/article/KPM-Porcelain) provides detailed information for authenticating KPM marks between the mid-1800s and 1917. During this period the eagle and orb with a cross were ink stamped. The scepter was hand painted.
The letters KPM were not legally protected. Factories in Silesia, Thuringa, and elsewhere used "KPM" marks prior to 1925. Manufacturers in Bavaria and other German areas continued the practice after 1925. Following World War II factories in China, Indonesia, and Japan, imported pieces with the KPM mark.
When researching period Baroque KPM pieces, I found no pieces that were comparable to the one you purchased. Those I did find were of higher quality and nowhere near as gaudy.
My conclusion is that you purchased a post-1945 Asian import with a pseudo (a polite word for fake) KPM mark. Your vase's style is very similar to the Lefton and other Baroque style pieces imported from Japan in the late 1940s through the 1960s.
Assuming your KPM vase is a reproduction or more correctly a copycat (a stylistic copy), it remains a bargain at $2.65. If sold for what it is on the secondary market, it should bring between $18.00 and $25.00. .
---
QUESTION: I recently bought a two-tier wire rack of Hoosier cabinet jars. There are four glass cylinder jars on the top. The bottom has a ramekin-type dish flanked on each side by a glass cylinder jar. There is paint loss on the lids. Should I restore the tops? The wire rack and its jars are stored in my Sellers' Hoosier-style cabinet with I bought for $600.00. – L, State College, PA, Email Question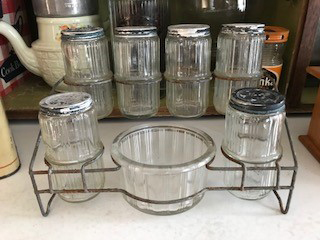 ANSWER: Thanks for the pictures of the wire rack and its jars as well as your Sellers' cabinet and the things you have stored in it. The pictures answered my first question which was, "How were you planning to use the jars?" It is evident that their primary purpose will be display as opposed to use.
If you are only going to display the jars, why repaint/restore the lids. When you incorporate the jars in your display, few will notice the paint loss.
When I look in the mirror, I am reminded that things that are 76 years old tend to look 76 years old, despite the flattering "you do not look your age" comments from friends. Forget the "it needs to look like it did when it came off the assembly line" mentality of vehicle collectors. Age and wear are an inevitable part of life. It is not mandatory to hide it.
Further, the cost to professionally restore the paint on the lids is prohibitive. No matter how good you may think you are, serious collectors can distinguish a professional restoration from an amateur or semi-professional one.
The decision rests with you. I recommend saving your time and money and spending both on acquiring some other goodies to add to your Sellers' cabinet.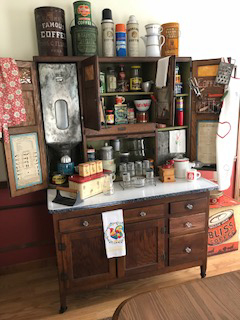 ---
QUESTION: I own a 24-hour wall clock that I purchased at an estate sale five years ago. The clock has a wooden frame and measures approximately 24-inches in diameter. It is a 30-hour clock, meaning it has to be wound every day. The face is marked "HOYLAKE." "REGISTERED" in small size type on an arch above the top of the clock hands. I think it was made in England. I would appreciate any information you can provide about my clock and its value. JS, Exeter, PA, Email Question
ANSWER: The military operates on a 24-hour clock. Most European nations do as well. I recently returned from Germany. The times on my train tickets were based on the 24-hour clock. 22:05 was 10:05 PM. I found myself subtracting 12 more times than I care to remember.
Hoylake is a seaside town and a Metropolitan Borough of Wirral in England. It is a fishing village. After reading several internet histories relating to the city, it obviously was not home to a clock manufacturer.
I agree the wall clock is English in origin. The "REGISTERED" marking is used by the English in lieu of "patented."
I batted zero in my attempts to identify the specific maker of your clock using internet sources. I tried over a dozen search text variations.
My initial thought was the clock was located in a railroad station, an assumption I am not totally ready to dismiss. Twenty-four hour clocks also are used in the maritime industry. When I mentioned my difficultly finding information about your clock on my June 6 "WHATCHA GOT?" show, I received a call from Bill in Easton, Pennsylvania. He noted that 24-hour clocks were used by radio stations and ham radio operators.
The pictures accompanying your email suggest your Hoylake 24-hour clock dates between 1915 and 1930. The 30-hour mechanism and its ticking are the clock's negative selling points. However, it is definitely a curiosity, a plus in today's decorative-focused marketplace. Your clock's secondary market value is between $50.00 and $65.00. Be aware that modern 24-hour, battery operated wall clocks are available for under $30.00.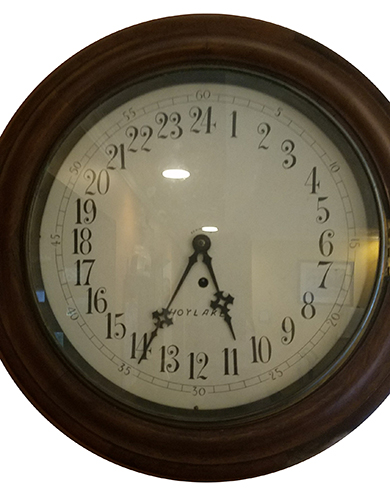 ---
QUESTION: I recently rediscovered tire ashtrays and fell in love with them all over again. Now I want to acquire some. What advice do you have? - H, West Chester, PA
ANSWER: I have fond memories of tire ashtrays as well, albeit most involve ashtrays at gasoline stations and elsewhere filled with ashes and cigarette butts. At one point, I owned several examples, bought because they were cheap and a fun novelty. They disappeared somewhere along the way.
Tire ashtrays, a glass insert surrounded by a rubber tire, arrived on the scene in the 1920s. The exact date is unknown. Initially, they were used by tire companies to promote their brands. Over time, they became advertising giveaways for local merchants. The ashtrays were made from waste material that was sold to novelty manufacturers. When tire makers found ways to rework the scrap, the novelty makers turned to plastic or rubber from other sources. The production of rubber tire ashtrays ended in the 1980s, due primarily to their high production cost. At the time, a new mold cost $25,000.00.
Finding tire ashtrays is not a problem. eBay is flooded with them. Be careful. What looks like a bargain may not be once the $10.00 or higher shipping charge is added to the sale price. Set a goal of not paying more than $10.00 for commonly found examples and $25.00 for harder to find models.
Buy examples that incorporate the brand name of the tire manufacturer in the tire. Most inserts are clear glass. Color adds to the value. Many inserts have decals, advertising the brand, local tire dealers, or an event. Do not buy any example with a damaged decal. Focus on the best of the best.
The late 1990s and first half of the first decade of the 21st century was the golden age of rubber tire ashtray collection. In 2004, a Rubber City Tire Ashtray show was held in Akron, Ohio. Fifteen vendors attended.
Mike Lynch authored "The Tire Ashtray and Tire Memorabilia Collectors Guide and Price List" in 2005. I remember seeing a copy but never owned one. I tried to locate a copy on the internet without success.
---
Harry L. Rinker welcomes questions from readers about collectibles, those mass-produced items from the twentieth and twenty-first centuries. Selected letters will be answered in this column. Harry cannot provide personal answers. Photos and other material submitted cannot be returned. Send your questions to: Rinker on Collectibles, 5955 Mill Point Court SE, Kentwood, MI 49512. You also can e-mail your questions to harrylrinker@aol.com. Only e-mails containing a full name and mailing address will be considered.
You can listen and participate in WHATCHA GOT?, Harry's antiques and collectibles radio call-in show, on Sunday mornings between 8:00 AM and 10:00 AM Eastern Time. If you cannot find it on a station in your area, WHATCHA GOT? streams live on the Internet at www.gcnlive.com.