RINKER ON COLLECTIBLES — Column #1633
Copyright © Harry Rinker, LLC 2018
Questions and Answers

QUESTION: I am in possession of several pieces of 1960s Italian Modernist plastic furniture. The red table with its four stackable chairs and the three (3) stackable shelves were made by Studio Artimede Milano, Modello Stadio. Vico Magistretti was the designer. A white version of the table and chairs is in the collection of the Museum of Modern Art in New York. I would appreciate any information you could provide about this furniture and its value. – DL, State College, PA, Email Question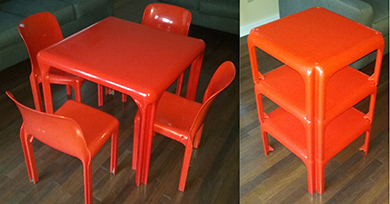 ANSWER: Beware of what you find on the internet. All pricing information must be interpreted. Taking it at face value leads to false assumptions or, to use modern terminology, fake news.
Achille Castiglioni, Franco Albini, and Vico Magistretti are three of Milan's most recognized industrial designers. Furniture companies still manufacture furniture and other products they designed in the 1950s and 1980s. Vico Magistretti worked in the studio that belonged to his architect father. Today, it is a museum. Magistretti designed for Cassina, De Padow and Kartell, and others. The museum's archive contains over 30,000 sketches and 7,000 photographs. [See: http://www.vicomagistretti.it/en/].
1stdibs.com, a website more focused on renting period pieces to movie and stage rather than selling them, has several Magistretti pieces of sale. Forget the prices. They are not realistic.
Your stacking tables are identified as Demetrio 45. The dining table and chairs are from his Selene line. Magistretti's plastic furniture was made in a variety of colors.
With Modernism all the rage, collector and decorator interest in Magistretti furniture from his Demetrio and Selene lines is strong. The table and chairs sets I found on the internet had sold. No sell through prices were available. High-end dealers are asking around $300.00 per unit for the stacking tables. I found other internet sellers whose prices were in the $100.00 to $125.00 per unit range. The asking price for individual Selene chairs range from $175.00 to $275.00. A conservative value for your collection is between $1,500.00 and $1,750.00.
If you decide to sell your pieces, I recommend contacting an auction house that specializes in the sale of Modernist material. Rago Auctions in Lambertville, New Jersey is an example.
---
QUESTION: I recently acquired a windup portable 78 rpm record player. I have no idea why. When I researched it, I discovered it is a Silvertone portable. The portable record player works perfectly. I also acquired about 20 records with it. Was I crazy? – KT, Madisonville, KY, Email Question
ANSWER: You bought the portable record player because it was neat and more than likely cheap. Maybe you had "Sabrina" memories of Humphrey Bogarts' sailing excursion with Audrey Hepburn who was fascinated with the song "Yes, We Have No Bananas" which was playing on Bogart's portable record player from his college days. Collectors quickly learn that attempting to understand why they buy anything only leads to madness. "I bought it because I wanted it" is the only reasoning required.
Silvertone was a store brand that Sears, Roebuck and Company used for its consumer electric and musical instrument line from 1915 to 1972. The Silvertone brand arrived on the scene in 1915 with Sears' portable phonographs. Silvertone radios appeared in the 1920s followed by musical instruments in the 1930s. How one remembers Silvertone depends upon one's age.
Silvertone portable record players continued to be made into the late 1960s. Your example dates from the late 1910s or 1920s. Sears used a variety of different case covers.
The standard asking price on eBay for an early Silvertone crank portable record player in working condition is $50.00 and higher. In checking the sell through prices using WorthPoint.com, $50.00 is a bargain. Most sold for prices start at $65.00 and go up to $100.00.
---
QUESTION: While doing some remodeling, I found a 5 1/2 inch by 4-inch photograph of a family showing a father, mother, and their five children. The young boy on the right appears to be wearing a sailor's outfit. It is mounted on a thick gray poster board. There is a stamp on the side that reads: "Moll & Company / Bedford, PA." I would appreciate your help in dating the photograph. – R, Altoona, PA, Email Question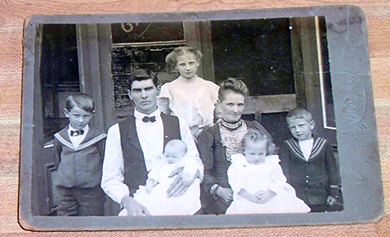 ANSWER: The amount of information known about an object impacts its value. At the moment, your family photograph has a curiosity value of $1.00 to $2.00.
I was able to discover a reference in the May 9, 1930 "Bedford Gazette" for "MOLL COMPANY BEDFORD. Photographers. Mfgs of Calendars, Novelties. Photography is a field of specialized endeavor, requiring the services of an expert in order to produce good results. It needs an extensive study and keen, patient judgment, accompanied by inherent good taste…." The firm also had an advertisement in the "Bedford Gazette" of April 4, 1924. Since I do not subscribe to Newsapers.com, I was unable to read the balance of the article.
Using a starting date of the 1920s, the next step is to date the clothing worn by the adults and children. The mother's hair style also is a dating tool. Norma Shephard's "Darlings of Dress: Children's Costume 1860-1920," published by Schiffer Publishing Company in 2017, is an excellent reference source. Although the use of sailor suits for boys began in the latter half of the first decade of the 20th century, their use peaked in the mid- and late 1910s. Gary W. Clark's "Real Photo Postcards Kwik Guide: A Guide to Identifying and Dating Real Photocards of the 20th Century, published by PhotoTree.com in 2013, suggests the mother's and girl's costumes and hair styles date between 1905 and 1915. I favor a 1912-1917 date for the photograph.
The next step is to contact the Bedford County Historical Society or the Bedford Public Library to see if either can provide you with the starting date for Moll & Company. When contacting them, ask if any photograph records, especially negatives, survive. If one or both organizations has a newsletter or website, ask if would be possible to insert a copy of your photograph with a "Can You Identify These People" caption. The local Grand Rapids [MI] Historical Society runs one or more photographs in each of its newsletters.
What happens to the value if you are lucky enough to identify the family and specifically date the photograph? The answer is very little. With the exception of the descendants of the family, its value remains solely one of curiosity.
---
QUESTION: I have a deck of cards issued by the Boys Town Choir. The cards are in a brown leather case with the symbols of the four suits and a notation on the bottom that this is "Vol. II." The deck includes a card with a description of The Choir. The back of the cards shows the standard image of an older boy carrying his younger brother. The faces of the cards have black and white photographs of the boys participating in the various activities at the school. What is my deck worth? – HM, Whitehall, PA, Letter
ANSWER: Prior to the founding of the Boys Town Choir, Father Flanagan arranged for the creation of a Boys Town band. The band began in 1917. The band toured in 1927 to help reduce Boys Town's debt.
Father Flanagan's Boys Town Choir began in 1941. Monsignor Francis Schmitt led the Choir. It toured throughout the United States and abroad, including Japan. At its peak, The Choir had 200 members. In 1962, the Everly Brothers recorded a Christmas album with The Choir. The Choir toured for over 30 years. Its music archive is housed at Duquesne University in Pittsburgh.
Records and souvenir programs are the most commonly found Boys Town Choir memorabilia. Although Boys Town Choir single and double decks of cards are less common, they have little value. A single deck sells between $8.00 and $10.00.
---
Harry L. Rinker welcomes questions from readers about collectibles, those mass-produced items from the twentieth and twenty-first centuries. Selected letters will be answered in this column. Harry cannot provide personal answers. Photos and other material submitted cannot be returned. Send your questions to: Rinker on Collectibles, 5955 Mill Point Court SE, Kentwood, MI 49512. You also can e-mail your questions to harrylrinker@aol.com. Only e-mails containing a full name and mailing address will be considered.
You can listen and participate in WHATCHA GOT?, Harry's antiques and collectibles radio call-in show, on Sunday mornings between 8:00 AM and 10:00 AM Eastern Time. If you cannot find it on a station in your area, WHATCHA GOT? streams live on the Internet at www.gcnlive.com.