RINKER ON COLLECTIBLES — Column #1631
Copyright © Harry Rinker, LLC 2018
Questions and Answers

QUESTION: I purchased a bamboo-theme chocolate set (pot, creamer, and sugar) at a relative's garage sale. It has to be 80 years old. The pot has a tapered trapezoidal body with a cobalt blue ground. The sides have an image of a crane standing in a lily pond. The revere "C" handle and spout are shaped like bamboo. The oval lid has a bamboo handle. There is a leaf motif on the top collar and the edge of the lid. The covered sugar and creamers have the same motif. The interior glaze is pink. The estate from which this came had 89 pieces of majolica. Is my chocolate set one of them? What value does it have? – MF, Steubenville, OH, Letter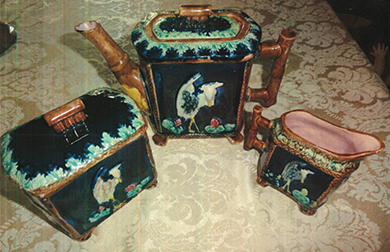 ANSWER: You own a 1920s/1930s Japanese tea set. The pot is a teapot not a chocolate pot. Chocolate pots are taller and tend to have the pouring spout at or near the top. I suspect if you take the lid off the pot, you will see strainer holes leading into the spout. Chocolate pots usually do not have this feature. Finally, chocolate sets do not have creamers and sugars. These are associated with tea sets.
A majolica glaze is a white, opaque, glossy glaze that utilizes tin and lead that does not move during firing. It is applied to an earthenware (clay) body. Its bright, shiny surface has strong appeal. While your piece has a majolica-like glaze, it is not a piece of majolica as collectors define the term. Collectors use the term for pieces made in Europe and America between 1850 and the present.
Your imported Japanese tea set was sold in gift shop or smaller department store. It even may have come from a Five and Dime. The design and quality indicate it was meant to be affordable to the average buyer.
Your three-piece Japanese tea set is decorative. Today, similar sets tend to be housed in china cabinets and never used. Your teat set's secondary market value is between $15.00 and $20.00.
---
QUESTION: I own a souvenir gold-tone cigarette case from the 1948 Philadelphia Eagles World Championship team. The matte finish top has "THE PHILADELPHIA EAGLES" over an image of a flying eagle with a football in one talon and "WORLD CHAMPIONS 1948" below. The case is approximately 5 1/4 inches x 3 1/8 inches. The interior has champlevé-like fan motif lines beneath a glossy gold-tone. There is no bar to hold the cigarettes. It is possible the case had another use. The case is unmarked. What is my Eagles' souvenir case worth? – DW, Reading, PA, Email Question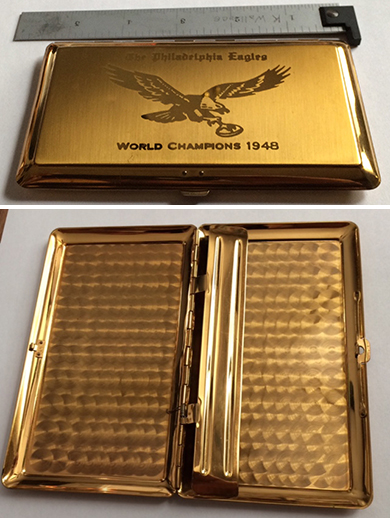 ANSWER: While not evoking Lone Ranger memories, this question certainly returned me to "those thrilling days of yesteryear." The 1948 Philadelphia Eagles World Champion football team is among my earliest professional sport memories. I was seven at the time.
The 1948 Philadelphia Eagles season marked their 16th year in the National Football League. The Eagles were the Eastern Division champions in 1947 and repeated their title in 1948. The Eagles defeated the Chicago Cardinals 7 to 0 in a touchdown in the fourth quarter to win the National Football League title. The Eagle had lost to the Chicago Cardinals 21 to 14 in the first game of the season.
The championship game was held on December 19, 1948, at Shibe Park, home to the Philadelphia Athletics and a capacity of 36,000 people. 28,864 people attended the game which took place in a snow blizzard. Steve Van Buren, the half back, began the day at home assuming the game would be postponed. A call from the coach, three trolley rides, and a 12-block walk got him to the stadium on time. Tommy Thompson was the quarterback.
[Author's Aside: Pete Pihos, an end and defensive end, and Steve Van Buren were my favorite players on the team. I have vague memories of owning Pete Pihos and Steve Van Bruen football cards, although I believe they were from the 1950s rather than the 1948 team. I have no idea what happened to them.]
Heritage Auctions of Dallas sold a dual 1948/1949 Eagles World Champions ring for $11,950.00. Heritage Auctions also sold an intact ticket [beware of reproductions] for the game for $1,912.00. Of course, these are game day and personal items, a far different entity than your cigarette case.
As with most sports memorabilia, the strongest secondary market is within a 50 to 100-mile radius of the city in which the team is located. Give the Philadelphia Eagles' 2018 Super Bowl victory, older Eagles memorabilia has flooded onto the internet. An eBay seller is asking $70.30 pus $10.16 shipping for a 1940s-1968 Eagles pennant. Another eBay seller has a 1948 Chicago Bears vs. Philadelphia Eagles football program listed at $95.00 plus $5.00 shipping.
WorthPoint.com contains listings for a 1948 Philadelphia Eagles Press Guide that sold on eBay for $202.50 on February 6, 2018, a Philadelphia Eagles vs. Boston Yanks November 14, 1948 program closed on eBay for $45.00 on July 13, 2010, and a 1948 Eagles pennant brought $130.00 on eBay on September 22, 2016.
I was not able to find a reference for your 1948 Philadelphia Eagles World Champions gold-tone case. Because I could not find one, does not mean your case is a one-of-a-kind. It was mass produced. If I had to guess the manufacturer, my choice would be L. F. Grammes & Sons which was located in Allentown.
Based on what I did find and factoring in the current Philadelphia Eagles collecting craze, the secondary market value for your case in the 100-mile radius around Philadelphia is between $150.00 and $200.00.
---
QUESTION: I have set of four spindle-back, Windsor chairs. The back of the plank seat is marked "L. HITCHCOCK, HITCHCOCKSVILLE, CONN. WARRANTED." The "Ns" are reversed. The stenciling on the crest and construction indicates the Hitchcock marketed the chairs as "Harvest Chairs." My mother acquired them shortly after World War II ended. I am downsizing and what to sell them at a yard sale. I am struggling with how much I should ask. What is your advice? – DS, Rockford, MI, Email Question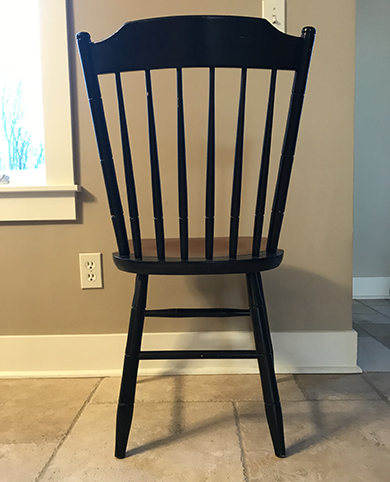 ANSWER: Hitchcock chairs are touted as one of the first pieces of mass-produced furniture made in the United States. Lambert Hitchcock designed an affordable chair with neo-classical lines, bamboo motif, painted (black, brownish black, or dark green), stenciled crest and trademark, and rush seat around 1820. Variations of the chair have been in production ever since that time. Reproductions appeared on the marked as early as the mid-1850s.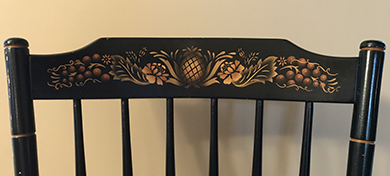 John Kenney revived the Hitchcock Company in 1946. To distinguish his chairs from earlier examples, he reversed the "Ns" in "CONN." A ® also is used. Keeney closed his factory in 2006. In 2010, Rick Swenson and Gary Hath purchased the Hitchcock tradename, furniture plans, and art work.
First, do not sell these chairs at a garage or yard sale. They belong in a better secondary market sale environment. Second, sell the four as a set. This allows you to take advantage of pair or set value, meaning the four together are worth more than each chair priced individually.
My recommendation is Craigslist. Your asking price will depend on how quickly you want to sell them. $150.00, much cheaper than new versions, should sell the set of four immediately. $200.00, a more than fair price, should result in a sale within a few days. $250.00 is pushing the secondary market sale limit. But, given the great condition of the chairs, the amount remains a bargain. $300.00 most likely means that you will live with the set for several more months.
Another option is to put a note on the bulletin board at your local grocery store or church. If you include a picture of the chairs in the announcement, expect some calls from interested buyers in a day or two.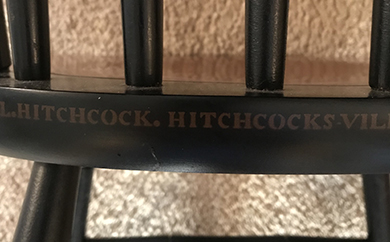 ---
Harry L. Rinker welcomes questions from readers about collectibles, those mass-produced items from the twentieth and twenty-first centuries. Selected letters will be answered in this column. Harry cannot provide personal answers. Photos and other material submitted cannot be returned. Send your questions to: Rinker on Collectibles, 5955 Mill Point Court SE, Kentwood, MI 49512. You also can e-mail your questions to harrylrinker@aol.com. Only e-mails containing a full name and mailing address will be considered.
You can listen and participate in WHATCHA GOT?, Harry's antiques and collectibles radio call-in show, on Sunday mornings between 8:00 AM and 10:00 AM Eastern Time. If you cannot find it on a station in your area, WHATCHA GOT? streams live on the Internet at www.gcnlive.com.