RINKER ON COLLECTIBLES — Column #1625
Copyright © Harry Rinker, LLC 2018
Questions and Answers

QUESTION: Using an iron with collapsible legs that could elevate the sole plate, my mother ironed for hours at a time during the 1940s and 1950s. The iron is marked: "PROCTOR ELECTRIC COMPANY / PHILADELPHIA, PA. U.S.A. / 115 VOLTS 1000 WATTS / A. C. ONLY / NO. 966B" followed by several patent numbers. I have never seen another like it. I am sure the iron is not valuable, but the memories it brings back to me are priceless. I would hate to send it to the electronics recycle center, but who else would want it? – CG, Reading, PA, Email Question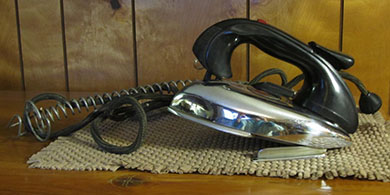 ANSWER: Proctor & Schwartz Electric Company, founded in 1920, traces its roots back to the Philadelphia Textile Machinery Company established in 1885. Proctor & Schwartz is credited with many firsts—electric glass coffeemaker, automatic iron, silent toaster, snap-apart line of serviceable kitchen appliances, and steam iron water tank. In 1960, Proctor & Schwartz Electric Company merged with the Silex Company. The merged company became Proctor-Silex Corporation.
You own a Model 966 Proctor Never-Lift electric iron, an upgraded version of the Model 960. It is a thermostat iron with phenolic resin handles. The predecessor of the Model 960 was called the "Snap Stand" iron. The Model 960 went through two upgrades. Pushing on a small red button at the top front of the handle released the legs from their retracted and locked position. Wishing to resume ironing, the owner pushed down on the iron until it contacted the surface. Then using the heel of the hand, pressed the large knob at the rear of the handle. This locked the retracted legs into place.
When the Never-Lift first appeared in 1940, Procter advertised heavily in leading magazines of the time such as "Life." The cost in 1941 was $9.95. A 1948 advertisement for the Proctor Never-Lift suggests it was designed specifically for sit down ironing.
The Cooper Hewitt's Product Design and Decorative Arts Department acquired a 1940 Proctor Never Lift for its collection in 1993. The iron is an excellent example of the mid-20th century industrial design. Hence, the iron's appeal to Modernist collectors.
You were correct in your assumption that the iron has little secondary market value. eBay sellers ask between $15.00 and $25.00 for working examples. WorthPoint.com, an internet price guide using sell through prices, lists an example with its period box and instructions selling for $15.00 in November of 2017.
As you indicated, your memories are priceless. This is the iron's true value.
---
QUESTION: I own about 20, 4-inch by 4-inch, glass lantern slides that were used in a local movie theater to advertise coming attractions, local businesses, a political Senatorial candidate, and a War Bond drive. The movie slides include "The Romance of Tarzan: The concluding chapter of 'Tarzan of the Apes'," "Stolen Orders," "The Great Gamble," and "The Unpardonable Sin." The political slide promoted the candidacy of Richard P. Ernst for U.S. Senate. One advertising slide was for Swell & Pacific Shoes: "THE GROUND WORK OF / ANY ATTRACTIVE COSTUME." Do these slides have value? – KT, Madisonville, KY, Email Question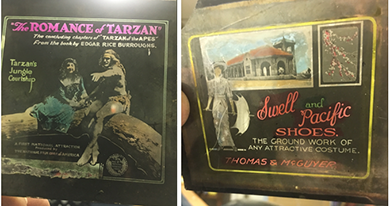 ANSWER: Your glass lantern slides date between 1918 and 1920. I enjoyed researching each of them. "The Romance of Tarzan" (1918) stared Elmo Lincoln, Enid Markey, Thomas Jefferson, and Cleo Madison. Wilfred Lucas was the director. It was shot in the wild west as opposed to Africa. No prints of the film exist, a situation that applies to several of your glass lantern slides.
"Stolen Orders" (1918) starred Carlyle Blackwell, Kitty Gordon, Montagu Love, June Elvidge, and child actor Madge Evans. The film was shot mainly in Atlantic City, NJ, and contains footage of President Woodrow Wilson delivering a speech and documentary war scenes from the Italian front. While I was able to find information about the performers and storyline, I found nothing on the film except for a note that "film may be lost."
"The Great Gamble" (1919), a 15-part serial, was directed by Joseph A. Golden and starred Charles Hutchinson, Anna Luther, and Richard Neill. It was distributed by Pathe. An August 1919 advertisement in "Motion Picture News" noted: "A serial filled with unbelievable deeds of daring with every episode electric with thrills, and with a constant succession of breathless climaxes. Produced by Western Photoplay."
"The Unpardonable Sin" (1919) was a World War I American propaganda silent film. Two Americans, a mother and daughter who are stranded in Belgium, are raped by German soldiers. A convoluted story follows. The film starred Blanche Sweet, wife of director Marshall Neilan. Because of its controversial topic, it was cut or banned in many cities and states. Once again, no known copies of the film exist.
Richard P. Ernst served as the Republican Senator from Kentucky from 1921 to 1927. The lantern slide is from his 1920 campaign.
Swell and Pacific Shoes were a product line of the Friedman-Shelby Shoe Company. The company is best known as the manufacturer of "Red Goose" shoes for children. The company was located in Mexico, Missouri. Originally founded as the Morris Shoe Company in 1905, the Friedman-Shelby Shoe Company was acquired by the International Shoe Company in 1912. International continued to manufacture shoes under the Friedman-Shelby brand. At the peak of its production 440 employees produced 2,000 pairs of shoes a day.
Movie theater promotion glass lantern slides survive in large numbers. Most sell in the $12.00 to $15.00 range. Promotion slides for famous silent movies, such as Frankenstein, or featuring well-known stars such as Charlie Chaplain sell for three to four times more.
In Kentucky, where you are located, the Richard P. Ernst political lantern slide should sell for a premium. Outside Kentucky, it is a $5.00 to $8.00 slide. The Swell and Pacific Shoe slide retails between $12.00 and $15.00 as will "The Great Gamble" film series slide. The "lost film" attribution is worth a $5.00 to $10.00 bonus for "Stolen Orders" and "The Unpardonable Sin." "The Romance of Tarzan" is the most desirable of the slides because of its subject. Its value is between $25.00 and $30.00.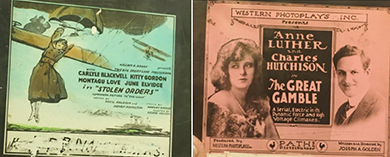 ---
QUESTION: I own a 1949 Babe Ruth Exacta wristwatch that is in working order. I also have the plastic baseball case in which it was sold, albeit the case is cracked. The watch has a Speidel-type metal band. The hands and numbers fluoresce. The watch features a picture of Babe Ruth holding a bat inside of a baseball diamond. A facsimile of the Babe's signature is across the bottom of his picture. What is my watch worth? – T, Phoenixville, PA
ANSWER: In 2004, Tom Harris Auctions sold an example with a replaced band and missing hand accompanied by its baseball case for $525.00. That was then. This is now. An eBay seller is asking $229.00 plus shipping for an example in working order but without its case. Another eBayer has reduced his asking price of $425.00 to $361.25. Asking is not getting.
Comic and character watches enjoyed a collecting craze in the 1980s and early 1990s. The secondary market has fallen sharply since that time.
Your Babe Ruth wristwatch appeals to multiple collectors. Comic and character watch collectors is one group. Babe Ruth, New York Yankees, and general baseball collectors are other possibilities. The pluses are that your watch works and you have the period case, albeit damaged. A realistic secondary market value is between $250.00 and $275.00.
---
QUESTION: I have a Lancaster Forge Company Champion No. 40 forge blower that is in working condition. What is its value? C, Bozeman, MT
ANSWER: Your Lancaster Forge Champion #40 blower's principal value is reuse. Given the blacksmithing revival, especially for the creation of decorative ironwork, the demand for older but workable equipment is high.
An eBay seller is asking an opening bid of $124.99 with no takers and less than 19 hours until the listing closes. WorthPoint.com lists an example on eBay that sold in November 2017 for $160.00 and a second example that realized $275.00 when sold in August 2017. When part of a used forge, the value for the complete unit ranges from $400.00 to $450.00.
Given your location, a secondary market resale value of $150.00 to $175.00 appears reasonable.
---
Harry L. Rinker welcomes questions from readers about collectibles, those mass-produced items from the twentieth and twenty-first centuries. Selected letters will be answered in this column. Harry cannot provide personal answers. Photos and other material submitted cannot be returned. Send your questions to: Rinker on Collectibles, 5955 Mill Point Court SE, Kentwood, MI 49512. You also can e-mail your questions to harrylrinker@aol.com. Only e-mails containing a full name and mailing address will be considered.
You can listen and participate in WHATCHA GOT?, Harry's antiques and collectibles radio call-in show, on Sunday mornings between 8:00 AM and 10:00 AM Eastern Time. If you cannot find it on a station in your area, WHATCHA GOT? streams live on the Internet at www.gcnlive.com.