RINKER ON COLLECTIBLES — Column #1623
Copyright © Harry Rinker, LLC 2018
Questions and Answers

QUESTION: I own a coin purse measuring approximately 4 inches by 2 1/2 inches that was sold in 1934 as part of a Russian Imperial Exhibition held in New York and Palm Springs under the sponsorship of Armand Hammer. Inside the flap of the purse is "Made of Imperial Russian Brocade / from the Hammer Collection." Accompanying the purse is a typed document with Russian Imperial seal printed at the top and below which is: "Russian Imperial Exhibit [printed] March 20th, 1934 [typed]/ Article No. BX37X [typed]." The document provides this description: "Coin purse made of yellow silk damask woven in conventional design outlined in red. Russian Circa 1870."
Below the description is a lengthy text that reads: "From a collection of brocades which were formerly used in the Imperial Chapels of the Romanoffs. They were brought from the various palaces about St. Petersburg to the Winter Palace. Here soldiers of the present government sorted them for burning so that the precious gold and silver used in weaving many of them could be reclaimed. Fortunately, Dr. Armand Hammer heard of the plan and succeeded in saving a large number of the vestments by purchasing them. These glorious fabrics, brilliant with metals that will never tarnish, combine the skills and artistry of the West with the originality and color of the Far East."
I would appreciate any information you can provide about my purse and its value in today's market. – BH, Reading, PA, Email Question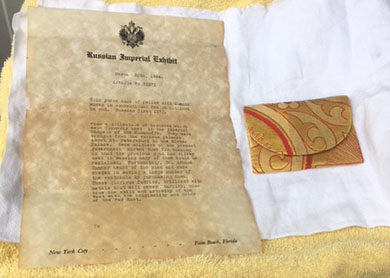 ANSWER: Although most closely associated with Occidental Petroleum, Dr. Armand Hammer (1898-1990) was an industrialist and philanthropist whose lifetime goal was to create peace between America and the Soviet Union. Although trained as a physician, he was an entrepreneur who enjoyed success in businesses ranging from art galleries to bourbon whiskey. His Russian involvement dates back to Lenin, whom he knew personally.
Hammer's parents were Russian Jews who emigrated from Russia in 1875. His father Julius was active in communist and socialist causes. When Julius was imprisoned in 1920, he sent his son Armand to Russia to look after Allied Drug and Chemical, a family business. Armand Hammer traveled to and from Russia for 10 years.
After Hammer purchased the collection of Russian brocade, he developed a marketing scheme. He would frame some pieces and make other pieces into salable products such as coin purses. Using these pieces, he created the concept of a traveling Russian Imperial Exhibit that would provide visitors with the opportunity to purchase items on display. He created a brochure entitled "The Quest of the Romanoff Treasure" plus two catalogs entitled "The Russian Imperial Treasures Selling Exhibition."
[Author's Aside: On October 18, 2017, a set of the three publications sold on eBay for $500.00]
Hammer's first partner was Marshall Field in Chicago. Marshall Field displayed and sold items from the catalogs in 1933. In 1934, the exhibit moved to galleries in West Palm Beach, Florida, and New York City. Each piece sold was accompanied by a document that contained the same origin description as on the document that you own.
There seems to be little rhyme or reason for the asking price for pieces from this exhibit. I found dealer listings for a framed sample of brocade in excess of $500.00, an exorbitant price for such a small piece of cloth with limited historical documentation. I did find a listing for a coin purse that sold for around $60.00, a price that seems low.
Stories, dreams, and wonder are three of the commodities sold in the antiques and collectibles trade. Your coin purse has a great story. Although your Russian brocade coin purse's secondary market value is between $80.00 and $100.00, a person who buys relying on his/her heart rather than his/her head is likely to pay double or more for the privilege of owning a piece with this unusual history.
---
QUESTION:While attending a farm auction, I purchased a shadow box with three "German medals" because I thought they were neat. The largest is a winged eagle with "FR" in shield in the center of the body and with an orb with a cross in one claw and a scepter in the other. The other two are eight pointed circular stars with medallions in the center. Neither I nor the auctioneer have any idea of their origin. Can you help? – GR, Medina, OH
ANSWER: I assumed the three items were possibly German or Austrian in origin, but this is as far as I could go. Fortunately, my son Harry Junior is a militaria collector and dealer. German militaria is one of his specialties. I sent him a copy of the image that accompanied your email. Within a few hours, he identified all three pieces.
The large eagle is an EM front plate [wappen] for a World War I Prussian pickelhaube, the traditional spiked leather helmet worn at the time. The design of the front plate differed from region to region. Harry Jr. valued your example at $150.00.
The medal on the left is an officer's wappen for a Gardestern Hessen pickelhaube. Harry Jr. valued it at $200.00.
The price for the medal on the right, a Prussian Garde du Korps officer's helmet wappen, is valued at $500.00.
It is important to remember that these are retail values. Further, these pieces have been reproduced. Since you have no ownership provenance, it is critical that you have them authenticated. The quickest method is to take them to a gun show, look for a dealer specializing in World War I German material, and ask if he would be kind enough to authenticate them. Be prepared for a request to pay him for his services.
Like so many individuals who email me, you did not share with me what you paid for the three pieces. My guess is nowhere near the values listed above.
---
QUESTION: I have a Royal Bayreuth ceramic piece in the shape of a clown lying down on his back. His head is raised. He is dressed in a red clown outfit. His hat is in the shape of thimble. This belonged to my grandfather who was born in the 1870s. What is its value? -- GS., Westfield, NJ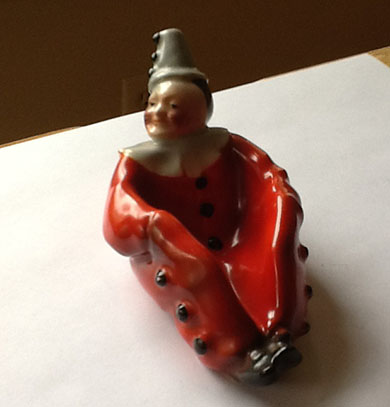 ANSWER: Royal Bayreuth, founded in 1794 in Tettau Germany, has been producing porcelain for over 200 years. Royal Bayreuth made a wide variety of household products including dinnerware, dining accessories, and coffee and tea sets. It is best known among collectors for its figural, novelty, rose tapestry, and scenic pieces. Many novelty pieces were produced in series. Examples include Devil-themed, tomato themed, and Sunbonnet Babies.
Your clown is one of a series of themed novelties. Your clown is a spoon holder, designed as a place to rest spoons used during cooking. Other Bayreuth red clown forms include ashtray, creamer, drinking cup with clown handle, humidor, matchbook holder, pitcher, shaker, sugar bowl, and wall pocket. Pieces with a blue mark were made prior to 1917.
American collector interest in Royal Bayreuth is waning. The same holds true for continental Europe. It is one of many traditional collecting categories that are failing to attract new and younger collectors.
WorthPoint.com has a listing for a Royal Bayreuth red clown spoon holder that sold for $100.85 in July 2015. This figure is a bit high. A realistic secondary market value is between $75.00 and $90.00.
---
Harry L. Rinker welcomes questions from readers about collectibles, those mass-produced items from the twentieth and twenty-first centuries. Selected letters will be answered in this column. Harry cannot provide personal answers. Photos and other material submitted cannot be returned. Send your questions to: Rinker on Collectibles, 5955 Mill Point Court SE, Kentwood, MI 49512. You also can e-mail your questions to harrylrinker@aol.com. Only e-mails containing a full name and mailing address will be considered.
You can listen and participate in WHATCHA GOT?, Harry's antiques and collectibles radio call-in show, on Sunday mornings between 8:00 AM and 10:00 AM Eastern Time. If you cannot find it on a station in your area, WHATCHA GOT? streams live on the Internet at www.gcnlive.com.