RINKER ON COLLECTIBLES — Column #1621
Copyright © Harry Rinker, LLC 2018
Questions and Answers

QUESTION: I would appreciate your assistance regarding my Will & Finck San Francisco dessert set. The set is in its period brown leather box. Inside is a velour-like purple material on the bottom and a silky material on the top. The case is in very good condition. The cutter/server is 12 1/2-inches long. The bone (?) handle is 4 1/2-inches long. The total length of the fork is 9 1/4-inches long, 4 inch of which is the handle. Both have lovely designs etched on them. They are clearly marked "WILL & FINCK / S.F. CAL." The handle of the fork has a crack along part of the length. I have been online researching for hours to discover a value for my dessert set. I did find plenty of information about Will & Finck Bowie knives. I want to sell my set. – DN, Email Question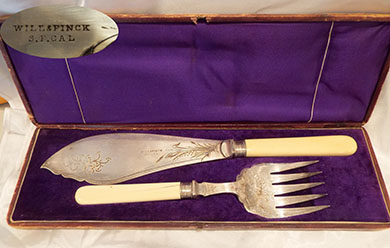 ANSWER: I love using idioms and slang phrases. Hence, I ask your forgiveness for what follows.
You will be searching long after the cows come home if you continue to search under "dessert set." You do not have a dessert set. You have a fish set. The knife and fork are used to debone fish.
Although known as a manufacturer and wholesaler of knives, silver, and silver-plate, Will and Finck also sold gambling devices, some of which were used for cheating purposes. Will and Finck also imported items from New York and abroad.
An internet search of "antique fish sets" will turn up several listings for sets similar to the one you own. Be prepared for sticker shock. The American secondary market is extremely weak. Secondary market retail prices range from $75.00 to $100.00. You will have trouble selling your set for anywhere near these figures. Should your travels take you to Europe in the near future, take the set with you and sell it there. Europeans love these old sets. Retail prices are more than double those in the United States.
---
QUESTION: In going through some desk drawers, I came across a few albums used for collecting pennies. When I opened one, I found a two-dollar bill from the "Series of 1928 F." The serial number had a red star in front of it. What does this star indicate? There are a few fold lines but no tears. Does my two-dollar bill have any value? – SS, Bozeman, MT, Email Question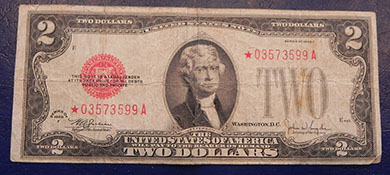 ANSWER: Before talking about your bill specifically, I turned to the "Standard Catalog of United States Paper Money, 35th Edition," edited by Maggie Judkins and published in 2016 by KP [Krause Publications], an imprint of F + W Media, to refresh my memory on currency grading. Paper currency grading is far more tolerant of defects than the grading criteria used in other collecting categories. Note the following:
"Extremely Fine (XF): very attractive note with light handling. May have a maximum of three light folds or one strong crease.
"Paper is clean and bright with original sheen. Corners may show only the slightest evidence of rounding. There may also be the slightest sign of wear where a fold meets the edge.
"Very Fine (VF): An attractive note but with more evidence of handling and wear. May have a number of folds both vertically and horizontally.
"Paper may have minimal dirt, or possible color smudging. Paper itself is still relatively crisp and not floppy.
"There are no tears into the border area, although the edges do show slight wear. Corners also show wear, but not full rounding."
Based upon my examination of the pictures that accompanied your email, a grade of XF is a possibility. Because I think conservatively, I am assigning a grade of VF.
The red asterisk (star) before or after a serial number on small size banknotes indicates the first note bearing this number was a misprint. This misprint note is destroyed. A new second note with the same serial number with the asterisk added is printed. If the note is the first or last in a series, an asterisk is used in lieu of eight zeros. It is estimated that between 1.0 and 1.4 percent of all printed notes are star notes.
[Author's Aside: I was astonished by how high this number was. I prefer not to know the cost involved in correcting these misprints.]
Because of their scarcity, small bills with an asterisk before or after the serial number, especially in uncirculated condition, command a premium among collectors.
Judkins values a star Series 1928 F two-dollar bill at $75.00 in Fine condition and $125.00 I Extra Fine condition. This being the case, the safe assumption is that an example in Very Fine condition has a book value of $100.00.
Book value is a retail value. Get value is entirely different. Because of its low value relatively speaking, I do not recommend paying to have it graded. Because of competition and supply, coin and currency dealers work on relatively short margins. A dealer should pay you between 50 and 60 percent of book. A private collector might go as high as 75 percent of book. The good news is that your two-dollar bill always is worth two dollars, should all else fail.
---
QUESTION: My husband's father saved Pennsylvania Railroad calendars from 1933, the year my husband was born, until 1951. The calendars measure 28 1/2-inches square. They feature illustrations of Pennsylvania Railroad rolling stock. My husband's father worked all his life for the Reading Railroad, mostly as a station agent, and bought the Pulpit Rock Railroad tunnel on the Reading. Do these calendars have value beyond their sentimental value? If yes, what is the best way to dispose of them? I understand donation is one option.-- PA, Hamburg, PA, Email Question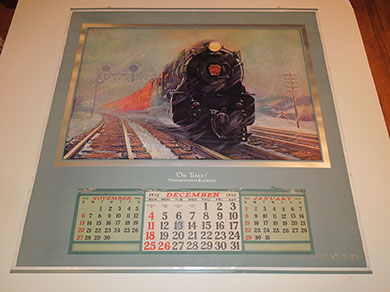 ANSWER: I met several individuals who purchased and restored or adapted railroad rolling stock during my career. I never met anyone who bought a railroad tunnel. At first, I though you were pulling my leg. Research confirmed the existence of the abandoned Pulpit Rock tunnel and that it is owned privately. It certainly is a neat thing to own but awfully difficulty to move.
Your husband's father's collection of more than 15 Pennsylvania Railroad calendars has collecting value. Using a base value of $75.00 each, the collection is worth $1,125.00. More about this later.
The three images that you sent indicate some calendars that have the full date pad and others are missing a portion or all of it. The full date pad is critical to achieving maximum value.
One picture shows a calendar whose outer border has jagged edges. Although a defect, this is minor provided the jagged edge only impacts the border and not the calendar image. Careful matting can hide this damage and enhance the presentation of the calendar.
Age is a factor – the older the calendar, the more valuable. The illustrator and scene also impact price. Grif Teller was the artist of the 1938 calendar. Teller apparently did most of the artwork for the calendars your husband's father collected.
Liveauctioneers.com lists a 2012 sale result of $130.00 for a 1938 calendar. Only the December date pad remained on the calendar. When checking auction prices, it is important to check the date. I also checked eBay. As always, I found an "I would rather die with my object than sell it" individual asking $300.00 for a framed 1940s calendar. At that price, he will take it to his grave.
The Railroad Museum of Pennsylvania is located in Strasburg, Pennsylvania. If you wish to donate the calendars, contact it. However, ask this question early in your discussion: Do you already have examples of these calendars in your collection. If the answer is yes, think twice about donating them.
My advice is to sell the collection. Insist that the buyer purchase the full collection. Do not allow a buyer to "cherry pick" (take the best examples) the collection. If this happens, you will be stuck with the hardest to sell examples.
Railroad collectors hold regional and state gatherings. Ask your local librarian to help you locate meets nearest you. Take your calendars or pictures of them to the meet and see what collector/dealer interest you can generate.

---
Harry L. Rinker welcomes questions from readers about collectibles, those mass-produced items from the twentieth and twenty-first centuries. Selected letters will be answered in this column. Harry cannot provide personal answers. Photos and other material submitted cannot be returned. Send your questions to: Rinker on Collectibles, 5955 Mill Point Court SE, Kentwood, MI 49512. You also can e-mail your questions to harrylrinker@aol.com. Only e-mails containing a full name and mailing address will be considered.
You can listen and participate in WHATCHA GOT?, Harry's antiques and collectibles radio call-in show, on Sunday mornings between 8:00 AM and 10:00 AM Eastern Time. If you cannot find it on a station in your area, WHATCHA GOT? streams live on the Internet at www.gcnlive.com.