RINKER ON COLLECTIBLES — Column #1619
Copyright © Harry Rinker, LLC 2018
Questions and Answers

QUESTION: A friend recently gave me a lithograph tin Ferdinand the Bull windup toy. I have not had much time to look at it. The toy is between 6 and 8 inches long and between 5 and 6 inches high. The surface paint is in very good condition. The metal fit is loose. I plan to correct this. The bull has a little bee that spins and flutters on its rump. One side is marked "Ferdinand." The base is marked with the Marx logo and "© 1938 W. D. Ent." The horns are missing. The friend who gifted the toy said he has the missing horns and would see that I got them. This remains to be seen. What is my toy worth? – KT, Madisonville, KY, Email Question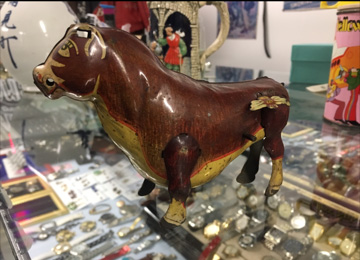 ANSWER: Brothers David and Louis Marx founded the Marx Toy Company in 1919. The company was headquartered in New York City. Their success rested on their ability to produce inexpensive copycats and knockoffs of the best-selling toys. By 1922, David and Louis were millionaires.
Marx was one of the few companies that thrived during the Depression. It had three American plants: (1) Erie, Pennsylvania, its primary plant for the manufacture of lithograph tin toys; (2) Girard, Pennsylvania, devoted to Marx's toy train lines; and, (3) Glen Dale, West Virginia, where Marx vehicles were made. Your Ferdinand the Bull toy was made in Erie.
Disney's "Ferdinand the Bull" animated short was released by RKO Radio Pictures on November 25, 1938. Disney issued two "Ferdinand" lithograph tin toy licenses to Louis Marx. The first is the stand-alone Ferdinand the Bull toy that you own. The second is the Ferdinand and Matador, a toy with matador on one two-wheeled platform and Ferdinand on a second. A bar separates the two sections. The depiction of Ferdinand on the Ferdinand and Matador toy is closer to the Disney cartoon character than the Ferdinand image of your toy
The exact dimensions of your Ferdinand the Bull toy are 5 3/4-inches in length and 4-inches in height. When I first saw an image of Ferdinand's wire tail (which rotates as part of the toy's action), I thought what an odd way to wind a toy. I realized my mistake when I saw the key wind on the side. The toy is designed to turn in a circle, the action representing Ferdinand trying to escape the bee. The retail price for the Marx Ferdinand the Bull toy in 1940 was 25 cents.
You are missing more than the horns. Ferdinand is chewing on a white or yellow flower that has a wire stem through his mouth. The period box, which has great graphics showing Ferdinand sitting beneath a tree while two calves are gamboling to his left, also is missing. In its current condition, your toy has a secondary market value between $40.00 and $50.00.
FYI – I do not anticipate the newly released "Ferdinand" cartoon from Big Sky Studio/20th Century Fox to create a market bounce for 1938 Disney Ferdinand collectibles.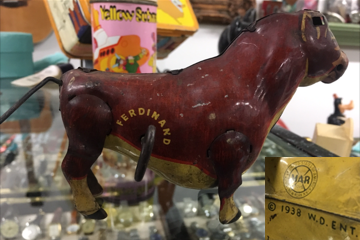 ---
QUESTION: I have a ceramic egg that has holes in its sides. The surface is hand painted with daisy flowers at the holes connected by leaf vines. The bottom of the egg has a hole with a stopper. The name "KATHRYN BOSSARD" is arched half way around the hole opening. I think the egg held talcum and sat on a lady's dresser. What do you think? – CS, Reading, Pennsylvania, Email Question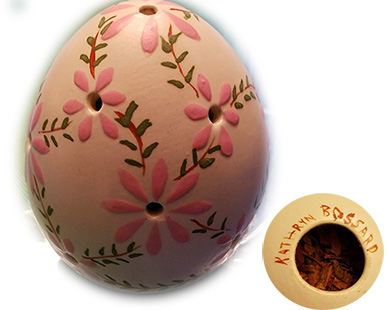 ANSWER: Your egg did not hold talcum. If powder was inserted, it would drain out the openings when the egg stood upright or on its side.
Your egg is a bisque pomander. Narrowly defined, a pomander is a scent or perfume ball. As a child, I remember my mother taking cloves and sticking them, often in an elaborate geometric design, into an orange. She then hung the orange in the closet or basement to freshen the air.
Using a broader definition, a pomander is a container holding a scented herb. In the case of your bisque egg pomander, it most likely held dried flower petals. In the late 19th and early 20th century, a popular glass and ceramic form was a rose bowl. It also held dried flowers and was meant to create pleasant air for its surrounds.
Porcelain (china) pomanders still are being sold. I found multiple examples in the shape of an egg. Modern pomanders sell in the $8.00 to $25.00 range.
The name on the bottom of your pomander indicates that it was painted by an amateur china painting school member, most likely in the first quarter of the 20th century. You did not share the story of how you acquired your egg. If locally at an auction or estate sale, chances are its painter lived in the area. Take a trip to your Public Library and see if you can find the name in an old city directory.
The secondary market value for your china painting school pomander bisque egg is between $20.00 and $25.00. If you can identify the woman who painted it, add another $10.00 to $15.00 .
---
QUESTION: I have two pewter pieces. The first is a three-footed gravy boat. It is marked "International Pewter #277 13-1." I also have a coffee/tea/water urn with a separate base that is marked "Metawa / Holland / Pure Pewter #L1." My kids do not want them. I do not either. What is your advice? – JT, Sheridan, WY, Email Question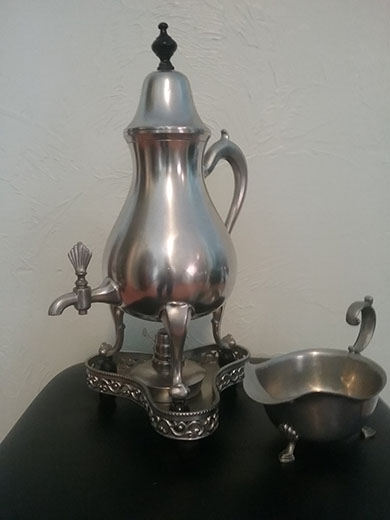 ANSWER: Pewter is made from lead and tin. Hence, it has no metallic melt value. During the 1920s Colonial Revival furniture craze, manufacturers made pewter accessories, often in eighteenth century design styles, to enhance the ambiance of their furniture. The trend continued into the 1950s and 1960s.
International Silver was a consortium of Connecticut and New England silver manufacturers. International Pewter was one of the many subdivisions of International Silver. Your gravy boat is common. In fact, the secondary market is flooded with examples. eBay sellers ask between $8.00 and $12.00. Of course, there are a few greedy sellers who ask more. My suggestion is to think $5.00 or less.
Your coffee urn is much more intriguing. Metallwaren fabrik Metawa was located in Tiel, Holland. It began in the early 1930s and ended production in 1984. The shape of the urn has a definite late eighteenth/early nineteenth century Dutch feel to it. The value of your coffee urn is conversational/decorative. It has no collectible value nor is it likely anyone will buy it for reuse.
Pewter was the poor man's silver. When visiting collectors in England or Europe, their pewter has a high shine. Their opinion of Americans who prefer their pewter with a dull patina is that the American's are lazy housekeepers. The conversational value of your coffee urn is between $30.00 and $40.00.
It is not hard to understand why the kids do not want these pieces. They have no practical function and take up space. The best avenue to dispose of them is via a garage sale. The best pricing philosophy is any money is better than no money .
---
QUESTION: In going through a bunch of old records, I found a 1972 Chevrolet promotional 33 1/3 record album entitled "Building a Better Way To See The U.S.A Music." The interior sleeve is missing. Although slightly warped, the record plays nicely. What is its value? --T Hamburg, PA, Email Question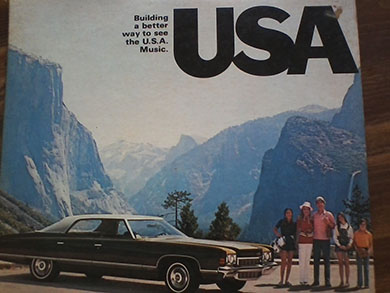 ANSWER: A collection of automobile company promotional 33 1/3 rpm and 45 rpm records was among the many specialty collections I assembled while I lived in Vera Cruz. My recollection is that I paid between $6.00 and $12.00 a record, albeit I purchased most under $10.00.
Your album was assembled for use in Chevrolet showrooms. The record is 30 minutes in length, meaning a sales person could listen to it up to 16 times a day. The message on the back reads: "Looking for a happy, encouraging sound—listen to this complimentary record. It's the theme music taken from the '72 Announcement meeting. We encourage you to share this happy sound with your showroom visitors. It's all part of great new advertising campaign that will be seen and listened to by your prospects in the next few months—a better way to sell Chevrolets."
Your album's value is limited to car enthusiasts who own a 1972 Chevrolet product. Even among this group, interest most likely will be minimal. While I found plenty of 1972 Chevrolet "Building a Better Way" magazine advertisements, I did not find any listings for your record album. WorthPoint.com lists two examples that sold on eBay, the first on August 1, 2011, for $24.95 and the second on April 19, 2014, for $12.95. A conservative value for your record is between $8.00 and $12.00.
---
Harry L. Rinker welcomes questions from readers about collectibles, those mass-produced items from the twentieth and twenty-first centuries. Selected letters will be answered in this column. Harry cannot provide personal answers. Photos and other material submitted cannot be returned. Send your questions to: Rinker on Collectibles, 5955 Mill Point Court SE, Kentwood, MI 49512. You also can e-mail your questions to harrylrinker@aol.com. Only e-mails containing a full name and mailing address will be considered.
You can listen and participate in WHATCHA GOT?, Harry's antiques and collectibles radio call-in show, on Sunday mornings between 8:00 AM and 10:00 AM Eastern Time. If you cannot find it on a station in your area, WHATCHA GOT? streams live on the Internet at www.gcnlive.com.