RINKER ON COLLECTIBLES — Column #1611
Copyright © Harry Rinker, LLC 2017
Questions and Answers

QUESTION: I have a wash pitcher and bowl set that my grandparents acquired as a wedding gift in 1901. The mark on the bottom is a world globe with latitude and longitude lines over Asia and the Americas. A sword is inserted into the globe at 1 o'clock and exits at 7 o'clock. "BOMA FAMA EST" is in an arch above the globe with "MELIOR ZONA AUREA" in a reverse arch below. Beneath the mark is "ALBA CHINA." The pitcher and bowl have floral decals featuring blue petal flowers with filaments and stigma. There also is gold gilding on the rims and handle. Where was my grandparents' pitcher and bowl set made and what is it worth? – KT, Madisonville, KY, Email question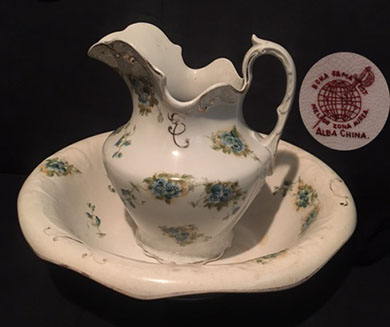 ANSWER: Edwin Bennett Pottery, located in Baltimore, Maryland from 1844-1936, made your grandparents' wash pitcher and bowl set. Bennett introduced a line of utilitarian white earthenware dinner ware and toilet sets during the Civil War. Pieces featured embossed designs and transfer patterns. The transfer designs change constantly to reflect popular taste.
According to Lois Lehner's "Lehner's Encyclopedia on Pottery, Porcelain & Clay" (Collector Books, 1988), the mark on the bottom of your piece was "used after 1890 on all semi-porcelain ware." "Bona Fama Est Melior Zona Aurea," a French expression, translates as "A good reputation is better than a golden belt."
Your wash pitcher and bowl were most likely part of a larger toilet set that would have included a hot water pitcher (smaller in size), a slop jar with lid, a chamber pot with lid, soap dish or container, comb dish, shaving mug, tray, and/or covered vanity dish. Give the expense of the full set, pieces were sold individually. Wash pitchers and bowls have a higher survival rate than the other pieces in the set.
When I assumed the editorship of "Warman's Antiques and Their Prices" in 1981, wash pitchers and bowls was one of several shape (form) collecting categories included in the category listings. Cup plates, cups and saucers, open salts, and trivets were other examples. Fueled by the strength of the County Look, collectors assembled wash pitcher and bowl collections that numbered in the hundreds. For a brief period, Oprah Winfrey collected wash pitchers and bowls. Values in the middle to high hundreds were common.
Experience has taught me that past values are not the same as today's value. Relying on what I used to know can result in my misjudging current market values. As a result, I researched late nineteenth and early twentieth century wash pitchers and bowl sets on WortthPoint.com and other internet websites. While not surprised to find the secondary resale market had collapsed, I was saddened to see how far it had fallen.
1990s and 2000s reproductions undermined the wash pitcher and bowl antique secondary market. However, this explanation alone does not account for the current price levels. The simple answer is that few care. There is no place for wash pitchers and bowls in contemporary decorating schemes including Country.
Excellent late nineteenth century and early twentieth century wash pitcher and bowl sets can be purchase for values starting around $35.00 and ending at $75.00. Many sellers are asking higher prices, but these pieces are not selling through.
KT's grandfather and grandmother's wash pitcher and bowl set has a secondary market value between $45.00 and $60.00. Hopefully, it has far more family value to him.
---
QUESTION: I have an occasional table. The rectangular top has chamfered corners and a leather pad in the center. It sits atop a second identical piece separated from the top by vertical wood panels at the chamfered corners. The pedestal has a reed-like standard ending in a vase motif. The four legs splay out and end with brass metal caps resembling a hairy animal's paw over the end. There are two stencils on the bottom: "2203" and "12/57." The number "877" separates them. What is the value of my table? – DH, Altoona, PA, Email Question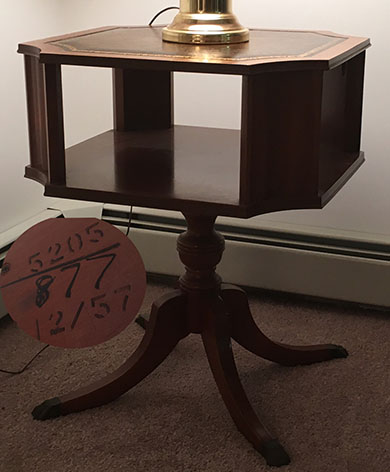 ANSWER: Your table is a post-1945 Duncan Phyfe combination bookstand/end table. It was meant to sit aside an easy chair of a person who loves to read. The number "2203" is the company's item/catalog number. The "12/57" most likely indicates the table was made in December 1957. The "887" is an inspector or merchandiser's inventory number.
Duncan Phyfe was one of America's first furniture merchandisers. His showroom featured furniture based on his designs made by outside contractors. The standard and legs on your piece are "typical" Duncan Phyfe, actually an offshoot of the Federal Classic Revival design style.
The table is part of Post-World War I Colonial Revival furniture, a design style that continued through World War II, and into today. Colonial Revival furniture is referred to in the antiques and collectibles trade as "brown good," now a derogatory term for furniture that is difficult to sell because of its lack of appeal to younger generation. Brown goods represent one of the best bargains in the trade.
No one collects "brown goods." Reuse is the furniture's sole value. In this instance, the piece has some redeeming value. It is decorative. Its size is workable. Its function as a bookstand gives appeal. On Craigslist or at an estate sale, its sell through price is between $45.00 and $55.00. When thinking of selling any piece of brown goods, use a liquid furniture restorer to snap up its appearance.
---
QUESTION: I have a pair of glass end table lamps that are very difficult to describe. The base is square on top of which is a small square cube through which extends a brass tube standard ending in a pressed glass bowl base. The base is drilled so the cord can extend through it and go upward through the standard into the bowl. The cord has an on off switch about six inches from where it enters the light. The metal base on the bowl has six cups (a round of four with a cup on each side) that holds a variety of assorted pressed glass fern-like leaves. The overall height is 15 and one-half inches. When were my lamps made? What is their value? – BW, Pottstown, PA, Email Question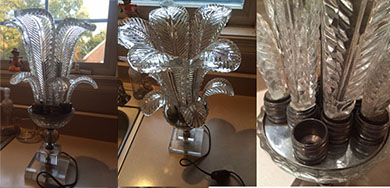 ANSWER: The PBS "Car Talk" show included a segment entitled "Stump the Chumps." There are times when I am tempted to include a similar segment in this column.
I spent several hours searching the internet for examples of your lamps. I found nothing. I sent the images to friends in the field. They responded "I never saw" one. I am hopeful one of my readers can point me in the right direction.
In the interim, the best I can do is provide a "best guess." The lamps mostly likely date from the 1950s or early 1960s. Although the base has a very Post-War Modernism design, the top defies design identification. The word that comes immediately to mind is "gaudy." Although tempted to put the lamps into my "neat things" collecting category, neat is highly subjective in reference to these lamps.
There is no question about the conversational value of the lamps. They would be noticed in any setting in which they were placed – on end tables or the ends of a dining room buffet.
Secondary market value is regionally dependent. It Pottstown, Pennsylvania, $100.00 to $150.00 for the pair is a strong value. In New York and other areas where the Modernist look is in vogue, their value jumps to $400.00 to $500.00 for the pair.
---
QUESTION: I have a framed blueprint of a Pullman car. Originally called the "Federal," the name was changed to the "Pocono." The blueprint is housed in a wooden frame with a wood backing measuring 30-inches wide and 13-inches high. The blueprint paper has crinkled badly and has some staining. I purchased it on eBay 15 years ago for a minimal amount of money. Now, I would like to sell it. What advice do you have? – JB, Email Question
ANSWER: My advice is simple. Sell it as quickly as possible and be happy with whatever money you get.
Blueprint paper does not stand the test of time. Unless kept under ideal conditions, the tone fades, often disappearing, and the paper turns bridle and crinkles. Exposure to direct or indirect light speeds up the process. The restoration cost to stabilize a piece is prohibitive.
The wood backing has not helped. The acid content in the wood has leeched into the blueprint paper. The blueprint needs to be removed from the frame, matted, and properly framed. The cost to do this will probably exceed its enhanced value.
Esty rather than eBay is a much better place to offer this for sale. Any value over $25.00 makes this a difficult sale. Consider donating it to The Pullman State Historic Site (11111 S. Forrestville Avenue, Chicago, IL 60628) and taking a tax deduction. See my "Sell, Keep, or Toss: How to Downsize A Home, Settle an Estate, and Appraise Personal Property" (Random House: 2007) for a detailed description of how to do this.
---
Harry L. Rinker welcomes questions from readers about collectibles, those mass-produced items from the twentieth and twenty-first centuries. Selected letters will be answered in this column. Harry cannot provide personal answers. Photos and other material submitted cannot be returned. Send your questions to: Rinker on Collectibles, 5955 Mill Point Court SE, Kentwood, MI 49512. You also can e-mail your questions to harrylrinker@aol.com. Only e-mails containing a full name and mailing address will be considered.
You can listen and participate in WHATCHA GOT?, Harry's antiques and collectibles radio call-in show, on Sunday mornings between 8:00 AM and 10:00 AM Eastern Time. If you cannot find it on a station in your area, WHATCHA GOT? streams live on the Internet at www.gcnlive.com.