RINKER ON COLLECTIBLES — Column #1609
Copyright © Harry Rinker, LLC 2017
Questions and Answers

QUESTION: I own a Donald Duck Flexible Flyer sled. What is its value? – M, Email Question
ANSWER: Brian J. Hoskin's "The Sled Book: Notes Concerning Winter's Favorite Pastime," copyrighted by the author and published by Skipstone, an imprint of The Mountaineers Books, in 2007, provides this information:
"In 1928, six Flexible Flyers made it to the South Pole with famed polar explorer Admiral Richard E. Byrd. In 1935, Allen came out with Splitkein wooden skis and the Flexy Racer, a sled on wheels, designed to be used in the summertime. In 1938, Donald Duck and Mickey Mouse-branded sleds were created. In 1940, Allen produced his final innovation, the Ski Racer, a sled with a pair of long, flexible skis beneath a classic Flexible Flyer seat….Samuel Allen's family sold the sled business in 1968, and it passed through the hands of several owners over the next 30 years."
Worthpoint.com contains an eBay July 26, 2012, sale listing for a "Rare 1930s ANTIQUE Donald Duck Wood & Iron Child's SLED Flexible Flyer." The images accompanying the listing show a full color decal of Donald in winter clothing pulling a toboggan sled holding Huey, Dewey, and Louie on the sled's center wood panel. The handle has "DONALD" in red letters on the left and "DUCK" in red letters on the right. The varnish on the sled was heavily glazed. The Donald Duck sled sold for $699.00.
Karen O'Brien's "Toys & Prices, 15th edition," published by Krause Publications an imprint of F + W Media in 2008, lists values for a Mickey Mouse sled at $800.00 in excellent condition, $1,200.00 in near mint condition, and $2,000.00 in mint in package condition. Although I have no proof, I suspect more Mickey Mouse as opposed to Donald Duck sleds were sold, meaning the Donald Duck sled is the scarcer of the two.
The condition of the decal on the center slat and the name on the two handles is critical to value. If heavily worn or missing, value plummets exponentially. Since no picture accompanied your email, I cannot assess condition.
Has collector interest waned, stayed steady, or increased since 2012? Five years makes a difference. First, the sled collection craze of the 1990s and 2000s is over, albeit there are a few diehard collectors. eBay flooded the market. Disneyana collectors are more focused on post-1980s and contemporary Disney memorabilia than antique and collectible Disney.
The $699.00 price may well have been the last trip down the hill for the Donald Duck sled, having occurred at the end of the sled and pre-1945 Disneyana collecting crazes. In today's market, assuming the sled is in very good to fine condition, $500.00 is a far more reasonable secondary market value than $700.00.
---
QUESTION: I have a 1976 James Carter presidential campaign cane/walking stick. The curved metal handle has "19 JIMMY CARTER 76" on one side and "19 FOR PRESIDENT 76" on the other. The base of the metal handle has an eight-ring barrel into which the wooden stem fits. I tried searching the cane on the internet, but only found a cane/walking stick with a metal handle with a "[star] JIMMY CARTER '[star]" on one side and "[star] FOR PRESIDENT [star]" on the other. The section of the handle into which the stick fits has a two-ring band on top and bottom separated by two stars. Do I have a reproduction or period piece? –P, Reading, PA, Email Question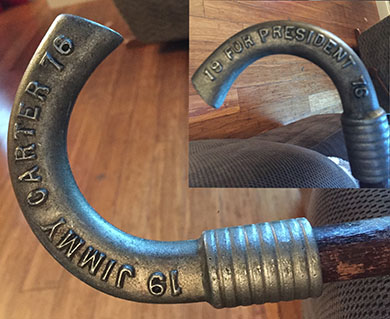 ANSWER: When talking about presidential campaign canes/walking sticks, my thoughts immediately go to the elections of the late nineteenth and early twentieth century. There are presidential campaign canes for Cleveland, Harrison, McKinley, T. R. Roosevelt, and Taft. In the course of researching your question, I found a Franklin D. Roosevelt cane/walking stick. A three-dimensional head of the candidate is the one element these canes/walking sticks have in common.
In terms of Carter, my memory focused on his famous "peanut" handle cane/walking stick with "19 JIMMY CARTER 76" in raised letters on a brownish-tan colored peanut shell handle. Depending on a buyer's patience, these sell between $60.00 and $100.00 in fine or better condition.
Finding the exact answer to your question was not easy. I eventually found a listing for a 1976 Carter presidential campaign metal handled cane/walking stick that matched the one you own. The listing indicated the cane/walking stick was a second variation, obviously one that is scarcer than the more common version.
Your version of the 1976 Carter cane/walking stick has a secondary market value between $60.00 and $75.00. The more common versions sell between $25.00 and $35.00.
---
QUESTION: I recently came across a small pin that belonged to my husband's father. It was quite tarnished so I used a Q-tip and some silver polish to clean it up. The pin has five horizontal colored bars (red, white, blue, white, and red) with "V" ends. In the center is a wreath with an "E" in the center. The back had relief letters reading: "ARMY / NAVY / PRODUCTION AWARD" in a circle with "STERLING" in the middle. When was this pin issued? What is its value? – SS, Bozeman, MT, Email Question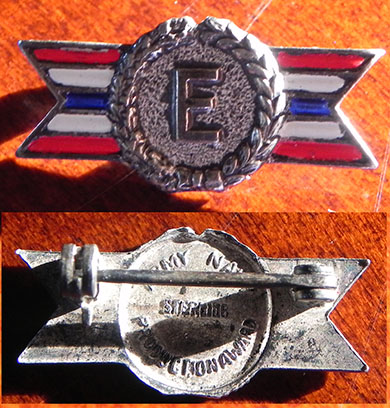 ANSWER: The Army-Navy "E" Award was given to companies whose factories made war equipment and achieved an "Excellence in Production" rating. The award was officially known as the Army-Navy Production Award.
The award dates back to 1906, when Theodore Roosevelt's administration created the Navy "E" award. America's entry into World War I saw the creation of the Army "A" Award and the Army-Navy Munitions Board "Star." Seven months (July 1942) after the attack on Pearl Harbor, the War Department combined the three programs into the Army-Navy "E" Award.
Factories engaged in war production, whether private or government owned, were entitled to apply for the award. When World War II ended, only five percent of the more than 85,000 eligible companies received the award. The program ended December 5, 1945.
Companies that won the award earned the right to fly a combined red (Army) and blue (Navy) ground flag banner with the "E" in the wreath in the center. Company officials and employees could purchase "E" Award pins to signifying their company's winning the award.
The condition of the pin is critical to value. So is patience and the willingness to search. I found an example on Esty for $16.00, another on Ruby Lane for $35.00, and a second on Esty for $65.00, the latter falling into the "are you out of your mind" category. In fine or better condition, the secondary market value of the pin is between $7.50 and $12.00.
FYI – There also was an "E" for Production lapel pin – a circle of stars on a blue ground with a white "E" at the tops and a spread-winged eagle in the center.
---
QUESTION: When cleaning out the glove compartment of my car, I came across a gauge marked "Starret" that I picked up two years earlier in a parking lot. The gauge has a balloon-like handle with a checkered center to aid the grip, a drop "D" gauge which records the turns of the rotating tube on the end. What do you think it is? – H, West Chester, PA, Email Question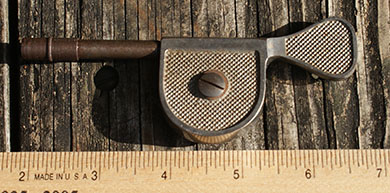 ANSWER: You own a Starret RPM revolution gauge, also known as a Machinist Speed Indicator (Tachometer). If you would like to see the tool in action, check out these two YouTube.com videos: (1) https://www.youtube.com/watch?v=SLWlkobzKgk and (2) https://www.youtube.com/watch?v=4RLnwgp6YcM.
Your tool is not complete. It needs a surface speed indicator that attaches to the end of the tube. This appears to be missing from most examples being offered for sale.
The tool as it stands is readily available on the Internet. Its secondary market value is between $12.00 and $18.00. Some more optimistic than realistic eBay sellers are asking higher prices.
---
Harry L. Rinker welcomes questions from readers about collectibles, those mass-produced items from the twentieth and twenty-first centuries. Selected letters will be answered in this column. Harry cannot provide personal answers. Photos and other material submitted cannot be returned. Send your questions to: Rinker on Collectibles, 5955 Mill Point Court SE, Kentwood, MI 49512. You also can e-mail your questions to harrylrinker@aol.com. Only e-mails containing a full name and mailing address will be considered.
You can listen and participate in WHATCHA GOT?, Harry's antiques and collectibles radio call-in show, on Sunday mornings between 8:00 AM and 10:00 AM Eastern Time. If you cannot find it on a station in your area, WHATCHA GOT? streams live on the Internet at www.gcnlive.com.