RINKER ON COLLECTIBLES — Column #1607
Copyright © Harry Rinker, LLC 2017
Questions and Answers

QUESTION: I bought a Navajo sterling silver bracelet for $20.00. I felt comfortable buying it because the price was equivalent to the scrap silver value. The bracelet has a large oval piece of turquoise in the center set in a beaded-edge bezel. The bracelet has five silver rods wrapping around to form the cuff body and two silver rods, located just beneath the stone, wrapped around the five silver rods. It is marked on the back "FRED GUERRO." I was planning to list it on a national internet auction website for $65.00. When I looked up the name, I changed the price to $165.00. It sold immediately. A few years ago, you could not GIVE turquoise away. Now the market is strong. What happened? – KT, Madisonville, KY, Email Question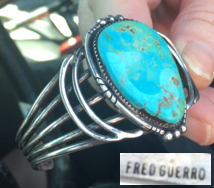 ANSWER: Artist signed Navajo jewelry has a strong following. Actually, the market has been strong for almost two decades. The publication of several books on Navajo jewelry, such as Paula Baxter's "Southwest Indian Bracelets: The Essential Cuff" (Schiffer Publishing, 2015) and Gregory Schaaf's "American Indian Jewelry I: 1,200 Artist Biographies" (CIAC Press, 2003), have fueled collector interest. The Center for Indigenous Arts & Cultures in Santa Fe is creating a database for Native American artist in all categories, from pottery to textiles.
Today's young collectors are brand name focused. They give preference to pieces that are associated with a specific designer or manufacturer. Rodney Guerro is the only Guerro listed in Schaaf's book. A Google search produced a number of listings for work by Fred Guerro and Juan Guerro. An elaborate Fred Guerro solid sterling silver bracelet with an intricate leaf and relief flower motif is listed on eBay for $450.00.
I also found a reference to a Tony Guerro (deceased). The biography claimed Tony "was one of the greatest Navajo silversmiths." Tony learned his craft from his father and uncle. He taught silversmithing skills to his children and grandchildren. Timothy, Ramona, and James are contracted to Zachery and Sons Silversmiths. In addition, I found an example of a bracelet made by Ramona that has many of the same characteristics as the bracelet you sold. I am certain The Center for Indigenous Arts & Cultures can provide a Guerro genealogy that links all the family members together.
Identifying the maker is only one value added aspect in Navajo jewelry. The quality of the turquoise, the craftsmanship, and aesthetics also are key. The cuff bracelet that you sold had an extremely nice piece of turquoise and evidence of skilled craftsmanship. The aesthetics are middling.
Since the piece sold quickly, do not fall into the mental "I sold it too cheap" trap. Consider the profit you made. If the next buyer bought the bracelet to resell, he/she will be lucky to double his/her investment. In the antiques and collectibles game, the person with the money is more often than not the winner as opposed to the person who bought the object. .
---
QUESTION: I have a collection of reddish pink serving pieces – butter dish, creamer and sugar, and two bowls. The back is marked "ROYALE / BRACHELL." When were they made? Do they have any value? – DH, Altoona, PA, Email Question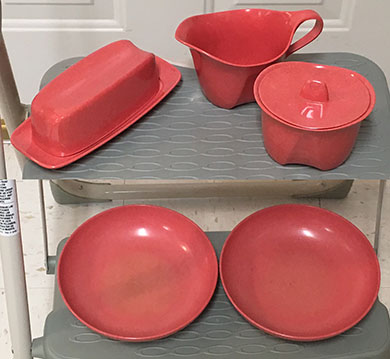 ANSWER: Your dishes were made from melamine, a thermoset plastic. Melamine plastic is made by combining melamine resin with strengthening materials. American Cyanamid under contract to the United States military developed a durable plastic that could be used for dining hall trays that needed to be washed at high temperature several times a day. American Cyanamid dubbed its "wonder plastic" Melmac. In the late 1940s, Russel Wright was hired to design products, test them, and produced feedback. Wright developed Meladur Dinnerware. The public was resistant, remembering that Bakelite, another plastic product, often discolored and cracked. By the mid-1950s, Melmac dinnerware was the rage.
Kay Le Moyne designed "Royale Color-FLYTE" for the Brachell Company of St. Louis, Missouri. The line was produced from 1952 to 1958. According to a full-page advertisement in a 1958 edition of "Better Homes and Gardens," Royale Color-FLYTE was available in Flame Pink, Charcoal Gray. Gardenia White, Turquoise, and Rainbow (a set containing a combination of the four colors. A 16-piece starter set retailed for $15.95. A 45-piece service for eight set cost $49.95. The butter dish and cover retailed for $3.25, the creamer for $2.00, the covered sugar with lid for $2.75, and a 10-inch vegetable bowl for $4.25. A set of stainless steel flatware with Melmac handles also was available.
[Author's Aside: My first wife had a violent temper. When she was angry, she grabbed our Melmac dinnerware and sent it flying through the air. When it bounced off the wall, it shattered into pieces. Melamine plastic was supposed to be unbreakable. I wrote American Cyanamid asking if they wanted to hire my wife for their test kitchen. I never received a response.]
American Cyanamid issued a license for Melmac to more than a dozen manufacturers. Many of the forms and colors had a strong Modernist flare. A short Melmac collecting craze occurred in the 1990s. It cooled quickly. Since Melmac is neither dishwasher nor microwave safe, younger collectors have little interest in it.
eBay asking prices for Royale-FLYTE do not reflect market reality. Individual pieces are in the fifty cents to two-dollar range -- estate and garage sale fodder. Services for four or six can be purchased for under $50.00.
Thanks for the trip down nostalgia lane.
---
QUESTION: I have a Fenton seated fox figurine in blue with an iridescent (carnival) finish. It measures 5-inches high, 3-inches wide. It has a paper label on the bottom. I paid $40.00 for it at an estate sale. Did I get a bargain? --SS, Bozeman, MT, Email Question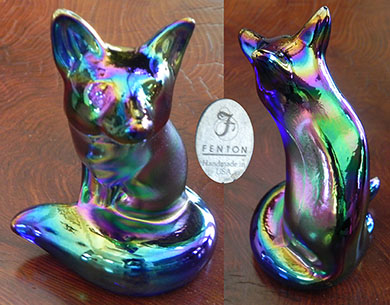 ANSWER: The answer is no. You paid close to full secondary market retail. Comparison shopping would have saved you money by purchasing the piece elsewhere. The problem is that it is difficult to comparison shop in the field unless you have access to WorthPoint.com via a tablet.
Fenton changed its marks periodically. The paper label found on the bottom of your fox was used from 1997 through 2011. There are three text variations—"Handmade," "Handpainted," and "Quality Giftware."
Although Fenton survives, it is now an importer and special-order manufacturer. George W. Fenton, son of Frank Fenton, became president in 1986. Many Fenton family members participated in the company leadership. Traditional glass making ceased in 2011. The company continues to make handcrafted art glass jewelry. In May and June 2017, Fenton sold the tools from the maintenance shop, filing cabinets, desks, lockers, and chairs from its back house. The Fenton Gift Shop is selling almost 10,000 of the company's molds. Fenton's archives and business records have been sent to the Corning Museum of Glass.
WorthPoint.com lists completed sales of $21.95, $31.99, and $38.00 for the blue iridescent seated fox. Rose Wholesale has one listed at $48.00. The fox was made in a variety of glass colors. Some featured elaborately painted floral designs. The latter sell in the $40.00 to $50.00 range.
If you were looking for a bargain, you should not have paid more than $15.00 to $20.00. Ideally, you needed to pass on day one and go back to the estate sale on half price day and buy the piece if it still was available. If it was gone, someone was buying with his/her heart and not his/her head.
---
QUESTION: I have six Yocum Brothers wooden cigar boxes. Some are plain. One has a Y-B" label. A second has a "CACTUS" label. The cigars sold for eight cents each or two for fifteen cents. Do my boxes have any value? – CM, Reading, PA, Email Question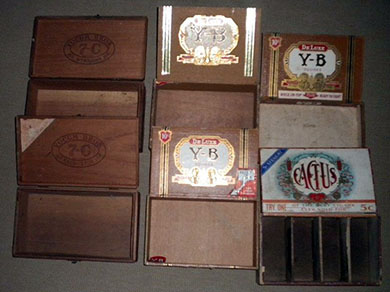 ANSWER: The value of the boxes is minimal. Those without labels are worth between $1.00 and $3.00. Individuals use them as inexpensive storage boxes.
The box with the "Y-B" label is in the $3.00 to $4.00 range. The "Cactus" label adds another dollar or two.
James W. and William H. Yocum founded Y-B Cigars in 1879. The factory was located in Reading, PA. Initially, Y-B Cigars used locally grown tobacco but later changed to imported tobacco. At the peak of its success, the company had more than 500 employees and produced 20 million cigars a year. Y-B Cigars issued tobacco tins and Vienna art plates, which are eagerly sought by collectors. The Y-B bull figural cigar lighter is the pinnacle of Y-B memorabilia.
---
Harry L. Rinker welcomes questions from readers about collectibles, those mass-produced items from the twentieth and twenty-first centuries. Selected letters will be answered in this column. Harry cannot provide personal answers. Photos and other material submitted cannot be returned. Send your questions to: Rinker on Collectibles, 5955 Mill Point Court SE, Kentwood, MI 49512. You also can e-mail your questions to harrylrinker@aol.com. Only e-mails containing a full name and mailing address will be considered.
You can listen and participate in WHATCHA GOT?, Harry's antiques and collectibles radio call-in show, on Sunday mornings between 8:00 AM and 10:00 AM Eastern Time. If you cannot find it on a station in your area, WHATCHA GOT? streams live on the Internet at www.gcnlive.com.