RINKER ON COLLECTIBLES — Column #1606
Copyright © Harry Rinker, LLC 2017

A Story About a Story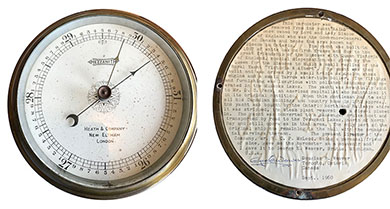 When asked what the antiques and collectibles industry sells, my stock answer is "dreams and stories." Everyone loves a good story, especially if its connection to a specific object enhances the object's value. A good story is believable. It comes with a high level of credibility and is accepted at face value as unquestionable. This is a story about such a story.

Barb Jersey, owner of Wonder Woman Estate Sales of Dimondale, Michigan, emailed me asking my advice about a wall mounted, circular, brass case barometer that was included in an October 12 and 13, 2017, estate sale that took place in Burt Lake, Michigan. Heath & Company, New Eltham, London made the Hezzanith barometer. It worked.

Barb did not need my help pricing the barometer. A quick internet search suggested a secondary market retail value between $65.00 and $75.00. WorthPoint.com lists an example that sold on eBay in February 2016 for $65.00. eBay had a recent sell through price of $75.00 plus shipping. Since this was an estate sale, shipping costs were not a factor.

When she first saw the barometer, Barb was thinking $50.00 to $60.00. When Barb picked up the barometer and found a typed story on the back, she decided to involve me. Her basic question was, "What extra value does the story add to the barometer?"

The story reads as follows: "This barometer was / removed from the yacht "NAIAD" / once owned by Lord and Lady Simcoe of England who was the Governor-General / of Canada and hence the area known as / Simcoe in Ontario. The yacht was built in / 1897 of white oak on iron frames and due to the / great friendship of the Simcoes with Queen Victoria / of England, special dispensation was given by the / Queen for the Simcoes to build a small replica of the / Royal Yacht 'Victoria & Albert.' The yacht was then / built and was driven by a small triple expansion steam /engine and a small Yarrow water-tube boiler. The fittings / and furnishing was luxurious with polished mahogany and op- / erated in the Muskoka Lakes. The yacht was eventually sold / to Mr. D. C. Peck, an American capitalist who maintained it / in its original condition. When this gentleman had to sell / all his Canadian holdings and country home in 1952 approx., / the yacht was bought by the Ontario Northland Railways where / it was stripped, the steam plant removed, a diesel placed / in. The yacht was converted to a passenger cruise boat and / transported by road to the Temagani Lakes, north of North / Bay and still operates in that area. The only part of the / original ship now remaining is the hull with the ornament- / tal carvings thereon. The present Director of the / Company, Mr. R. C. P. McLeod, being a personal friend / of mine, gave me the barometer as a souvenir and / I gave it to George E. Weaver, Brutus, Michigan, / U.S. A. / [script signature] Geo. E. Weaver, Douglas R. Weaver / Toronto, Ontario / Canada / Sept. 1960."

A Heath & Company barometer without this story is a $65.00 to $75.00 barometer. Because of this story, the price doubles. In a conversation with Barb, I recommended placing an initial value of $150.00 on the barometer. When conducting a two-day sale, Barb holds firm on day one. On day two she begins a discount approach—35 percent off after a certain time and then 50 percent for the balance of the sale. Had the barometer made it to the final hours, its sale price would have been $75.00.

[Author's Aside: My first thought upon seeing the pictures of the barometer was that it would look great on a wall in Linda's and my Altamonte Springs, Florida, condo. After reading the story, the barometer achieved "neat thing" status, a designation that I covet for things I own. When Barb indicated she was asking $150.00, I wanted to immediately blurt out – "I am a buyer." However, I am a cheap buyer. Why pay $150.00 if there is a possibility I could buy it for less. If the barometer was there at the start of the second day, I planned to make Barb an offer she could not refuse. Since I did not charge Barb for my advice, I was freed from an "if I appraise it, I cannot buy it" issue.]

Barb sold the barometer for $125.00. Normally, she does not budget on pricing during Day One of a sale. Since this sale was in a remote part of Michigan, she accepted a counteroffer from a buyer based on the "money in hand is better than no money [or a reduced amount of money]" principle.

I never get upset if a seller is able to get more money than I am willing to pay. Instead, I offer the seller my congratulations. Barbara works hard. She did her research and benefited from it. My hope was that the person who bought the barometer would treasure it as much as I would have.

Wishing to share my enthusiasm for Barb's success, I talked about the barometer on my October 15, 2017, broadcast of WHATCHA GOT? my syndicated antiques and collectibles call-in radio show.

As commentator Paul Harvey famously said: "And, now for the rest of the story." A few hours after the show, I received an email from John Alston in Collingwood, Ontario, who listens to WHATCHA GOT? on tune-in radio via KTOX-AM in Needles, California. John's email read: "When you read the story on the back, I thought you said the barometer was from a ship that was a replica of the HMS Victoria and Albert, authorized by Queen Victoria to be built for John Graves Simcoe. However, I must have misheard because John Graves Simcoe died in 1806, 13 years before Victoria was born."

Dumb, naïve, gullible me – I believed the story without checking the facts. It was such a good story, it had to be true. I wanted it to be true. Denmark is not the only place where something is rotten.

Working with insurance companies reviewing claims for antiques and collectibles loss, I need only find one thing wrong to impugn the entire document. The more I checked into the story on the back of the barometer, the more I discovered it contained wrong information and half-truths. At one point, I was ready to issue a fake-news alert and question whether the barometer was ever on the "NAIAD."

The Polson Iron Works built the "NAIAD" for Canadian Senator William E. Sanford in 1890. Sandford was one of the leading Canadian businessmen and industrialists of the late 19th century. He was a pioneer in the mass-production of men's ready-made apparel, served on numerous transportation and banking boards, and a philanthropist. John forwarded a reference to a January 14, 2008, article by Bev McMullen entitled "Chasing the Light – Slow stories and sunken treasures." [www.muskokaregion.com/opinion-story/3617076-chasing-the-light-slow-stories-and-sunken-treasures/?s=e]. McMullen recounted a local story that when Sanford and his wife were dining with Queen Victoria, her daughter Princess Louise began choking on a chicken bone. Mrs. Sanford, a nurse, dislodged the bone. Knowing the Sanfords loved boating, the Queen in grateful appreciation offered them the plans for the "NAIAD," a royal yacht that the Queen and Prince Albert had hoped to build but never did.

Sanford drowned in 1899. His wife continued to use the yacht until her death. D. Cameron Peck bought the yacht in 1939. He sold it to the Ontario Northland Transportation Commission in 1955 who installed a diesel engine and moved it to Lake Temagami. The yacht remained in service until 1967. Why and when the barometer was removed, if indeed the barometer did come from the "NAIAD," remains a mystery.

Those wishing to read about William E. Sanford and the "NAIAD" are encouraged to read Bruce Randolph's 1997 article "Senator W. E. Sanford and his yacht NAIAD" that appeared in the Canadian periodical "Freshwaster" Volume 12, Number 1. [See www.polsonironworks.com/articles.html. The article is broken into four sections that can be accessed through this URL.]

Every once in a while, I need to bend over and ask someone to give me a swift kick in the butt. Accepting the story on the back of the barometer at face value was dumb, dumb, and dumb. After this experience, I am not going to be shouting "I believe" any time soon when I hear an antiques and collectibles story. At my age, people expect a certain amount of skepticism. I do not plan to disappoint them.

POSTSCRIPT: In the next few days, I plan to purchase and read a book about Canadian history. I know more about America's neighbor to the south than I do to the north. I should have spotted the Simcoe discrepancy immediately. Ignorance is not bliss.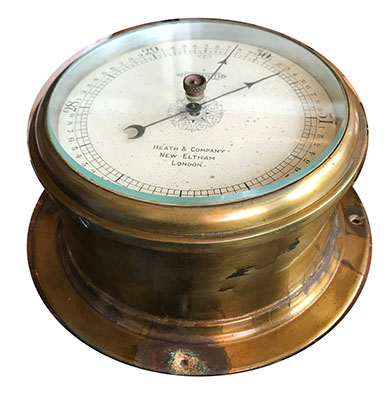 ---
Harry L. Rinker welcomes questions from readers about collectibles, those mass-produced items from the twentieth and twenty-first centuries. Selected letters will be answered in this column. Harry cannot provide personal answers. Photos and other material submitted cannot be returned. Send your questions to: Rinker on Collectibles, 5955 Mill Point Court SE, Kentwood, MI 49512. You also can e-mail your questions to harrylrinker@aol.com. Only e-mails containing a full name and mailing address will be considered.
You can listen and participate in WHATCHA GOT?, Harry's antiques and collectibles radio call-in show, on Sunday mornings between 8:00 AM and 10:00 AM Eastern Time. If you cannot find it on a station in your area, WHATCHA GOT? streams live on the Internet at www.gcnlive.com.