RINKER ON COLLECTIBLES — Column #1601
Copyright © Harry Rinker, LLC 2017
Questions and Answers

QUESTION: I have a Howdy Doody Cookie-Go-Round tin. The body has a white ground and features the Howdy Doody characters riding on a carousel. The lid is a deep red. When I visited my aunt as a youngster, I kept telling her how much I admired the tin. Eventually, she gave it to me. It has a lot of childhood memories. What is its value? – H. West Chester, PA, Email Question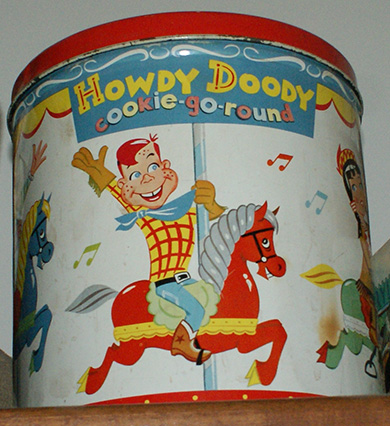 ANSWER: You have a 1950s childhood memory. Unfortunately, as the size of the generation who grew up in the 1950s decreases so does the value of your Howdy Doody cookie tin.
When I think of Howdy Doody and cookies, an image of the ceramic Purinton Howdy Doody cookie jar comes to mind. I have handled dozens of these in the course of my career. I have no memories of handling the cookie tin, albeit I must have seen several. A memory is a strange animal.
The 1990s was the Golden Age of Howdy Doody collectibles. Since then, they have been going downhill. Time and exposure are the enemy. Few individuals under 50 know who Howdy Doody is. If you ask "what time is it?" to a person under 50, he/she will look at their watch or cellphone and tell you precisely.
The Howdy Doody television series began in 1947 and continued until 1960. The show went into syndication, but those days have ended. A brief attempt to revive Howdy Doody in August 1976 lasted only until January 1977. Today, the Doodyville residents and show memorabilia are housed in museums.
The characters portrayed on the tin's surface were Howdy, Clarabell, Dilly Dally, Phineas T. Bluster, and Princess Summerfall Winterspring. There were two lid versions -- one with a plain red lid and a second with a glass humidifier in the middle of the lid, the latter a common element in cracker tin lids. The lid with the humidifier was sold as a "Krispy Kan Cookie Canister." A detailed set of instructions on how to use the lid dehumidifier was printed on the bottom of the lid. Cans are marked on the bottom "Blue Magic," "Krispy Kan, Luce Mfg. Co., Groton, Vt," and a patent number "2548168."
Asking prices for the tin on eBay range from as low as $30.00 to over $100.00. Worthpoint.com is an excellent source to track market trends for a specific item. In the "Sort by" drop down box, select "Sale Date.'" In 2016 and 2017, the low price was $12.00 and the high price $32.50. These prices were 50 percent lower than those from 2011 to 2013.
In 2017, your Howdy Dowdy cookie tin in fine condition is worth between $20.00 and $25.00. If there is a $10.00 value point in the future, hopefully you and/or I will not live to see it.
---
QUESTION: I recently acquired two campaign posters. The "Kennedy" poster is on heavy cardstock and is 44-inches by 28-inches. The "JOHNSON/HUMPHREY" poster is on newsprint and measures 42-inches by 27-inches. Both show damage – tears, missing corners, and folds. I found a restoration website, www.posterfix.com, with prices starting at $150.00. Since the cost of restoration will far exceed the final restored value, what should I do with the posters? – SK, Richmond, CA, Email Question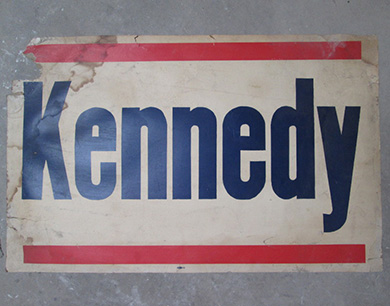 ANSWER: If you are a Republican and/or Trump supporter, the answer is obvious. Trash them. Whether Republican or not, collectors (1) feel sympathy for "wounded warrior" antiques and collectibles and (2) find that trashing any object, no matter how damaged, is difficult to do.
My first thought was to agree with your assessment based on the premise that you could buy an identical poster in very good or better for less than the restoration cost. Wanting to make certain I was correct, I checked the internet. When I could not find examples of either poster for sale, I began to experience doubts. I did find a WorthPoint.com listing for a "1968 Robert Kennedy Presidential Campaign Poster" that is identical to the one you own. It sold for $100.00 on eBay on May 25, 2017. This confirms my assumption that restoring your posters is not worth the cost.
Not wishing to tell you to junk the posters, my thought is to frame them in an inexpensive frame acquired at a Big Box store. Most frames come with a paper mat. Cut the mat to hide the border damage. Have someone do "fill" artwork to replace the missing sections. If done properly, most individuals will not notice the repair at the standard arm length viewing. Once done, the posters are just decorative wall hangings.
Your most likely buyer is a Democrat. You are lucky. You live in California.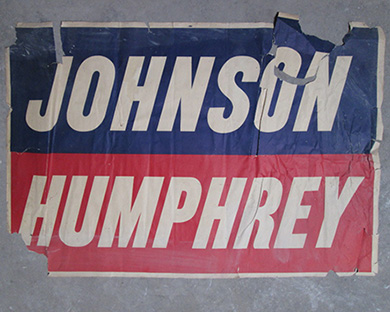 ---
QUESTION: Recently, I paid $40.00 at auction for an item about which I know little. This seems to happen more often now. I guess you may have rubbed off on me. The large ovoid red jug was described as an oriental urn. It stands 12-inches high, is 8-inches wide at its maximum point, and has a 3-inch opening at the top. It is glazed inside and weighs 7 pounds. The bottom shows deterioration. What did I purchase? – AM, San Antonio, TX, Email Question
ANSWER: You purchased a problem. The auctioneer covered his bases by describing the object as an "oriental urn." The description is so general as to be meaningless At best, it means the urn was made somewhere in Asia at some unknown date. It could have been a few years or decades ago. It most certainly was not centuries.
Your vase has an earthenware, a polite term for clay, body. In order for it to hold liquid, it has to be glazed. Because the vase had to be fired in a kiln, the bottom had to be unglazed, otherwise the base would stick to the kiln floor. As a result, if the vase base is exposed to water or moisture, the clay will deteriorate. This is what happened to the vase you own.
The lack of any maker's or country of origin mark suggest the vase was sold initially as a decorative accessory to be set on a porch or outside in a garden. Chances of it dating prior to 1950 are minimal.
Its secondary market value is decorative. At $40.00, you paid a steep price. The old trade adage of "if you do not know what you are buying, do not buy it" applies. Collectors love to take chances. Wise collectors know when "the chance" is not worth the financial outlay.
---
QUESTION: I own a 25-pound aerial practice bomb, a replica of an actual bomb. The bomb has a smoke bomb down the middle so the pilot or his helper could look back and see how close he came to his target. What is its value? – KT, Madisonville, KY, Email Question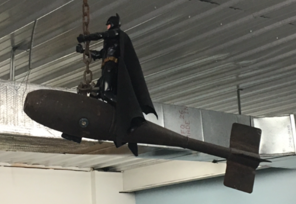 ANSWER: Who doesn't have an old military practice bomb in their basement? An internet search revealed a wealth of information on US military practice bombs. The website www.nebraskaaircrash.com featured an article by Jerry Penry on "Practice Bombs of WWII." (www.nebraskaaircrash.com/practicebombs/main.html). Clicking on each of the pictured practiced bombs provides detailed information about the bomb. Also, mortar shells and marker bombs are often confused with practice bombs.
Research persistence counts. On www.armslist.com, I found an advertisement for a 25 pound, Vietnam era MK76 Mod5 dummy training bomb. It is identical to the bomb you own. The asking price is $65.00, picked up at the seller's home. The listing notes a similar bomb sold recently on eBay for $75.00.
A detailed history of the MK-76 practice bomb, used by the Navy, is found on https://thelexicans.wordpress.com/2012/10/26/a-mk-76-tale/. The article notes: "The MK-76 is only about 2 feet long, weighs 25 pounds, has a fat little front body and a set of fins welded to that body. The center of the bomb body and fins is hollow, there is a charge in the nose that goes off when the bomb impacts and the point of impact is marked by the white smoke from the charge. At night, there is a visible flash. The AF version of the MK-76 is the BDU-33, it's zackly [exactly] the same bomb."
An example in near mint condition with all markings intact brought $90.00 against a $100.00 to $200.00 estimate at Affiliated Auctions. Given the condition of your example, excluding the Batman action figure that mysteriously sits atop it, the Vietnam error practice bomb is worth between $50.00 and $60.00.
---
Harry L. Rinker welcomes questions from readers about collectibles, those mass-produced items from the twentieth and twenty-first centuries. Selected letters will be answered in this column. Harry cannot provide personal answers. Photos and other material submitted cannot be returned. Send your questions to: Rinker on Collectibles, 5955 Mill Point Court SE, Kentwood, MI 49512. You also can e-mail your questions to harrylrinker@aol.com. Only e-mails containing a full name and mailing address will be considered.
You can listen and participate in WHATCHA GOT?, Harry's antiques and collectibles radio call-in show, on Sunday mornings between 8:00 AM and 10:00 AM Eastern Time. If you cannot find it on a station in your area, WHATCHA GOT? streams live on the Internet at www.gcnlive.com.
SELL, KEEP OR TOSS?: HOW TO DOWNSIZE A HOME, SETTLE AN ESTATE, AND APPRAISE PERSONAL PROPERTY (House of Collectibles, an imprint of Random House Information Group, $17.99), Harry's latest book, is available at your favorite bookstore and via www.harryrinker.com.