RINKER ON COLLECTIBLES — Column #1599
Copyright © Harry Rinker, LLC 2017
Questions and Answers

QUESTION: I purchased a pink, clear glass elephant paperweight at an estate sale for $12.00. It measures approximately 4-inches high by 5-inches long. My example is marked with an "L" whose base extends into an "I" imposed on a "G." I found several identical examples online. One is marked with an "A" to the left of the "L. Another is listed as "A Heisey by Imperial" elephant with only an "I" imposed over a "G" mark. Can you unravel this mark confusion? – SS, Bozeman, Montana, Email Question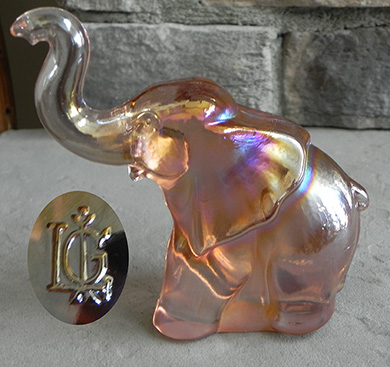 ANSWER: When any manufacturing company ceases operations because of financial problems and is unable to reorganize, its production dies and molds are part of the company's liquidation. Since the end of the nineteenth century, glass companies have purchased molds from their less fortunate counterparts. The new owners reissued popular patterns or made subtle changes to the mold to create a new pattern.
Heisey Glass of Newark, Ohio, was the initial owner of the elephant paperweight mold. When Heisey ceased operations in 1957, Imperial Glass purchased its molds. It added its "I" imposed over the "G" mark to the elephant mold. Lenox Glass Corporation purchased Imperial Glass in 1973. It altered the Imperial mold marks by adding an "L" whose base extended into the "I" / "G" logo. In 1981, Arthur Lorch bought Imperial from Lenox. He added an "A" to the left of the "L." Lorch's ownership lasted less than year. Consolidated Colony purchased Imperial in December 1984.
The Heisey Glass molds are scattered The Heisey Collectors of America (HCA), established in 1971 and operators of the National Heisey Glass Museum in Newark, Ohio, have acquired a large number of Heisey molds. Th HCA authorizes reissues in non-period colors to raise funds.
I am unaware of the current location of the Heisey elephant mold. Maker origin does make a difference in price. Period Heisey examples command the highest amount.
---
QUESTION: I have a display cabinet that I found in a shed. It belonged to my husband's grandmother. The family believes it came from a dry goods store in Henrietta, TX. A brass plaque on the bottom reads: "EXHIBITION / SHOW CASE CO. / ERIE, PA & GUELPH. ONT." The case is about 30-inches square and stands about 60-inches high. The two side doors open out. The bottom has six rows containing 10 round indents each. My husband's grandmother added shelves, which we removed. Based on my research, it appears to have been a showcase for umbrellas. Maybe you could tell us a little more about the cabinet. – PD, Bowie, TX, Email Question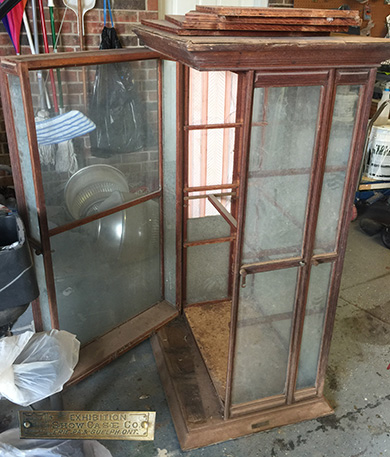 ANSWER: You are close but receive no cigar. Your display cabinet was used to display canes and walking sticks. Although I found listings for other store display cases made by the Exhibition Show Case Company of Erie, I did not find a listing for a cane/walking stick case.
Nor could I find detailed information about the company. The Exhibition Show Case Company appears to have made a variety of large standing country/department store display cases. In 2015, a ribbon cabinet sold for $700.00. According to icollector.com, a smaller Henrich's Exhibition Cane Show Case sold in 2007 for $1,000.00. Adding "Henrich's" to my search string produced no additional information.
The Pehl Trading Ltd. website contains a picture of a cane/walking stick display case that is similar to the one you own. See: http://pehltrading.com/store/store-displays/antique-walnut-walking-stick-cane-cabinet-display-case/. If you choose to restore your cabinet, this picture shows the square lattice section that held the canes /walking sticks in the center of the case and on each of the doors. Your husband's grandmother must have removed them when she added the shelves.
As it stands, your case is in unrestored condition. If you sell it as is, its secondary market value is around $100.00. Professionally restored, its value will increase six to eight times. An amateur restoration would prove financially disastrous.
---
QUESTION: My grandparents and then my uncle owned the Vera Cruz [PA] Tavern from the mid-1920s to the mid-1970s. According to my grandparents and mother, the extended family would gather there and sing German songs. A cloth banner provided by the Catasauqua Eagle Brewery containing the images and words for the Schnitzelbank Song hung on the wall. It has descended to me. Recently, I was looking through a book featuring old views of Allentown and found a 1913 picture of a tavern in which hung a similar banner. What is the value of my Schnitzelbank Song banner? -- DK, Reading, PA, Email Question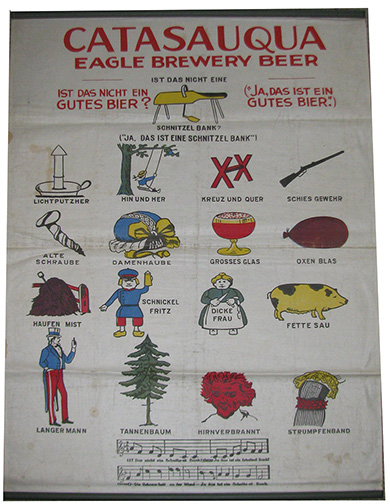 ANSWER: This is not the place for me to recount my many Vera Cruz Tavern stories from the period when I owned the former Vera Cruz Elementary School. Suffice it to say, I visited the tavern multiple times during those 19 years.
The Schnitzelbank Song is a German folk song that contains humorous rhymes. The first published version of the song occurred in Karlsruhe in 1830. German immigrants brought the song to America and made it part of tavern lore. More often than not, the song was sung accompanied by singing, drinking, shouting, and laughter. The song leader held a pointer, indicating the various symbols and text.
The song began: "Ist das nicht eine Schnitzelbank?" followed by "Ja, das is eine Schnitzelbank." The chorus was "O Die Schonheit an der Wand, Jas das ist eine Schnitzelbank. Each verse introduced two new objects. When a verse ended, the leader would point at two new pictures followed by those introduced earlier. As the song progressed, the references to previous pictures was done at a faster pace.
Today, several of the image pairs would be considered politically/socially incorrect. "Ist das nicht eine dicke frau (heavy/fat wife)?" accompanied by "Ist das nicht eine fette sau (fat pig)? "Ist das nicht eine Hochzeits Ring (wedding band)?" accompanied by "Ist das nicht eine Gefährliches Ding (dangerous thing)?"
There were a number of Catasauqua Eagle Breweries. Your Schnitzelbank Song wall hanging dates from the last incarnation, 1934 to 1964. Dave Bausch, a good friend, kindly gifted me a Schnitzelbank Song wall hanging from a small stash he acquired.
Obviously, the value of the wall hanging is location driven. Its greatest value is in Pennsylvania's Lehigh Valley. First, it is where Catasauqua is located. Second, there is a large Pennsylvania German population. Third, the locals love beer. In the Lehigh Valley, your Schnitzelbank Song wall hanging is worth $60.00 to $70.00. In other regions where neighborhood taverns still are part of the landscape, the value is between $35.00 and $40.00. In communities where a temperance mentality prevails, the value is much less. Modern examples are available for under $25.00.
In a hang onto your hat moment, I found an internet seller's listing for a "rare" 1900 Snitzelbank Song wall banner for $2,000.00. At that price, it will serve as his burial shroud. Hopefully those attending his funeral will lift a few beers and sing a few choruses.
---
QUESTION: I have a Hit of the Week record by Rudy Valley [Vallee] that has never been played. The center hole was not punched out. It is in excellent condition. I know the value of most of these records is minimal, except for some of the earliest ones. What is the value of my record? -- JM, Email Question
ANSWER: Since the center hole has not been punched out and the record never played, it is easy to understand why the record is in excellent condition. Unfortunately for you, this does not change the value of the record.
The production run for Hit of the Week records was one-half million or more. The first Hit of the Week record appeared in February 1930. The company experienced financial issues in May 1931. The company was reorganized but lasted only until June 1932.
Any price above $5.00 is a plus. The record is a tough sell.
---
Harry L. Rinker welcomes questions from readers about collectibles, those mass-produced items from the twentieth and twenty-first centuries. Selected letters will be answered in this column. Harry cannot provide personal answers. Photos and other material submitted cannot be returned. Send your questions to: Rinker on Collectibles, 5955 Mill Point Court SE, Kentwood, MI 49512. You also can e-mail your questions to harrylrinker@aol.com. Only e-mails containing a full name and mailing address will be considered.
You can listen and participate in WHATCHA GOT?, Harry's antiques and collectibles radio call-in show, on Sunday mornings between 8:00 AM and 10:00 AM Eastern Time. If you cannot find it on a station in your area, WHATCHA GOT? streams live on the Internet at www.gcnlive.com.
SELL, KEEP OR TOSS?: HOW TO DOWNSIZE A HOME, SETTLE AN ESTATE, AND APPRAISE PERSONAL PROPERTY (House of Collectibles, an imprint of Random House Information Group, $17.99), Harry's latest book, is available at your favorite bookstore and via www.harryrinker.com.