RINKER ON COLLECTIBLES — Column #1597
Copyright © Harry Rinker, LLC 2017
Questions and Answers

QUESTION: I have an odd pottery vessel, obviously one of a kind, that appears to be very old. It has an oval base, a flat disk body with a sculptured head with pointed ears and its tongue exposed on each side, and an extended cylinder neck. The heads are scary looking. The vessel measures 7-inches from nose to nose. The bottom of the base is marked "MADE IN / ITALY." Can you help me out on this one? – DP, Higgins, TX, Email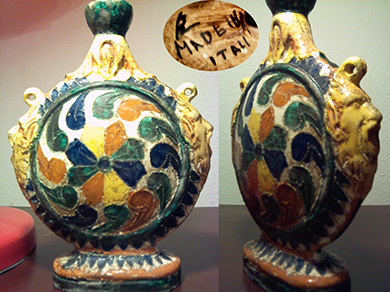 ANSWER: Not everything that looks like an antiquity is an antiquity. In fact, most are reproduction (exact copies), copycats (stylistic copy), fantasies (shapes, forms, and patterns that did not exist historically), or fakes.
"MADE IN /ITALY" is the key. Although the McKinley Tariff Act that requires goods to be marked with their country of origin dates back to 1891, your "old" vessel was made in the late 1940s or early 1950s. Mass produced, reproductions of Italian antiquities and majolica were stylish during that period. Most were decorative, having little to no functional value. These ceramics also were mass-produced, albeit handmade.
In addition to the mark on the bottom, there are several clues to the age of your vessel. First, there is little to no aging or wear. The apparent wear is part of the modeling/painting process. Second, the colors are too bright. They show no mellowness, something that would occur over time.
Elizabetta Povoledro's "Entrepreneur in Etruscan Knockoffs" appeared in the August 22, 2006, edition of "The New York Times" (www.nytimes.com/2006/08/22/arts/design/22tomb.html). Povoledro described the work of Omero Bordo who specialized in duplicating period Etruscan pieces "down to the fractures." Bordo, a former grave robber and artist, specialized in providing pottery and other furnishings for soon to be discovered burial tombs.
Bordo is just one of hundreds of artisans and manufacturers who supplied pieces to collectors and the general marketplace. Because the pieces "look old," many inexperienced collectors and dealers confuse them with period pieces.
Your vessel's value is decorative/ conversational. As such, it is worth between $35.00 and $45.00.
---
QUESTION: My friend has a Yellow Submarine lunch box and thermos. He bought them at auction some years back and paid too much. They were a little hotter back then. He apparently got caught up in auction fever. I think he paid $300.00 for the two pieces, which were sold separately. What is your thinking? – KT, Madisonville, KY, Email Question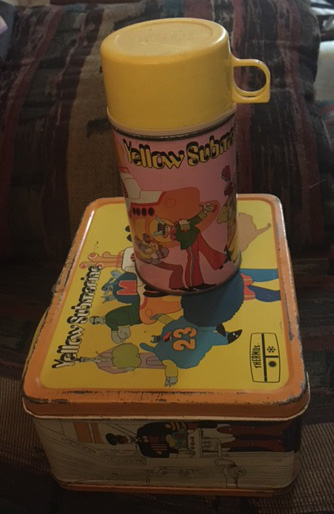 ANSWER: Almost two decades ago, when I offered my opinion that Elvis collectibles had reached their peak and were declining in value, I lost count of the "Elvis will never die" emails I received. Never one to learn from the past, I am sticking my foot into the bucket a second time. Beatles collectibles have reached their peak and are declining in value.
Aladdin Industries issued its "The Beatles" lunch kit in 1965, during the peak of the Beatles craze in America. Thermos LLC issued its "Yellow Submarine" lunch kit in 1968 in conjunction with the July 17, 1968, release of the movie. Examples of both are in the collection of the Smithsonian's National Museum of American History.
Because these lunch kits were issued during the Beatles craze, large numbers were sold. The truism is that the more examples that were sold, the higher the number of examples that survive. The question is whether the number of examples that survive exceed demand at any given moment. An analysis of the current market suggests three things. First, there is an adequate secondary market supply. Second, influenced by earlier sale prices, many sellers are asking prices far above what the Yellow Submarine lunch kit is worth. Third, there is a limited number of Beatles fans and lunch kit collectors who will pay these prices. Most want a bargain.
Can a single individual create and drive a market? The answer is yes. In the 1980s, Scott Bruce manipulated the lunch kit market. His goal was to create a $5,000.00 lunch kit. He succeeded. Scott is responsible for separating the two components of a lunch kit, the box and thermos, and creating a separate pricing market for each.
A 2014 article entitled "Beatlemania! When The Fab Four Rocked the Lunchroom" (www.npr.org/sections/thesalt/2014/02/07/273119649/beatlemania-when-the-fab-four-rocked-the-lunchroom) offers this value assessment for the Yellow Submarine lunch kit: "Those babies will fetch $400 or more these days…." This compares with a record price of over $1,600.00 set over a decade ago.
There is no consistency in current secondary market prices. One Esty seller is asking $1,500.00 while another wants $550.00. An eBay seller is asking $599.00 for a complete lunch kit. Two other eBay sellers are asking $395.00 and $245.00 for the box. There are more than a dozen examples listed on eBay.
My advice to your friend is simple. List it on eBay and ask $350.00. If he is lucky, he may get his money back. Note, I wrote "may."
---
QUESTION: I am settling my brother's estate and have approximately 100 Franklin Mint leather bound, gilt edge books, many of which are signed 1st editions. I would like to sell them for $5.00 per book but expect the purchaser to buy the lot. Who should I contact? – EL, Midwest City, OK, Email Question
ANSWER: The Franklin Library was a subsidiary of the Franklin Mint. Between the early 1970s and 2000, the Franklin Library published leather bound books. There were three grades of leather binding – full leather, imitation leather, and quarter-bound leathers. Full leather bindings were produced during the entire period. Imitation and quarter bound books were only published in the 1970s and 1980s.
The Franklin Library published series such as Pulitzer Prize Editions and signed first editions. Franklin Library is best known for its "The 100 Greatest Books of All Times," published between 1973 and 1982.
Your first step is to make a list of the books your brother owned, identify the series (if any) of each title, and determine which of the three binding levels apply to each book. Assuming you have around 100 books, my guess is that your brother's books are from a variety of series.
Your price of $5.00 per book is fair. Your demand that the buyer purchase all the books as a single lot is not. In collections such as this, 50 percent of the value usually rests with 10 percent or less of the books, especially if the books are not from one series. You actually will achieve a higher return by selling the high-end titles individually rather than the group as a lot. Using www.abebooks.com, you can determine which titles have high-end value.
An Internet search for leather bound booksellers will result in identifying more than a dozen dealers, for example, Franklin Books in Oldwick, New Jersey. Your best chance to sell the group as a lot is to contact one or more of these individuals. Auction is not a viable option unless all the volumes feature full leather bindings.
Finally, the market for these volumes is a large east or west coast urban market such as New York or Los Angeles. The time required to final a reliable buyer and transportation costs will heavily offset any funds received.
Good luck. Drop me an email and let me know what approach you did take and how you made out.
---
QUESTION: In the mid-1900s, my husband was stationed at Fort Sam Houston in San Antonio, Texas. He traveled to Mexico with some buddies and purchased a three-quarter length vest that featured woven vertical bands. The sweater came into my life when we were married in 1968. It has been in a drawer ever since. Having traveled in the Southwest and seen the price of rugs, I was curious if this woven vest has any value? – SR, Reading, PA, Email Question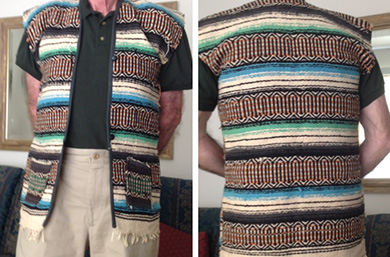 ANSWER: My answer will kill your curiosity. You did better with your husband (I hope) than his vest.
I found an eBay listing for a 1960s/1970s Mexican biker vest with a string of additional key words such as drug rug, Hippie, Native American listed in hopes of attracting crossover buyers. The asking price was $29.99. It did not sell. There were a few other examples priced for even less.
The value of your husband's vest is as a piece of used clothing. If it still fits, your husband or you should wear it. If not, donate it to charity or sell it at a garage/yard sale.
---
Harry L. Rinker welcomes questions from readers about collectibles, those mass-produced items from the twentieth and twenty-first centuries. Selected letters will be answered in this column. Harry cannot provide personal answers. Photos and other material submitted cannot be returned. Send your questions to: Rinker on Collectibles, 5955 Mill Point Court SE, Kentwood, MI 49512. You also can e-mail your questions to harrylrinker@aol.com. Only e-mails containing a full name and mailing address will be considered.
You can listen and participate in WHATCHA GOT?, Harry's antiques and collectibles radio call-in show, on Sunday mornings between 8:00 AM and 10:00 AM Eastern Time. If you cannot find it on a station in your area, WHATCHA GOT? streams live on the Internet at www.gcnlive.com.
SELL, KEEP OR TOSS?: HOW TO DOWNSIZE A HOME, SETTLE AN ESTATE, AND APPRAISE PERSONAL PROPERTY (House of Collectibles, an imprint of Random House Information Group, $17.99), Harry's latest book, is available at your favorite bookstore and via www.harryrinker.com.