RINKER ON COLLECTIBLES — Column #1595
Copyright © Harry Rinker, LLC 2017
Questions and Answers

QUESTION: I have a futuristic, remote-control, battery operated car. The car has a space-like appearance, similar to George Jetson's space car. The Batmobile and the T-Bird are other comparisons. The body is red with a black done top. The top lifts backwards to reveal hounds' tooth covered seats. The remote control, which holds two D batteries, and the cable attached to the car are red. There is a small steering wheel on the remote control. The car is approximately 10" long. The vehicle works. For a boys' toy, it is not too dented. Can you identify the car and the company who made it? What is it worth? – KT, Madisonville, KY, Email Question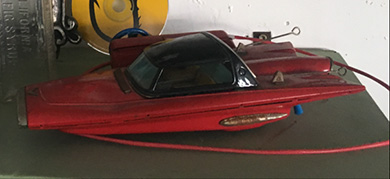 ANSWER: You own a Ford Gyron tin toy car made by Ichida Company, Ltd., in 1960/1961, according to Mark Bellomo's "Toys & Prices, 19th Edition" (KP [Krause Publications], a division of F +W Media, 2013). The website www.fabtintoys.com, the maker's mark identification on http://tinplatetoys.blogspot.com/p/index-of-japanese-tinplate-toy.html, and logo and maker identification on the box supports this attribution. There is conflicting attribution. I found several sources that attributed the toy to Craigston and another to Yonezawa Asahi Bandai San.
The toy car design was inspired by a futuristic two-wheeled gyrocar introduced at the 1961 Detroit Motor Show by Ford. Syd Mead and Alex Tremulis collaborated on the design. The car had two wheels, one in front and one in back like a motorcycle, and maintained its equilibrium through gyroscopes. Ford credited Louis Brennan for the gyroscopic system. When the car was at rest, two small arms descended to support it. The car held two passengers who sat side by side. In the 1962 Ford Rotunda fire, the fiberglass prototype was destroyed. When the studio model for the car was sold in December 2012, it brought $40,000.00.
Little information is available about Ichida Company, Ltd.'s venture into the post-World War II toy market. The company was founded in 1918. Today is produces garments and jewelry. According to www.fabtintoys.com, Ichida made more than a dozen tin toys in the early 1960s. I assume the companies are one in the same.
Ichida made a friction drive Ford Gyron toy. The battery-operated model came in a red body and black top or a white (ivory/cream) body with red top. The latter is scarcer and commands more money. The boxes, which factor heavily into value, differed for the two body colors. It also is possible to find the remote-control unit in red or powder blue. This appears to makes little difference in terms of value.
Bellomo values the 11-inch, red/black, remote control Ford Gyron at $100.00 in excellent condition, $200.00 in near mint condition, and $300.00 in mint in the packing condition. These numbers differ from internet asking prices by tin toy dealers. One seller is asking $450.00 and another $899.00. WorthPoint.com sell through prices indicate that Bellomo's estimates are within range. WorthPoint.com and my research indicated that the secondary resale market is strong in England and the Continent than in the United States, again demonstrating European fascination with Modernist design of all types.
---
QUESTION: We own a series of glass plates from the Field Puppies series of limited-edition collector plates featuring artwork by Lynn Kaatz and manufactured by Edwin H. Knowles. A brochure accompanying the plates notes "an edition strictly limited to a maximum of 150 firing days. The brochure contains information on the puppy's bred, The Uinted Kennel Club, Knowles, and a Lynn Kaatz. biography. This series marked Kaatz's debut in the limited-edition marketplace. Each has a certificate of authenticity. In the case of "The Cocker Spaniel," the certificate is numbered 105726. We would like to sell our plates? What are your suggestions? –KZ, Shelby, OH, Letter
ANSWER: My suggestion is to donate or give them away, assuming you can find a charitable organization that will take them or someone who wants them. If donated, take a tax deduction of $8.00 to $10.00 per plate. The IRS is not going to question this. If gift or donation is not possible, the plates are garage sale fodder at fifty cents to a dollar each. If you try to push the price to $2.00 to $3.00, the likelihood of you having them at the end of the garage sales increases.
"150 firing days" is not a limiting factor. Thousands, perhaps even tens of thousands of plates could be fired in a day. The truth is that the issue was limited to the number of plates Knowles felt it could sell.
An eBay search reveals many sellers are relying on the "this puppy is so cute" factor to sell the plates for $15.00 to $35.00 each. The listing for an eBay seller who was asking $35.00 for his "The Cocker Spaniel" plate was located directly above another eBay seller with a listing of $8.50 or "best offer" for the identical plate.
Examples of these plates flood the market. At $15.00, they are cheap enough to attract the spur of the moment buyer who wants the image and does not want to spend time comparison shopping. The chances of anyone with such similar intentions attending your garage/yard sale are slim to none.
The secondary market for 1970s/1980s collector edition material has crashed. Most examples have minimal value.
---
QUESTION: I have a collection of Indian figures that I collected as a kid in the early 1950s. The only places I saw them for sale was at Roadside America located in Shartlesville, Berks County, Pennsylvania, and Marshal Fields Department Store in Chicago. I have a teepee, a seated Indian beating a drum, an Indian holding a tomahawk, and a Indian holding a shield and a spear. Several years ago, while I was walking down a street in Bamburg, Germany, I noticed a group of these figures in a shop window. The seller was asking 24 Euros each, at the time about $38.00. The bottom of each piece is stamped "Elastolin / Germany." I would like to know the history of these pieces and their value. – DK, Reading, Pa, Email Question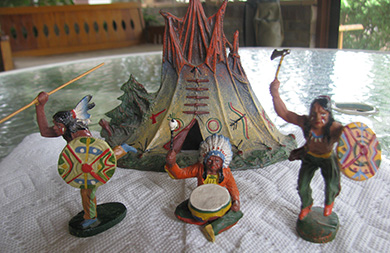 ANSWER: Elastolin was O & M Hausser's trademark for its line of toy soldiers. Christian Hausser and his sons Max and Otto founded the company in 1904. It was headquartered in Ludwigsburg (near Stuttgart), Germany. Although known primarily for its military figures, especially those associated with 1930s and 1940s World War II German units, Hausser also made civilian figures.
The following is from https://en.wikipedia.org/wiki/Elastolin: "Other Hausser-Elastolin figures from the 1930s. The Hausser-Elastolin line of the 1930s was not limited to the military and paramilitary units of the time. There was also an extensive line of cowboys and Indians (the cowboys sometimes known as 'trappers' in Germany), a shorter line of medieval knight and foot soldiers (Ritterfiguren)….There was an extensive line of wild animals (menagerie-und-jagdtiere) and farm animals (haustiere), and a line of more than 30 civilian figures for use with electric trains. (Eisenbaun-Figuren)…..Hausser produced log cabin forts for the cowboys…"
Condition is critical to value. If in fine or better condition, your Indian figures and tepee have a value between $22.50 and $27.50 each. There are poses, such as an Indian and cowboy locked in combat, that command higher prices.
---
QUESTION: While visiting New York in the late 1940s or early 1950s, my mother acquired a piece of costume jewelry in the shape of the United Nations flag. Blue rhinestones create the background. The center has a white round rhinestone representing the globe. Unfortunately, several blue rhinestones are missing.. Does it have any value? – SS, Bozeman, MT, Email question.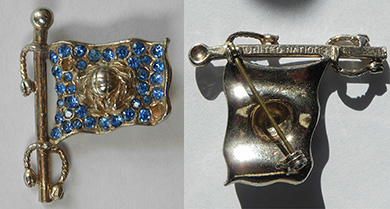 ANSWER: As it stands at the moment missing some of the rhinestones, the pin has no value. However, an "old time" jeweler should be able to replace the missing blue rhinestones at a nominal cost. The same might apply to a costume jewelry seller at an antiques and collectibles flea market or show.
Once repaired, the pin has more novelty than collector value. There are few collectors for United Nations material. Collectors of flag-theme costume jewelry are potential buyers but at a very low price. As a fun period/conversation piece, its value restored is between $12.00 and $15.00.
---
Harry L. Rinker welcomes questions from readers about collectibles, those mass-produced items from the twentieth and twenty-first centuries. Selected letters will be answered in this column. Harry cannot provide personal answers. Photos and other material submitted cannot be returned. Send your questions to: Rinker on Collectibles, 5955 Mill Point Court SE, Kentwood, MI 49512. You also can e-mail your questions to harrylrinker@aol.com. Only e-mails containing a full name and mailing address will be considered.
You can listen and participate in WHATCHA GOT?, Harry's antiques and collectibles radio call-in show, on Sunday mornings between 8:00 AM and 10:00 AM Eastern Time. If you cannot find it on a station in your area, WHATCHA GOT? streams live on the Internet at www.gcnlive.com.
SELL, KEEP OR TOSS?: HOW TO DOWNSIZE A HOME, SETTLE AN ESTATE, AND APPRAISE PERSONAL PROPERTY (House of Collectibles, an imprint of Random House Information Group, $17.99), Harry's latest book, is available at your favorite bookstore and via www.harryrinker.com.