RINKER ON COLLECTIBLES —
Column #1589
Copyright © Harry Rinker, LLC 2017
Questions and Answers

QUESTION: My father served in the Navy during the Korean War. At some point during his service, his platoon had an audience with Pope Pius XII. During the visit, he acquired a rosary with a crucifix and Pope Pius XII medallion. During the papal visit, a picture of the platoon with Pope Pius XII was taken. My father is the man on his knees in front of Pope Pius XII. Can you tell me what type of beads the rosary contains, what does the red coloring in the circle beneath the crucifix mean, and what monetary value does the crucifix have because it was blessed by the Pope? – SS, Bozeman, MT, Email Question
ANSWER: Pope Pius XII, born Eugenio Maia Giuseppe Giovanni Pacelli, reigned as Pope from March 2, 1939 to his death on October 9, 1958. His actions leading up to and during World War II and his involvement in post-war Italian politics made him one of the more controversial Popes.
Gloria Brady Hoffner and Helen Hoffner's "The Rosary Collector's Guide," published by Schiffer Publishing in 2013, and June Laval's "Catholic Collectibles," published by Schiffer Publishing in 2016 and which includes a chapter on rosaries, are two excellent reference sources. Although your email contained numerous details of the rosary with its crucifix and medal, it is difficult to precisely identify the beads. My best guess is some kind of seed, such as Christ thorn beads from the jujube tree (Ziziphus spina-christi) or olive seeds.
The picture of the platoon with Pope Pius XII shows many sailors holding a variety of different rosaries. Given this, it is most likely your father purchased the rosary at a gift shop, most likely located in the Vatican, before his platoon met with the Pope. If the Pope presented the rosaries, they would all be identical.
Your rosary is a Papal rosary, a rosary with an attached medal or image of the Pope on the center medal. Each Pope designs his own coat of arms. The Pope's face appears on the obverse and his coat of arms on the reverse.
The workmanship on the crucifix and medal is not high quality. The casting lacks detail, indicating that the rosary was an inexpensive one. There once was a glass cover over the red dot at the bottom. This is typical of crucifixes with a relic chamber, a common insert being dust from the Catacombs in Rome or holy water from a shine.
Although you have strong proof that your father's crucifix was blessed by Pope Pius XII, the number of rosaries blessed by Popes must number in the hundreds of million if not trillions. Hence, a Papal blessing adds nothing but family/sentimental value to the rosary. Without the picture documentation, the secondary market value of your father's rosary given the loss of the relic cover is between $25.00 and $30.00. The good news is that the photograph increases the value by 50 percent.
---
QUESTION: I am one of the executors of an estate. Included in the estate are a pair of 1924 Olympics vases, almost 14-inches tall. The urn-shaped bodies have a blue ground with gold flowers. In addition, each has four pate-sur-pate medallions, each showing a different Olympic sport (biking, sailing, shooting, and tennis) around the circumference and a raised collar rim with abstract dragonfly images. The bottom contains a variety of marks including: "MADE IN FRANCE / O. D. V. GUILLONNET / BRACQUEMOND / INV [over] SC / a rectangle with 'S/1924/DN,'" and a 1924 Sevres logo. One vase has a minute hairline crack on the rim. These vases belonged to Frederick W. Rubien, Secretary of the American Olympic Committee. Before including these in a local estate auction, I would like your advice as to value and best source of sale. – LC, Leesport, PA, Email Question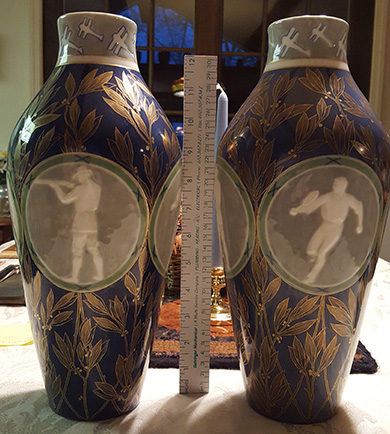 ANSWER: Paris hosted the 1924 Summer Olympics, the Games of the VII Olympiad, with the opening ceremony occurring on May 4 and the closing ceremony on July 27. The motto for the games was Citius, Attius, Fortius (Faster, Higher, Stronger). There were 126 events in 23 disciplines within 17 sports. This was the first Olympics to feature an Olympic Village. [See: https://en.wikipedia.org/wiki/1924_Summer_Olympics]
M. O. Guillonet is the designer of the vases. They were made at Sevres' Bracquemond factory. The motif is golden laurel branches hand-painted on a French blue ground. The Paris City Council presented the vases to the gold medal winners as a "special" souvenir. Several variations were produced. In addition to the medallion combination on the two vases from the estate, other medallion combinations included (1) Basque pelota (a ball court sport), fencing, gymnastics, and polo, and (2) diving, rowing, rugby, and soccer.
In February 2001, Doyle Auctions of New York City sold a single vase for $8,500.00. In January 2016, R. R. Auction in Boston sold a pair, each with a different set of medallions, for $34,073.38. Given these number, do not allow the vases to be sold by the local auctioneer handling the estate. They need to go to a major auction house that specializes in the sale of Olympic material.
Boston's RR Auction (www.rrauction.com) , who specializes in autographs and other paper ephemera, has developed a clientele for Olympic material. Dallas' Heritage Auctions (www.ha.com) is another excellent choice. Both are highly skilled in the use of Internet bidding and attract an international following. The latter is important because potential European and Arabic buyers will be active in the bidding process.
I do not recommending offering the vases as a pair, albeit this is a decision best left to the auctioneer. Since one is damaged, pair or set value is lessened. Expect the vase with the crack, even if minimally visible, to sell for about half the value of the non-damaged vase.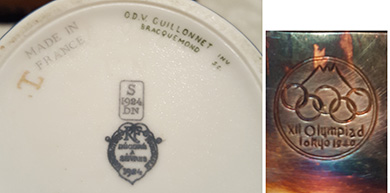 ---
QUESTION: I own an encapsulated copy of the DC comic "The Shadow #4." The CGC universal grade on the package is 9.6. The cover price is 20¢. The comic was issued in May 1973. What does CGC mean? What is the value of my comic? – R.G., Fleetwood, PA
ANSWER: The Shadow [Who knows what Evil lurks in the hearts of man?] moved from pulps, to radio, to newspaper comic strips, to comic books. The first comic book series was published from August 1964 to September 1965. Your example is from an early 1970s series published between November 1973 and September 1975.
The Certified Guaranty Company, located in Sarasota, Florida, is one of several comic book grading services. Comics are graded on a scale of 1 to 10 with 10 being the highest grade. A 9.6 grade is extremely high for an early 1970s comic book. Although purported to be objective, grading has a subjective component. Reduce the grade by one full digit is a good rule to follow.
By the mid- to late 1970s, the general collecting community and comic book collectors in particular became aware that condition played a disproportionate role in value. After the 1980s, a comic that is not graded 8.5 or above is not acceptable as a collectibles comic.
"The Shadow No. 4" comic is an excellent example of the differences between (1) the last few grade points and (2) book value and secondary market sell through. According to comic.gocollect.com, the average sale price over the last 24 months for 9.8 grade examples is $234.99, up 3.3 percent. At the same time, the value for a 9.6 comic, based on 13 examples sold, was down 17.7 percent. [See: http://comics.gocollect.com/priceguide/view/133174]
Although a 9.6 "The Shadow No. 4" comic books between $100.00 and $125.00, sell through values range from $30.00 to $50.00. As noted above, 9.6 examples are common. My recommendation is be conservative. Think $35.00 to $40.00.
---
QUESTION: I recently acquired a steel riveted bucket whose sides resemble a tricorn hat. I think it is an ash or coal container. The rivets are a mystery. What do I have and how old is it? – JM, Ottawa, Ontario, Canada
ANSWER: You own a coal scuttle, also known as a hot coal bucket or coal pair. The bucket like container is designed to hold a small to intermediate amount of coal to be used to feed the fire of an indoor heater or stove. The bucket also could be used to remove the ash from a furnace and carry it outside. I speak with some authority on this latter use.
The riveting holding the two halves together and layered down top indicate the scuttle was made for heavy duty use. The design is more English than American. The date most likely sometime around the turn of the 20th century.
Today, coal scuttles have decorative and/or repurposing rather than collecting value. The secondary market price for an early example is between $45.00 and $50.00. If the scuttle is brass or copper and can be polished to a shine, double the value.
---
Harry L. Rinker welcomes questions from readers about collectibles, those mass-produced items from the twentieth and twenty-first centuries. Selected letters will be answered in this column. Harry cannot provide personal answers. Photos and other material submitted cannot be returned. Send your questions to: Rinker on Collectibles, 5955 Mill Point Court SE, Kentwood, MI 49512. You also can e-mail your questions to harrylrinker@aol.com. Only e-mails containing a full name and mailing address will be considered.
You can listen and participate in WHATCHA GOT?, Harry's antiques and collectibles radio call-in show, on Sunday mornings between 8:00 AM and 10:00 AM Eastern Time. If you cannot find it on a station in your area, WHATCHA GOT? streams live on the Internet at www.gcnlive.com.
SELL, KEEP OR TOSS?: HOW TO DOWNSIZE A HOME, SETTLE AN ESTATE, AND APPRAISE PERSONAL PROPERTY (House of Collectibles, an imprint of Random House Information Group, $17.99), Harry's latest book, is available at your favorite bookstore and via www.harryrinker.com.