RINKER ON COLLECTIBLES — Column #1585
Copyright © Harry Rinker, LLC 2017
Questions and Answers

QUESTION: I recently purchased a Milon Townsend glass figurine at a local auction for $100.00. The base is marked "Deco Study #5" with a date that looks like 1997. The abstract dancing figure's left leg is bent at the knee and lifted up. The figure is shrouded in transparent drapery. The figure rests atop a base with a rectangular bottom and a center column of an abstract triangular, mountainous form. The total height is 14 1/2 inches with the base portion taking up six of those inches. Although I looked at the glass figurine before I purchased it at the auction, I failed to notice a small chip on the corner of the base. I researched Milon Townsend on the internet and believe the figurine is from his Butterscotch Deco series. I have several questions, the most obvious of which is the figurine's value. How does the small chip on the base impact value? What advice can you provide should I wish to sell it? – SK, Richmond, CA, Email Question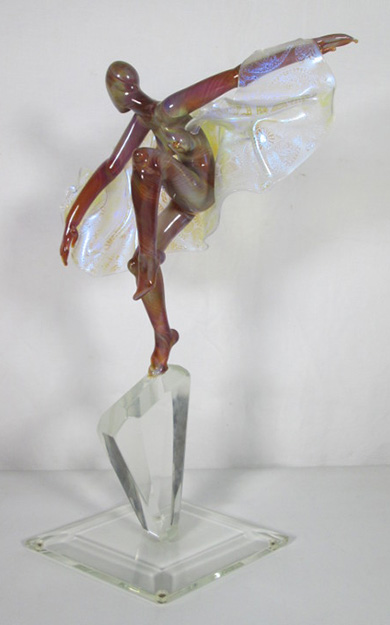 ANSWER: "Rinker on Collectibles" readers already are familiar with Rinker's 30-Year Rule: "For the first 30 years of anything's life, all its value is speculative." 1997 is only 20 years ago. It is time to add another new rule to the Rinker's Rules list. Rinker's The Purchase Price is Irrelevant Rule asserts: "The initial purchase price has limited to no relationship to an object's value in the secondary marketplace."
Milon Townsend is a self-taught glass artist who creates objects using flamework, cold working, and kiln casting. He claims inspiration from ten years of studying dancers in New York City and classical music because of its structure and form. He has authored several books, including an instruction manual for flameworking glass. He has taught at RIT's School of American Craftsman, Urban Glass in New York City, and at The Studio at the Corning Museum. Examples of his work are in several museums including the Carnegie Museum of American Art. His work is found in ten art galleries, two of which are in California. He currently lives outside Rochester, New York. [For more information, see: http://www.milontownsend.com/]
Townsend's website indicates he is actively creating new works in a number of series, including his Deco series. It is not clear if he makes multiples of a design, albeit ordering information suggests he does. Initial purchase prices for his Deco series range from $2,500.00 to $4,500.00 per piece. His "Butterscotch" Deco series appears to refer to the figurine's body tone. The illustrations that accompanied your email suggest a different color body.
Thus far, few of Townsend's pieces have worked their way into the secondary market. David Rago attempted to sell a 2007 cast glass sculpture entitled "Spirit of the Forest" in June 2014. Estimated at $1,000.00 to $1,500.00, the lot passed. D. G W. Auctioneers, Inc., in California attempted to auction a figural glass sculpture in November 2015. Estimated at $300.00 to $500.00, the lot passed. "Passed" seems to be the operating word at auctions for Townsend's larger pieces. In the good news department, an eBay seller sold a Townsend "Deco" series figurine for $800.00 in January 2017.
The chipped base is a problem. The fact that you had trouble seeing it does not mean the next person will. My recommendation is to have the chip buffed out. A potential buyer might feel the indention but is likely to dismiss it unless you reveal, as you ethically should, the fact that the piece has been altered.
Given the amount of money you have invested in the piece, I would delay selling your Townsend figurine until a more reliable secondary market is established for Townsend's art pieces. The current market is speculative, but on the low rather than the high end. His inexpensive flamework pieces are selling for a fraction of their initial cost. Delaying runs the risk that a stable secondary market with increasing value might never develop. Given the recent sale on eBay, selling it now on eBay is worth considering.
The hot market for contemporary art of all types is Europe. If you cannot consign your Townsend Art Deco figurine to an auction house abroad, find an American house that uses internet bidding and has a strong European clientele. Thanks to Rago, Treadway-Toomey, and several other American auctioneers, a contemporary glass secondary market is growing in the United States. At the moment, your figurine has more decorative value, an argument for placing it at auction in a large urban area where Modernism is strong, rather than collector value.
---
QUESTION: In the late 1970s, a friend gave me an electric Budweiser advertising clock. A round clock is inside an egg-shaped frame that rests on a square base, the center of which has the Budweiser logo. The clock with base stands 16-inches high. The interior of the clock face has a rayed wheel which moves. There is a hole on the top, albeit I am not certain why. The motor on the back has Synchron stamped on it, a patent #2237958, and a union made AIW sticker. I am guessing the clock dates from the 1950s. What is its value? – R, Altoona, PA, Email Question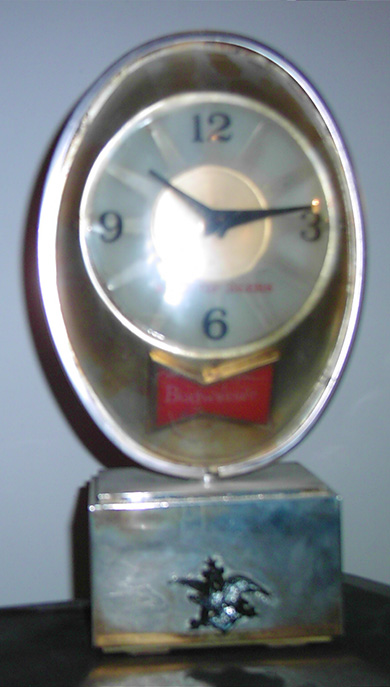 ANSWER: Collectors refer to your clock as a Budweiser Beer Egg clock or Budweiser Rotating Beer clock. The design of the clock and electric cord plug confirm your 1950s attribution.
The difficulty is that your clock is missing several elements. Apparently, there were two knobs that protruded from the frame, one of which turned on and off the lights inside the clock. The metal base was marbleized. The marbleizing on your base is missing or badly damaged. Most importantly, the clock has a plastic oval back that featured an image of a pheasant in flight.
Liveacutioneers.com reported the sale of a working example of the complete clock for $110.00 plus an 18% buyer's penalty in January 2015. The website www.industrialartifacts.net lists an example with rotation problems for $174.99. Websites such www.industrialartifacts.net are for the decorator/nostalgic "want it now" buyer and not the serious collector. Finally, the website www.ebth.com records a 2013 sale for $81.00. WorthPoint.com lists numerous sales ranging from $50.00 up to $200.00.
Given the many problems with your clock, its value is minimal. The cost to restore it, even if you could obtain an example of the plastic back, would be more than the finished clock would be worth. You own a parts clock, meaning that someone who wants to restore a more complete example might buy it for parts. As such, its secondary market value is between $20.00 and $30.00.
---
QUESTION: I have an engraved print in a dark oak frame. The image is of a composer asleep in a chair beside a piano. In the background is a mystical scene of maidens, some in risqué dresses, and a knight standing in a boat proceeded by a swan. The wide frame has a musical instrument rosette at 3:00 and 9:00 o'clock. The frame measures 21 1/2 inches x 15 1/4 inches. The picture belonged to my mother who passed away a year ago. My sisters and I are trying to settle her estate. Does this have any value or should we just throw it out? – LM, Bowie, TX, Email Question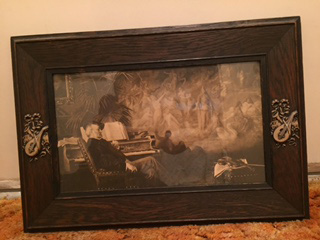 ANSWER: Your framed engraved print has multiple values. The title of your print is "Richard Wagner's Dream." The artist is Carl Schweninger, Sr. (October 30, 1818 to October 15, 1887), a generic, animal and landscape painter of the Austrian School. Schweninger received his training at the Royal Academy in Vienna.
Richard Wagner (1813-1888) wrote the opera "Lohengrin," first performed on August 28, 1850. Wagner's dream is the arrival of Lohengrin, a Holy Grail knight, to rescue a maiden who never asks his name. Another name for the story is "The Legend of the Swan."
Your print dates from the early 20th century, the period when frames often had rosettes attached to them that reflected the theme of the print. Given its size, the frame alone is worth between $35.00 and $40.00. While the market for late nineteenth and early twentieth century thematic historical prints has collapsed, the Wagner theme is sufficient to give the print an independent value of between $15.00 and $20.00. Combining the two and finding the right music lover, your framed engraved print is worth between $50.00 and $60.00.
---
Harry L. Rinker welcomes questions from readers about collectibles, those mass-produced items from the twentieth and twenty-first centuries. Selected letters will be answered in this column. Harry cannot provide personal answers. Photos and other material submitted cannot be returned. Send your questions to: Rinker on Collectibles, 5955 Mill Point Court SE, Kentwood, MI 49512. You also can e-mail your questions to harrylrinker@aol.com. Only e-mails containing a full name and mailing address will be considered.
You can listen and participate in WHATCHA GOT?, Harry's antiques and collectibles radio call-in show, on Sunday mornings between 8:00 AM and 10:00 AM Eastern Time. If you cannot find it on a station in your area, WHATCHA GOT? streams live on the Internet at www.gcnlive.com.
SELL, KEEP OR TOSS?: HOW TO DOWNSIZE A HOME, SETTLE AN ESTATE, AND APPRAISE PERSONAL PROPERTY (House of Collectibles, an imprint of Random House Information Group, $17.99), Harry's latest book, is available at your favorite bookstore and via www.harryrinker.com.