RINKER ON COLLECTIBLES — Column #1577
Copyright © Harry Rinker, LLC 2017
Questions and Answers

QUESTION: A few years ago, I came across a pair of seated bunny bookends at a local Goodwill store in San Marcos, Texas. I tried searching on the Internet but keep getting referred to eBay. I do not want to sell the bookends. I am interested in finding out if they were made by Pompeian Bronze. Can you help? – YC, Eagle Pass, TX, Email Question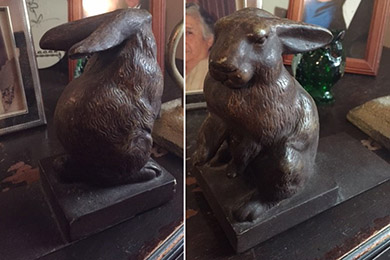 ANSWER: The Pompeian Bronze Works traces its history back to the Galvano Bronze Company, a New York City firm founded by Paul Mori around 1889. Galvano Bronze was one of the first American commercial companies to use bronze electroplating and electroforming. Its earliest products were architectural elements. The company introduced bookends into its product line in 1915.
In the early 1920s, the Galvano Bronze Company was sold to its employees and became The Pompeian Bronze Works. Peter Manfredi, an employee, filed 27 book and lamp design copyrights with the U.S. Library of Congress Copyright Office in 1921. The company continued using the bronze electroplating (bronze-clad) and electroforming using white-metal (often pewter) or spelter (zinc) to make ashtrays, bookends, and lamps. In addition to a bronze finish, the company painted some of its products. Scholars are not able to agree upon the end date for the company. It appears that some of the Pompeian Bronze Company molds were acquired by the Marion Bronze Company.
[See http://www.antiquebookends.us/pg/makers-bronzeclad.php for more information.]
The website http://eurekaifoundit.us/antique/metals.html notes in its "Fiction" section: "It's bronze because it's marked 'Armor Bronze,' 'Pompeian Bronze', or 'Marion Bronze,' False. These pieces are zinc with copper coating, produced by the 'Electroformed' or 'Galvano' process." The website suggests lightly tapping a suspected bronze piece with a pencil. If the sound is a thud, it is zinc. A faint dull ringing tone indicates brass. Bonze has a clear ring tone.
The Pompeian Bronze Company did manufacture, circa 1922, a set of "Rabbit" bookends with a deep brown, bronze finish. These bookends measure 5-inches x 3-inches x 3-inches. They are inscribed "Pompeian Bronze Company, #137. If a period pair survives with its felt bottom, there should be a Pompeian Bronze paper seal on the felt of one of the rabbits.
Recently, Sterling Lights Ltd., issued a copycat, incredibly close to a reproduction, of the Pompeian Bronze seated bunny bookends. These have a gold finish and measure 7-inches x 3-inches by 5-inches. The size difference is the key. However, an unscrupulous seller can easily apply a deep brown bronze finish and pass them off as period to an unknowledgeable buyer.
An eBay seller is offering a pair of Pompeian Bronze "Rabbit" bookends for $950.00 with free shipping. The shipping should be free given the exorbitant asking price. Another set of bookends sold through on eBay for $235.00 in an auction with spirited bidding. Auntique & Uncle Tony (www.antiquebookends.net) is offering a pair minus the felt bottom for $475.00. Taking a conservative view, your pair of "Rabbit' bookends, provided they meet the Pompeian size requirements, have a secondary market value between $250.00 and $300.00 .
---
QUESTION: I have a shot glass collection. A few years back, an old lady gave my wife, who is a home nurse, a set of three nested silver shot glasses in a leather case with "DATSUN" on the front. I have not been able to find out anything about this set on the Internet. I would appreciate your insights. – BW, Adamstown, PA, Email Question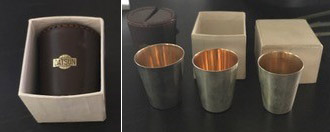 ANSWER: The information you seek is on the internet. It took several "key word" searches until I found it.
WorthPoint.com's Worthopedia contains a sell through eBay listing for three (3) 9.50 Sterling Silver Shot Glasses Tenshodo Japan Datsun case. The sale ended on January 27, 2013, with a price realized of $62.07.
A close look at the listing indicates a problem. The Sterling standard is .925 not.950 silver per 1,000. Nowhere in the listing description does it indicate the pieces are marked "Sterling."
When evaluating any sell through involving precious metals, one has to be aware of the precious metal per ounce value at the time of the sale. The spot price of silver was over $31.00 at the close of January 2013. The spot price of silver on March 13, 2017, was $17.06. Based on these numbers, the $62.07 sell through had more to do with the spot price of silver than it did the collectability of the shot glass set .
---
QUESTION: I have a small round dish marked on the bottom "750/154 / ITALY." The bowl has a rim of flat scalloped half circles with inverted blue "C" highlights. An abstract floral design decorates the bottom of the bowl. A small figure holding a rose seated on the rim is located at 12 o'clock. I found this dish in my mother's kitchen. What is it all about? – DH, Emmaus, PA, Email Question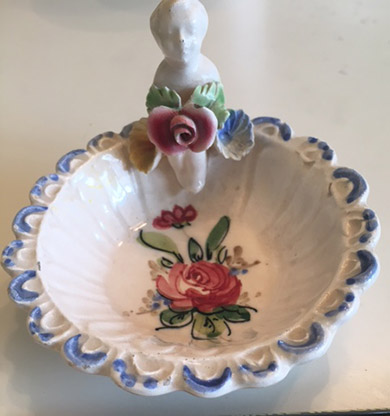 ANSWER: This Italian candy dish falls into the liver and onions category, that is to say, you either love it or hate it. There is no neutral ground. I am not a member of the love it group.
The candy dish dates from the late 1940s through the early 1960s when cheap but decorative Italian ceramics flooded into the American market. Their colorful designs attracted housewives. Many of the forms and designs featured copycat Etruscan motifs.
Americans were fascinated by things "Italian" in the 1950s and 1960s, fueled by movies such as "Roman Holiday" (1953) and "La Dolce Vita" (1960). Gina Lollobrigida's and Sophie Loren's, two bada bing bombshells in any language, Hollywood arrival did not hurt the craze.
It is hard to image a collection of 50 such pieces. The only justification would be to question the aesthetic taste of the average 1950s middle-class household.
Your candy dish is garage sale fodder. Take any offer above $2.00.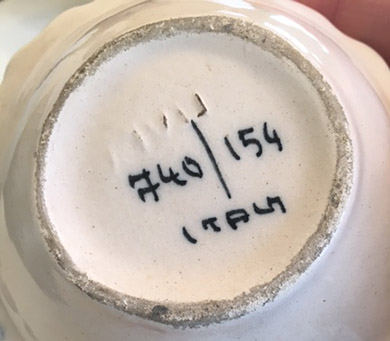 ---
QUESTION: I own an old dome-top steamer trunk. The tray inside is missing. I am fascinated by the leather looking material covering much of the outside. What is its value? – KT, Madisonville, KY, Email Question
ANSWER: Old steamer trunks are a glut on the market. The craft recycling craze of taking an old trunk, refinishing the outside, and stripping out the old interior paper and replacing with it with colorful floral-patterned wallpaper is a thing of the past. Auctioneers consider themselves lucky if they can get between $25.00 and $50.00 for an example.
Domed-top trunks were an attempt to prevent freight handlers, either on a ship or train, from stacking the trucks too high, thus eliminating the weight pressure on a trunk's frame if it rested on the bottom of the pile. This advertising ploy for domed-top trunks did not work. Handlers were adept at stacking dome-top trunks one atop another.
The covering on your trunk is exceptional. Trunk leather usually rots and dries out. It is uncommon to find an example in this good shape. Because of its external condition, your steamer trunk has decorative and functional qualities. Besides offering storage space, it has conversational value. As such, its secondary market retail value is between $40.00 and $50.00. If the tray had remained, I would have added another $10.00 to the value.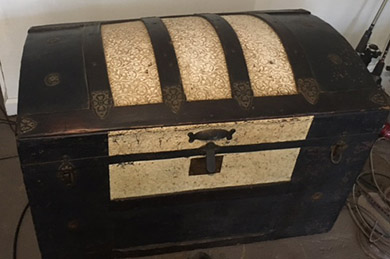 ---
Harry L. Rinker welcomes questions from readers about collectibles, those mass-produced items from the twentieth and twenty-first centuries. Selected letters will be answered in this column. Harry cannot provide personal answers. Photos and other material submitted cannot be returned. Send your questions to: Rinker on Collectibles, 5955 Mill Point Court SE, Kentwood, MI 49512. You also can e-mail your questions to harrylrinker@aol.com. Only e-mails containing a full name and mailing address will be considered.
You can listen and participate in WHATCHA GOT?, Harry's antiques and collectibles radio call-in show, on Sunday mornings between 8:00 AM and 10:00 AM Eastern Time. If you cannot find it on a station in your area, WHATCHA GOT? streams live on the Internet at www.gcnlive.com.
SELL, KEEP OR TOSS?: HOW TO DOWNSIZE A HOME, SETTLE AN ESTATE, AND APPRAISE PERSONAL PROPERTY (House of Collectibles, an imprint of Random House Information Group, $17.99), Harry's latest book, is available at your favorite bookstore and via www.harryrinker.com.