RINKER ON COLLECTIBLES — Column #1573
Copyright © Harry Rinker, LLC 2017
Questions and Answers

QUESTION: I received a boxed set containing five dice from an elderly neighbor who was cleaning out his house. He would be 112 if he still were living. There are five cube-shaped dice, each with a card image. The six sides of each die have a different image. The images are card faces – ace, king, queen, and jack – and the 10 and 9 cards. There are no suits. The number 10 card is diamonds, the number 9 card clubs, and the ace is spades. The 3 1/4-inch cardboard box in which they are housed has a stamp indicating the set sold for 75 cents. How were the dice used? What is the value of my set? – AG, State College, PA, Email Question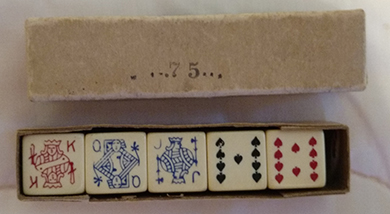 ANSWER: You own a set of poker dice. The earliest patent for a set of dice with playing card faces dates from 1881. Mention of the game poker first occurred in print in the 1830s. Dice date back to the ninth century or earlier.
The rules of the game allow a player three throws of the dice. After the first throw, the player can select those dice he wishes to keep. A second throw is done. The same choice holds true a second time. If it is taken, a third throw added to the stationary dice determines the hand.
The possible combinations are five of a kind (6 out of 7776 changes/odds 1 in 1296 / 0.08 %), four of a kind, full house, straight, three of a kind, two pairs, one pair, or bust (high card / 480 out of 7776, odds 1 in 16.2, 6.17%). Because there are no suits, a straight flush and flush are not possible. Although there is no color standardization for the face cards, most sets feature red kings, green queens, and blue jacks.
[See: https://en.wikipedia.org/wiki/Poker_dice]
In 1974, Aurora introduced "Jimmy the Greek Odds Maker Poker Dice," each die of which had twelve sides. This allowed all 52 cards in a deck to be represented plus eight wild cards. On June 30, 1992, a patent was granted to Frederick Stahl for the invention of "five six-sided dice marked with numerical and suit attributes as seen on playing cards so that the face can be used in games where the markings showing on the upper surface of the dice after being thrown are interpreted as hands of poker."
A modern set of Poker dice costs less than $10.00. The average asking price for antique/collectible Poker Dice sets ranges from $15.00 to $25.00. Of course, there is always the optimistic eBay seller who believes in the "sucker born every minute" philosophy. One such eBay seller is asking $75.00 for an identical set another seller is offering for sale at $24.99.
---
QUESTION: When I was in grade school in the fifties, I acquired a vase at a church bazaar. It has an upward tapering, four-sided body. The vase body is a bright orange with a black line border at the top lip. The vase stands 4 7/8-inches tall. The base and top are square shaped, the top measuring 2 1/2-inches across and the bottom 2-inches across. The mark on the bottom features a wheel with central spokes, "CELEBRATE" in the radius surround, and a crown on top. In a circle around this motif is "REGISTERED / MADE IN CZECHOSLOVAKIA." There is a small chip on the bottom edge. What information can you provide about its history and value? – MR, Massillon, OH, Email Question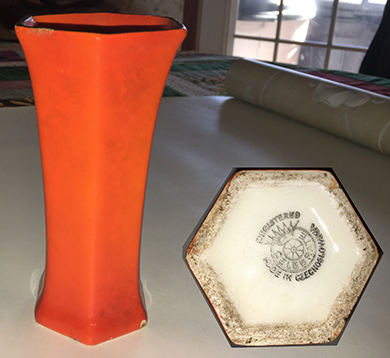 ANSWER: When the Hapsburg monarchy collapsed following World War II, the Czech and Slovak portions of the Hapsburg empire were united to create Czechoslovakia in 1918. Official independence was announced in Prague on October 28, 1918. The period from 1919 to 1938 was known as the First Republic.
The ethnic Czechs were located primarily in Bohemia, a region known for its ceramic and glass manufacturers. From the 1920s through the mid-1930s, inexpensive but artistically designed and decorated Czechoslovakian ceramics were imported into the United States.
Your vase dates from the 1920s or early 1930s, the main period when Art Deco dominated the architectural, fine, and decorative arts. The colors are the first clue. Art Deco featured bold, bright colors that contrasted with one another. Orange and black is one example. Second, static geometric shapes dominated.
Your vase is an excellent illustration of the difference between Art Deco and Streamline Modern design. The black band on the rim collar of the vase stops the upward motion of the upward flowing sides. The vase is fixed in the moment. If the black band was not there, the viewer's mind would envision the upward sweep continuing. Art Deco is static. Streamline Modern is real or imagined motion.
The minor nick on the base impacts value. If it was not present, a fair secondary retail value for your vase would be between $20.00 and $25.00. Because of the nick, the value is reduced to $10.00.
These prices reflect 2016 secondary market values. The late 1980s and 1990s was the golden age of Czechoslovakian ceramic collecting. Prices reached their high mark. The market fall is well over 50 percent of golden age prices.
Ruth A. Forsythe's two volumes "Made in Czechoslovakia," the first published by Antique Publishing in 1993 and the second by Wallace-Homestead Book Company in 1994, are one primary reference source. Collector Books responded by publishing a first (1991) and second volume (1996) of Dale and Diane Barta's and Helen M. Rose's "Czechoslovakian Glass and Collectibles." Twenty years have passed without another a major reference, a clear indication that collector interest in Czechoslovakian ceramics has diminished.
---
QUESTION: My parents were antique collectors. When my sister and I were cleaning out their house, we found two Pullman blankets, one blue and one salmon. I took the blue one, my sister the salmon one. Shortly thereafter, I received a call from my sister telling me that my blue Pullman blanket was very valuable. Why is my blanket worth more than her blanket and what is my blanket worth? – L, Bel Air, OH
ANSWER: The Smithsonian's The Natural Museum of American History's website provides this history: "Part of a Pullman porter's job was to make up the sleeping berths in his assigned sleeping care and to provide extra blankets to passengers requesting them. The standard Pullman blanket in the 20th century was dyed a salmon color which became almost a trademark of the company. When a blanket became worn or damaged in service is was assigned to those blankets reserved for porters' use.
"…According to Pullman service rules, a porter's blanket was never to be given to a passenger. Ostensibly to avoid mixing these with passenger's blankets, the porters' blankets were dyed blue. This was to comply with statutes in the South that dealt with the segregation of blacks and whites. The Pullman service rules were applied nationwide through the Pullman system, not just in the South…" [See: http://americanhistory.si.edu/collections/search/ object/nmah_844563]
The person who wrote the description of the blue Pullman blanket in The National Museum of American History suggested blue blankets were "extremely rare." The use of "rare" sets off alarm bells. It is a subtle way of suggesting great value. At best, the blue Pullman blanket is scarce. Considering the number of African-Americans who served as Pullman porters, the survival rate is higher than two (your example and the example at the Museum of American History). When Pullman discontinued its service, it sold off supplies. There is no way of knowing how many blue Pullman blankets might have entered the secondary market in this manner.
There are contemporary reproductions of the salmon colored Pullman blanket. In addition, given the price difference, some unscrupulous individuals are likely to die an orange blanket, period or reproduction, blue in order to capitalize on the price difference.
The asking price for a Pullman Company wool berth blanket, measuring 57-inches by 72-inches, ranges from $50.00 to $75.00. Because of its scarcity, a blue blanket would double these values.
According to WorthPoint.com, a blue Pullman blanket with the initials "NPR" sold for $395.00 on eBay on August 22, 2016. It had previously sold for $587.77 on July 18, 2016. Apparently, the earlier bidder failed to pay for the purchase or else received the blanket, was not happy with what he/she paid, and returned it .
---
QUESTION: I own a Sears' Maid of Honor Food Chopper. It is in great shape and works. Does it have any secondary market value? – N, Reading, PA
ANSWER: Yes is the obvious answer if you need to chop some food.
The Sears Maid of Honor product line included a wide range of household products including clothespin bags, coffeepots, cooking pots and pans, cookie presses, egg beaters, Pyrex-type covered refrigerator dishes, mixing bowls, serving pieces, and more. The Maid of Honor Food Chopper closely resembled the Enterprise 602 food chopper. It may have been made for Sears by Enterprise.
Secondary market value is minimal. Any buyer willing to pay $10.00 or more makes you a winner.
---
Harry L. Rinker welcomes questions from readers about collectibles, those mass-produced items from the twentieth and twenty-first centuries. Selected letters will be answered in this column. Harry cannot provide personal answers. Photos and other material submitted cannot be returned. Send your questions to: Rinker on Collectibles, 5955 Mill Point Court SE, Kentwood, MI 49512. You also can e-mail your questions to harrylrinker@aol.com. Only e-mails containing a full name and mailing address will be considered.
You can listen and participate in WHATCHA GOT?, Harry's antiques and collectibles radio call-in show, on Sunday mornings between 8:00 AM and 10:00 AM Eastern Time. If you cannot find it on a station in your area, WHATCHA GOT? streams live on the Internet at www.gcnlive.com.
SELL, KEEP OR TOSS?: HOW TO DOWNSIZE A HOME, SETTLE AN ESTATE, AND APPRAISE PERSONAL PROPERTY (House of Collectibles, an imprint of Random House Information Group, $17.99), Harry's latest book, is available at your favorite bookstore and via www.harryrinker.com.