RINKER ON COLLECTIBLES — Column #1571
Copyright © Harry Rinker, LLC 2017
Questions and Answers

QUESTION: I have a cylindrical-shaped stoneware crock with a lid. The body color is an off-white. The only mark is located near the top of the crock. It is a crown in the center of which is a circle enclosing the number 20. It is 24-inches tall and 18-inches in diameter. I would like to sell it. What should I charge? – RB, Big Horn, WY, Email Question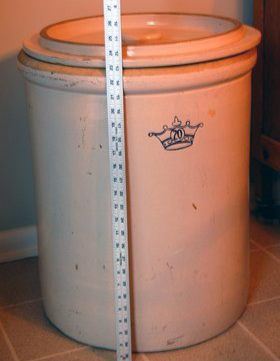 ANSWER: Your stoneware crock has a 20-gallon capacity, hence the number in the middle of the crown. A previous owner must have enjoyed making sauerkraut or pickling. Once inexpensive canned good arrived in stores, the need for 20-gallon stoneware disappeared.
When selling any antique or collectibles, value is enhanced by a good story. A good place to begin is with the history of the company that manufactured the crock. Robinson Ransbottom, also known as Roseville Pottery Company (RRP), was located in Roseville, Ohio.
The website www.oldantiquepottery.info provides this information about the RRP Co. Pottery: "In 1900, Frank Ransbottom and his brother started a pottery company in Roseville, Ohio to make stoneware and pottery. By 1916 Ransbottom Pottery was the largest producer of stoneware in America. Around 1920, they merged with Robinson Clay Products Co. who created bricks and tiles. The name was changed to RRP Company…and product lines expanded to include gardenware in addition to their art pottery and functional goods. The company was able to endure through the great depression and was in business until 2005, when it finally ceased operations…
"RRP Co is often confused with Roseville Pottery by fledgling collectors. This is understandable due to the fact that both contain the name Roseville in their marks. The two however are completely different companies….A pretty sure way to tell the difference by site [sic.] is that RRP predominately created heavy, earthy utilitarian items such as stoneware, planters, cookie jars, crocks, etc….."
The number of 20-gallon crock collectors and Robinson Ransbottom Pottery collectors, especially in Wyoming, is limited. Your 20-gallon stoneware crock has more value as a functional decorative item than as a collectible.
Size is often a detriment to value. An object can be too big. Smaller 5- and 10-gallon crocks serve as wastebaskets or magazine/newspaper holders. The good news is that 20-gallon crocks make great end tables and umbrella holders. In both instances, the lid is inconsequential, albeit not in a sale. Store it carefully. To turn the crock into an end table, have a round piece of thick glass cut so that when placed on top of the crock, there is an inch to two-inch outside border. Place something fun inside as a conversation starter.
FarmYard Antiques is offering a 20-gallon Robinson Ransbottom crock, similar to the one you own, for $400.00 on etsy.com. This example has two ears with a wire handle extending from each. Asking is not the same as getting. An eBay seller is asking $175.00 for a 12-gallon Robinson Ransbotttom stoneware crock.
The best market to sell your 20-gallon crock is Craigslist.com. Your goal is to reach retail buyers, not dealers who expect to buy at a deep discount. The approach is simple. If you ask $75.00, the 20-gallon crock should sell quickly, especially since it has its lid. With a little effort and patience, you should realize between $100.00 and $125.00. The greedier you are, the more difficult the sell. If you set the price above $150.00, you risk not selling the crock. Setting the asking price is the responsibility of .
---
QUESTION: I have an Arabian-themed wall hanging that I purchased in Saudi Arabia in the early 1900s. The wall hanging was never displayed. Since it has been stored since I returned, it is in very good condition. The wall hanging measures six feet wide and four feet high. What is its value and market? – M, Reading, PA, Email Question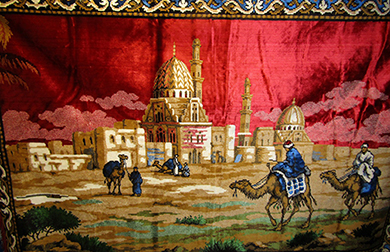 ANSWER: "Souvenirs Tourists Buy" is a title on my "Someday I Will Write a Book About It" list. Another title is "Things G.I.s Buy." In truth, G.I.s, private contractors, and business travelers are tourists in disguise. These individuals return to the United States burdened with mementos and presents whose purchase was motivated by the romance of the location, cheap cost, and/or the thought that the buyer, spouse/partner, parent, or friend would be thrilled to own the object. Display and use were secondary purchasing considerations.
America's furniture drawers and basement, closet, and garage shelves are filled with these treasures. The list is endless – the post-World War II Japanese tea service and/or kimono, the Thai cutlery set from the Vietnam War era, and woven textiles ranging from rugs to wall hangings. When asked by their owners what to do with them, my standard response is: "Is there someone in your family who will be getting married in the near future? If yes, you already have their wedding gift in hand."
In an earlier question, I suggested an object can be too big to sell easily. Six feet by four feet is too big. Few individuals have that much open wall space. Those who do are not likely to fill it with a 1990s Arabic wall hanging.
When buying "spur of the moment" treasures, buyers pay little attention to the quality of the product. The bright colors and romantic scene (two camels with riders passing before an Arabic village) of your wall hanging distracted you from closely examining the quality of the weaving. First, the wall hanging is a mass-produced product and not individually crafted. Second, upon close inspection the weave is loose as opposed to tight. The defining edges of the scene elements are jagged.
You were just one of many who purchased wall hangings during a visit to Saudi Arabia. Twenty years later, they, like you, are attempting to sell their purchases. There are a number of examples offered for sale on eBay, albeit smaller in size than the one you own. The bad news is the asking price usually is under $50.00 with some listed for under $15.00.
You can increase the sale potential for your tapestry by passing it off as a rug rather than a wall hanging. If you insist on selling it, try Craigslist. If you sell it over $50.00, you win.
My best advice is to consider donating it to a charitable organization. No receipt or letter of acknowledgement for the donation is required by the IRS for gifts under $500.00. Let your conscience be your guide (with apologies to Jimmy Cricket) in terms of the amount you claim .
---
QUESTION: I recently purchased an oval, dome-shaped, silver pin featuring a raised relief of a portion of the West Point Military Academy logo in the center. The piece was made by William Kerr, an American silversmith. I sent Paul Ackerman, West Point's museum curator, pictures of the pin. His opinion was that it was a custom-made piece for a cadet. West Point adopted its Coat of Arms in 1898. The Coat of Arms has an eagle, shield, and arrows, none of which appear on the image on the pin. The reverse contains a Kerr's logo, is stamped "Sterling," and has the number #3320. The pin is four inches wide. What is the purpose and value of my pin? -- WF, Staten Island, NY, Email Question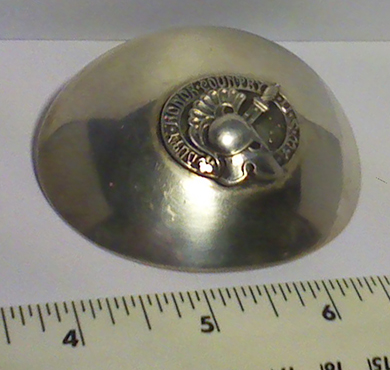 ANSWER: William B. Kerr & Company, located in Newark, New Jersey, made relief pressed brooches, case and jar lids, cigar cutters, mugs, pins, vesta cases, and other household, jewelry, and dresser accessories between the 1880s and 1927. An Art Nouveau motif is the most prominent design found on their products.
Dorothy Rainwater's and Judy Redfield's "Encyclopedia of American Silver Manufacturers, Revised Fourth Edition," published by Schiffer Publishing in 1988, notes: "Originally Kerr & Thiery, established by William B. Kerr in Newark, New Jersey, in 1855. Makers of flat and tableware, gold dresserware and jewelry. Used fleur-de-lis trademark in 1892. Purchased by the Gorham Corporation in 1906 and moved to Providence, Rhode Island in 1927.
The number on your pin is a stock number, indicating that the piece was mass produced. The cost to make a mold and hammer a single piece was prohibitive. Even though I was not able to locate a second example, I remain convinced other examples survive. If a reader has or knows of another, send me an email at harrylrinker@aol.com.
My best guess is that the piece was a sweetheart souvenir pin, presented by one of the West Point cadets to a favorite female, such as a sweetheart, mother, or aunt. Military sweetheart jewelry has a long tradition. (The subtle pun to West Points' long grey line is intentional.)
The pin's value is market driven. It is a curiosity piece to a jewelry collector. Even though it is female focused, it would interest military and West Point collectors. Using the value of other military sweetheart pins as a guide, a fair secondary market value for your pin is between $65.00 and $85.00, higher than its current silver melt value .
---
Harry L. Rinker welcomes questions from readers about collectibles, those mass-produced items from the twentieth and twenty-first centuries. Selected letters will be answered in this column. Harry cannot provide personal answers. Photos and other material submitted cannot be returned. Send your questions to: Rinker on Collectibles, 5955 Mill Point Court SE, Kentwood, MI 49512. You also can e-mail your questions to harrylrinker@aol.com. Only e-mails containing a full name and mailing address will be considered.
You can listen and participate in WHATCHA GOT?, Harry's antiques and collectibles radio call-in show, on Sunday mornings between 8:00 AM and 10:00 AM Eastern Time. If you cannot find it on a station in your area, WHATCHA GOT? streams live on the Internet at www.gcnlive.com.
SELL, KEEP OR TOSS?: HOW TO DOWNSIZE A HOME, SETTLE AN ESTATE, AND APPRAISE PERSONAL PROPERTY (House of Collectibles, an imprint of Random House Information Group, $17.99), Harry's latest book, is available at your favorite bookstore and via www.harryrinker.com.