RINKER ON COLLECTIBLES — Column #1567
Copyright © Harry Rinker, LLC 2017
Questions and Answers

QUESTION: I have a 7/8 inch-diameter lapel pin for a "Talentsville Participant" in a Hi Fi Club "SPONSORED BY YOUR COCA-COLA BOTTLER." The center features a 45 rpm record in red and orange, a microphone located at 12 o'clock and "hi" and "fi" located at nine and three o'clock. The pin was never issued. What are the history and value of my pin? – JB, Schuylkill Haven, PA, Email Question
ANSWER: Teenage dances were the rage in the late 1950s. Wishing to capitalize on the craze, Coca-Cola sponsored Hi-Fi Clubs beginning in 1958. By June 1959, Hi-Fi Club membership approached two million teenagers in the clubs established by Coca-Cola bottlers in 47 states. Sponsorship was open to any group whose aim was to promote a positive teenage experience. The Hi FI Clubs' principal focus was teenage dances.
Coca-Cola provided the clubs with information on how to organize and run Hi Fi Club events. Membership was open ended. There was no initiation fee or dues. Only members could attend Hi-Fi sponsored events.
Dances featured a DJ who received "The Monthly Disc Jockey Package" which contained an "Around the World Hit Parade" record, cuts to be used for contests, musical theme suggestions, popular records, and recorded interviews. Contest winners received prizes provided by Coca-Cola. One contest asked participants to write the Coca-Cola trademarks as many times as possible on the back of a postcard. A King and Queen were chosen for each dance.
There are dozens of Hi-Fi Club collectibles. Examples include a bolo tie, Hi Fi Club dance socks, record holder, and transistor radio. Club related memorabilia from DJ packages to backdrop banners are eagerly sought by collectors.
Encouraged by the rapid growth of the Hi-Fi Clubs, Coca-Cola added a nationwide talent contest, "Talentsville, USA," in 1960. Local winners received a Hi-Fi Club engraved trophy. There were five division finals with each winner receiving a $500 wardrobe, a trip to New York, and an audition with a record company. The final competition was broadcast on the radio. The winner received a $5,000.00 scholarship.
[For detailed information, see: http://www.coca-colacompany.com/stories/collectors-columns-hifi-club]
WorthPoint.com contains listings for more than 100 Coca-Cola Hi-Fi Club collectibles. There are several lapel pin variations, including Club member and the "Talentsville Participant" pin. Given the number of individuals who participated in these clubs, the survival rate for Hi Fi Club memorabilia is high. Surprisingly, secondary market prices are strong. Your "Talentsville Participant" lapel pin in near mint condition has a value between $65.00 and $75.00. There also was a "Talentsville Participant" tie bar, again valued between $65.00 and 85.00 in mint condition.
[Author's Request: Do you have memories of belonging to or attending a Coca-Cola Hi-Fi Club dance or event? If yes, share them with me at harrylrinker@aol.com.]
---
QUESTION: I have two Napcoware figurines, each marked on the bottom "C7365 ®." The first is a figurine of a young boy wearing a football helmet and carrying a football. The second is a young lady wearing a cap and holding a racquet. The figurines are done in a Hummel-like style. What can you tell me about them? – JA, Sheridan, WY, Email Question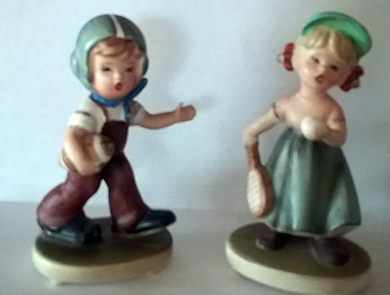 ANSWER: National Potteries Corporation, also known as The Napco Company, began producing collectibles, figurines, and decorative ceramic and glass materials in 1938. Lines included ashtrays, ceramic planters, mugs, novelty figurines, trivets, wall accessories, and more. Napco's products filled the shelves at department stores, five and dime stores, and small, family-owned gift shops. Cute shelf/table sitters are the best way of describing the company's products, especially the wide variety of Christmas and other holiday collectibles and figurines.
National Potteries used a variety of marks – "A Napco Collection," "Napco originals by Giftware," "Napcoware," "National Potteries Co., Cleveland, OH, Made in Japan," or "Napcoware, Import Japan." National Potteries was located in Bedford, Ohio. Napco purchased INARCO (International Art Ware Corporation, founded by Irwin Gurber in 1960 and located in Cleveland) in 1986 and moved its corporate headquarters to Jacksonville, Florida.
[For more detail, see: http://www.fromgrandmastree.com/napcoware-history/]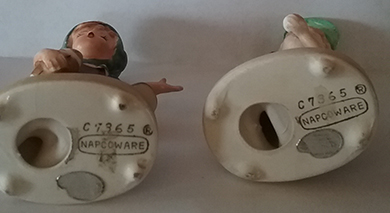 Napco's products competed with the cheap Japanese imports of the 1950s and 1960s. The company survived by producing many of its products in Japan and acting as distributor in the United States.
The identical numbers on the figurines indicate they are part of series. In addition to the two styles that you own, I found two additional figures with the same number—a young girl playing golf and a young boy baseball player. The average asking price is between $20.00 and $25.00. A more realistic secondary market price is around $10.00.
---
QUESTION: I have an old horse bridle and bit. There is a round rosette with "US" in the middle of the blinders. I suspect it is military related. Can you specifically date it and tell me its value? – DZ, McBain, MI, Email Question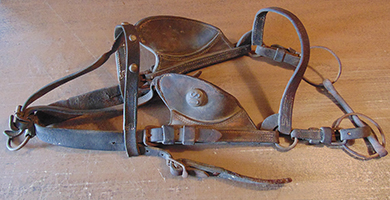 ANSWER: Your horse bridle and bit are military issue and date from the World War I era. The difficulty in specifically dating military equipment is that newly designed military equipment is phased in over time. Older equipment was used until it wore out. The same equipment models were produced and used in peace as well as wartime.
I do not own a reference book on US Cavalry equipment, albeit I am certain one or more exists. The website (http://www.hayesotoupalik.com/U.S.%20Cavalry%20Equipment.htm) managed by Hayes Otoupalik features numerous listings for U.S. Cavalry Equipment. The mission statement of the United States Cavalry Museum, located at Fort Riley (205 Henry Avenue, Fort Riley, KS 66442; http://www.riley.army.mil/About-Us/Museums/) reads: "To collect, preserve, exhibit, and interpret those materials that are integral parts of the history and tradition of the U.S. Cavalry from 1775 to 1950." The website contains a "Contact Us" URL. Send an email with a copy of the picture of your bridle and bit and ask the curator if he/she can specifically identify it.
Check your family provenance to see if a family member or relative served in the United States Army prior, during, or after World War I. The family member could have purchased it as military surplus. When I was in the Boy Scouts in the 1950s and 1960s, some of my camping equipment came from the local "Army and Navy" store. In my research, I found that a similar bridle and bit was used for mules as well as horses.
I found two eBay listings for the identical bridle and bit. One seller was asking $138.52 plus $9.38 shipping. The second wanted $99.99 plus $13.55 shipping. Both listings were from the same area. Although there were two different seller IDs, my suspicious side questions whether the two sellers are one and the same person. Neither example sold through.
A more realistic secondary market value for your US Cavalry bridle and bit is between $50.00 and $60.00.
---
QUESTION: I have a 1933 Chicago World's Fair postcard folder. How collectible is it? – M, Altoona, PA
ANSWER: The double-sided, accordion postcard folder evolved from the small black and white tourist souvenir albums manufactured during the late nineteenth and early twentieth centuries. The development of a halftone printing process paved the way for the inexpensive postcard folder. The folder, which could be mailed as a unit, allowed the buyer to purchase more images for a lower price. The paper stock used for postcard folders was often thinner than standard postcard stock. The only heavy paper was the outside covering. Printing quality left much to be desired.
The postcard folder craze arrived on the scene in the early 1920s and lasted into the 1960s. In the late 1940s and early 1950s, I purchased postcard folders as souvenirs of family vacations and visits to large cities. I still have them in my collection.
I found over half-a-dozen 1933-1934 Chicago World's Fair (Century of Progress) postcard folders. The average asking price for an example in very good or better condition is $10.00. The sell through price is closer to $5.00. These folders are common, meaning it is highly likely that a Chicago or 1933-1934 World's Fair collector already owns an example. Demand is minimal.
---
Harry L. Rinker welcomes questions from readers about collectibles, those mass-produced items from the twentieth and twenty-first centuries. Selected letters will be answered in this column. Harry cannot provide personal answers. Photos and other material submitted cannot be returned. Send your questions to: Rinker on Collectibles, 5955 Mill Point Court SE, Kentwood, MI 49512. You also can e-mail your questions to harrylrinker@aol.com. Only e-mails containing a full name and mailing address will be considered.
You can listen and participate in WHATCHA GOT?, Harry's antiques and collectibles radio call-in show, on Sunday mornings between 8:00 AM and 10:00 AM Eastern Time. If you cannot find it on a station in your area, WHATCHA GOT? streams live on the Internet at www.gcnlive.com.
SELL, KEEP OR TOSS?: HOW TO DOWNSIZE A HOME, SETTLE AN ESTATE, AND APPRAISE PERSONAL PROPERTY (House of Collectibles, an imprint of Random House Information Group, $17.99), Harry's latest book, is available at your favorite bookstore and via www.harryrinker.com.