RINKER ON COLLECTIBLES —
Column #1565
Copyright © Harry Rinker, LLC 2016
Questions and Answers

QUESTION: I have a Coca-Cola serving tray that pictures a female skater wearing a red skirt, sitting on a log, and holding a bottle of Coca-Cola in her raised right hand. What is its value? –MS, Hollidaysburg, PA, Email Question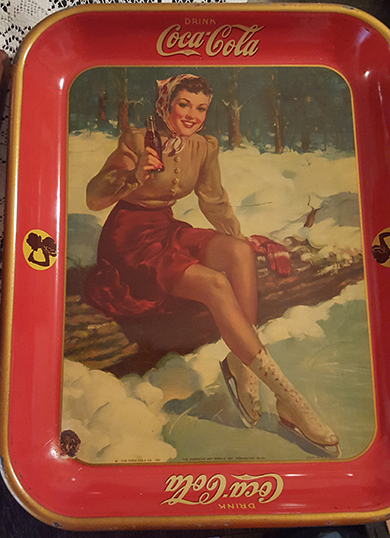 ANSWER: Your Coca-Cola tray, which measures 13 1/2 inches x 10 1/2 inches, was issued by Coca Cola in 1941. The first step to valuing your serving tray is to authenticate it. Allan Petretti in his "Petretti's Coca-Cola Collectibles Price Guide, 12th Edition" (Krause Publications, an imprint of F +W Publications, 2008) notes: "After World War II and into the 1950s and 1960s, production of trays was, at best, spotty and irregular." Given the higher production standards for your tray, it must meet all quality tests.
Petretti's book contains a chapter entitled "Recent, Reproduction, and Fantasy Items." In the good news department, Petretti does not list the 1941 tray as having been reproduced. This is not enough to guarantee authentication. When examining the picture that accompanied your email, the sharpness of the color lines raised concern. The color differentiations should be crisp and clean. Aware that internet images leave much to be desired, I checked additional details. Information across the bottom of the image reads: "© THE COCA-COLA CO. 1941 / THE AMERICAN ART WORKS, INC. COSHOCTON, OHIO / MADE IN U.S.A." This information does not appear on reproductions and fantasy items.
A final test is to look at the image through a 10 power, triplet loupe. If the image breaks down into color dot, it is modern. Your tray should pass this test.
Assuming your tray is period, the next step is grading it. A quick observation suggests a very good to fine grade. Examining the image closer, there appears to be paint loss, a small circle, at the lower left corner of the image. It is not clear if the metal has started to rust. The paint loss is noticeable at arm's length, the critical distance when evaluating condition. There also is paint loss due to scuffing along the edge of the rims. It is not clear from you image whether the tray retrains its period brilliance or has faded somewhat. The grade for your tray is C3.5 using a condition scale of 10 with ten being the highest.
Petretti values a 1941 Coca-Cola Skater Girl Tray at $265.00 in C8 (excellent condition). Petretti's chapter "Coca-Cola Collecting as an Investment" contains a "Value-Condition-Investment Potential" chart for Coca-Cola trays. It demonstrates that values are exponential based on condition, with the trays graded C8 and above commanding multiples of six to fifteen times that of trays graded C4 (fair).
The website http://www.greatestcollectibles.com/coca-cola-tray-values/#.WFQ6qVycvCs values a tray in poor condition at $110.00, in good condition at $250.00, and in mint condition at $750.00. Price guide values, especially those found on the internet, need to be verified.
WorthPoint.com has more than 300 listings for the 1941 Coca-Cola Skater Girl tray. The highest value is $412.59 for a tray sold in 2008. Ordering the price listings from the highest to the lowest value, prices for a C8 example dropped by 10 to 15 percent in recent years. Current prices for a tray in fine to better condition average closer to $250.00.
Given the abundance of 1941 Coca-Cola Skater Girl trays in the market and the condition issues of your examples, a reasonable secondary market retail value is between $40.00 and $50.00.
---
QUESTION: I have a framed advertising broadside for King Midas Flour. The frame measures 17-inches by 22-inches. At the center is a bust image of a young girl with hair flowing down over her left shoulder. Above the image is: "The Highest Price Flour in America / and worth all it costs." Below the image is "SHANE BROS. & WILSON CO. / Bourse, Philadelphia." Can you date my broadside and tell me what it is worth? – SF, Womelsdorf, PA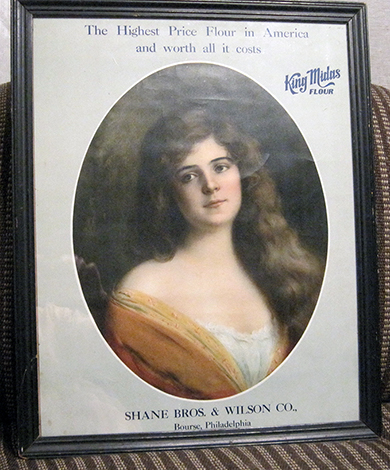 ANSWER: In 1912, Fred and George Shane, owners of the Millbourne Mills in Philadelphia, along with W. J. Wilson purchased the former Gardner Mills located on the west bank of the Mississippi in Hastings, Minnesota. Millbourne Mills produced flour under the "King Midas" brand. Shortly after purchasing Gardner Mills, the mill was renamed King Midas Mill. The Hastings, Minnesota, site produced King Midas flour until 1939, when Peavy Company, the owner at the time, moved production to Superior, Wisconsin. Today, the King Midas brand extends to a wide range of products.
Pretty lady artwork was common in advertising, ceramic products, magazine illustrations, sheet music covers, and more in the first two decades of the 20th century. Your broadside dates between 1905 and 1911. It could be later, but certainly not post-World War I. The slogan appears to have been in place before the purchase of Gardner Mills. The company retained an office in Philadelphia's Bourse after the purchase.
There are multiple buyers for your broadside. Collectors include those seeking Philadelphia, pretty lady, flour advertising, and general advertising memorabilia. The piece has strong decorative value, a plus in today's secondary antiques and collectibles marketplace.
eBay has more than a dozen listings for King Midas flour memorabilia, none of which are similar to or as early as your broadside. WorthPoint.com has 125 listing, again none of your poster. Based on your poster's condition and its strong image, its value is between $250.00 and $300.00.
---
QUESTION: I own a 1963 tube type radio kit that is housed in a two-section hinged box, similar to an attaché case or suitcase, that measures four feet wide and three feet high when closed. A metal tag reads: EREC-TRONIC SYSTEM / Model BE-5-A / ….. / SCIENCE ELECTRONICS / Division of / General Electronic Laboratories, Inc." When opened, there are five pullout trays on the left and seven pullout trays on the right. The trays are numbered 1 through 12. The trays contain tubes and other electrical components. The bottom left has a speaker and the right a tube test and control board. The right interior of the case is a perforated breadboard (peg board). The user could build a variety of model radios. I tried to research its value on the internet. I found one listed for a thousand bucks but dismissed the price as goofy. What do you think? – K, Email Question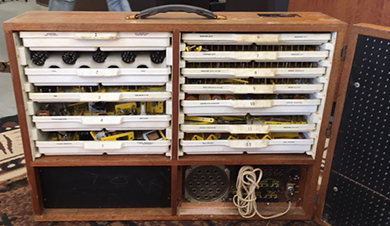 ANSWER: I found information about your radio kit thanks to a post on the website www.cockam.com [http://www.cockam.com/erectron.htm]. Science Electronics, Inc., located in Cambridge, Massachusetts, sold kits that allowed individuals to build their own radios in the mid-1950s. Industrial grade sets for use in trade schools and colleges were the company's primary product. The size of the BE-5 series sets varied. The largest units had hundreds of parts.
Around 1958, A. C. Gilbert began issuing "Erec-tronic" radio sets identical to those made by Science Electronics. It is not clear if A. C. Gilbert purchased Science Electronic or contracted with the company to produce sets with an A. C. Gilbert label.
The blog cited notes: "Because of numerous crimped and other mechanically fastened connections, oxidation over the decades has made the electrical performance unreliable." Components can be repaired. The work required is time consuming.
There also is the issue of whether your set is complete. You have no instruction book or schematics. The safe assumption is that some parts have been lost over time.
I shared your images with Hank, a regular WHATCHA GOT? listener and amateur radio operator. We agree the $1,000.00 price is ridiculous. The number of collectors for mid-20th century radio kits, home as well as trade school/college, is small. Value is buyer dependent. If I was the potential buyer, its curiosity value to me would be under $50.00. Hank, who is focusing on downsizing rather than acquiring, suggested your Model BE-5-A set might bring between $75.00 and $100.00 at a ham radio show or outing. These numbers are highly conservative.
My advice is to seek out a secondary market dealer who specializes in scientific material and/or amateur radio equipment. Offer to consign the set to him/her and agree to split the money received.
[Author's Aside: If a reader knows a potential buyer, send his email address to me. I will forward it to K.]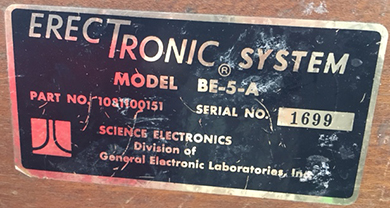 ---
QUESTION: I have a 10-inch high, solid brass electric lamp. The base and standard is a cobra. The shade has a metal, filigree dome cap from which dangle strands of glass beads. The background beads are white. There is a colored floral design near the bottom. The beads end in a yellow band. What is the value of my lamp? – RP, Fleetwood, PA, Email Question
ANSWER: Cobra based lamps were popular in the 1920s. There was an Arabic/Egyptian revival during the Flapper era. In my research, I found more than a dozen different cobra base designs.
The novelty lamp speaks "period," a plus in my value book. Having stated this, the lamp will be a tough sale outside a large urban market. In Berks County, Pennsylvania, where you are located, an asking price of $30.00 should sell the lamp quickly. Given time, a buyer at $50.00 to $60.00 is possible. $75.00 is a walkaway price.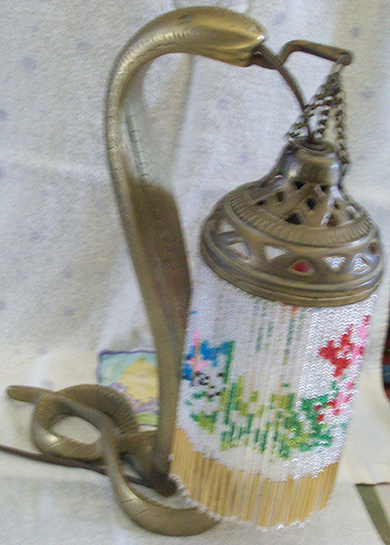 ---
Harry L. Rinker welcomes questions from readers about collectibles, those mass-produced items from the twentieth and twenty-first centuries. Selected letters will be answered in this column. Harry cannot provide personal answers. Photos and other material submitted cannot be returned. Send your questions to: Rinker on Collectibles, 5955 Mill Point Court SE, Kentwood, MI 49512. You also can e-mail your questions to harrylrinker@aol.com. Only e-mails containing a full name and mailing address will be considered.
You can listen and participate in WHATCHA GOT?, Harry's antiques and collectibles radio call-in show, on Sunday mornings between 8:00 AM and 10:00 AM Eastern Time. If you cannot find it on a station in your area, WHATCHA GOT? streams live on the Internet at www.gcnlive.com.
SELL, KEEP OR TOSS?: HOW TO DOWNSIZE A HOME, SETTLE AN ESTATE, AND APPRAISE PERSONAL PROPERTY (House of Collectibles, an imprint of Random House Information Group, $17.99), Harry's latest book, is available at your favorite bookstore and via www.harryrinker.com.