RINKER ON COLLECTIBLES — Column #1555
Copyright © Harry Rinker, LLC 2016
Questions and Answers

QUESTION: I recently acquired a Christmas-theme alphabet / Santa block puzzle. Instead of cube shape blocks, the blocks are rectangles measuring 8 inches long x 1 1/2 inches wide. There are two horizontal alphabet images, and two vertical images, the first of Santa and the second Christmas morning. The final images' measurement is 8 inches by 12 inches or vice versa. The box and guide sheets are missing. The dealer, who was asking $125.00, sold it to me for $90.00, a bargain in my opinion. Given your vast knowledge about puzzles, can you help determine the age and the "true" secondary market value of the puzzle? Also, not related to the block puzzle I just acquired, should collectors be concerned about contact between early paper lithograph block puzzle surfaces and the boxes in which they are housed? – RS, Janesville, WI, Email Question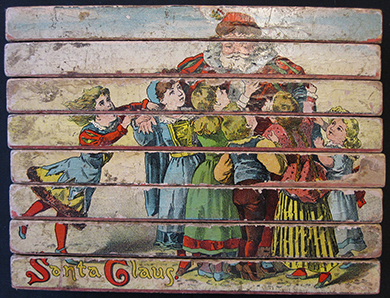 ANSWER: The block puzzle is European in origin, most likely from Germany rather than England or France. The images appear to be illustrations from a children's book, opening the remote possibility that McLoughlin Brothers or another American publisher may be the manufacturer.
I date the puzzle between 1900 and 1915. It could be a decade earlier, but I prefer a conservative dating approach. Recently, I purchased a German map block puzzle from an eBay seller who dated it from the 1920s. The images and block form appeared older. I purchase it hoping I was right. I was not. When I studied the map of Europe closely, Czechoslovakia, not created until after World War II, was included. The puzzles dated from the early 1920s.
The block approach is not as unusual as it might seem. Stripe puzzles, flat two-sided stripes when properly aligned make a picture, also were popular at the turn of the 20th century. Many stripe puzzles featured letters of the alphabet along one edge of the image. The creator of your puzzle was inspired by this approach.
In the late Victorian era, children refrained from frivolous play on Sundays. If the play was educational, it was allowed. This led to the manufacture of alphabet, historical, and religious theme puzzles of all varieties.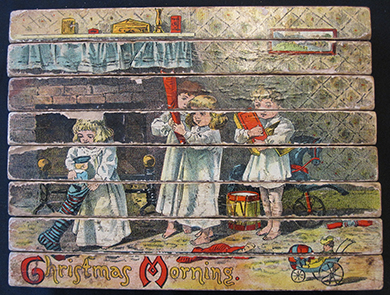 Because of the strong images and condition of the block puzzle pieces, $90.00 is a bargain. This is another case where market played a role in value. If the puzzle was purchased at a traditional antiques/collectibles show, the $125.00 asking price was fair. The dealer was aware what he/she paid and felt the price reflected a fair profit. If offered for sale in a high-end antique toy auction or a specialty venue such as the annual meeting of the Golden Glow of Christmas Past, the puzzles value would double or triple.
The missing box impacts value. Assuming past practice, the box lid would contain one of the images. Should you encounter the box for sale without the block puzzle, acquire it, even if you have to pay what you paid for the puzzle.
Early twentieth century stripe and block puzzle boxes were made from pasteboard, which is acidic. Boxes were paper lined, thus providing a protective layer between the block surfaces and the pasteboard. The images were lithographs, usually printed on a quality paper with color dyes that did not fade even when placed in direct contact with pasteboard. Fading occurs only when surfaces are exposed to intense light and heat.
---
QUESTION: When Pomeroy's, a department store located at Sixth and Penn Street in Reading, Pennsylvania, closed, my mother-in-law purchased the five-foot six-inch high Santa that was featured in Pomeroy's Toyland and may have appeared in its window displays. Santa is in good condition but needs to be cleaned up. The white trim in his suit has yellowed. What is my Santa worth? – DM, Reading, PA, Email Question.

ANSWER: The website www.thedepartmentstoremuseum.org contains detailed information about Pomeroy's Reading location. Pomeroy's was located at 600 Penn Street and built in stages between 1892 to 1957. In its finished form, it had 324,000 square feet of space. In addition to Pomeroy's Bargain Basement, there were six floors of merchandise.
The August 9, 2007 edition of the "Reading Eagle" featured an article entitled "Pomeroy's fabled Toyland." [See: http://www2.readingeagle.com/article.aspx?id=54162.] From the mid-1950s through the late 1960s, the entire sixth floor was converted to a "Toyland" for the Christmas holiday season. Creating Toyland began in June or July. "Toyland" opened to the public on Black Friday. The article ends with this quote from Shirley Becker, who worked in Pomeroy's cosmetic department: "It was just like they stepped into Disneyland."
[Author's Aside: If I start writing about my "Toyland" memories, this column will double to triple its normal size. I move forward expressing my regret and sympathy for later generations who never experienced the magical moments of one of the greatest childhood wonders.]
Your challenge is to find proof that your Santa figure is what you claim he is. In today's collecting world, your word is not good enough. You need collaborative evidence, a notarized statement from someone who remembers seeing it or photographic evidence of the Santa figure at Pomeroy's Toyland or in a window display. Start with your local historical society – the Berks County Historical Society. Check the files of the "Reading Eagle," a true gem of a community newspaper. Ask if the "Reading Eagle" would run a story about your Santa figure. If yes, stress that you are seeking pictures of the Santa. If he was in Toyland, chances are high that individual children had their pictures taken next to him.
If you cannot prove the Pomeroy connection, your Santa figure is worth between $200.00 and $250.00. The Pomeroy connection adds another 50 percent. These values are restricted to two principal markets – Reading area collectors and Christmas collectors. The Golden Glow of Christmas Past, a Christmas collector's club, occasionally holds its annual meeting in eastern Pennsylvania. Check the club's website. If you still have the Santa when an annual convention occurs, take it, and watch for the individual who drools the most. He/she is your potential buyer.
---
QUESTION: I own an Auto Wheel Coaster No. 34 child's push sled. The company was located in Towanda, New York. The brand on the bottom of the sled contains these two lines: "WOOD NORTHERN WHITE ASH / RUNNERS HIGH ____SPRING STEEL." I bought the sled to be used as a prop for Christmas photos. Before deciding to restore it, which I would like to do, I checked asking prices on eBay. The listings ranged from $20.00 to $499.00. My initial plan was to clean up the wood and repaint the metal. What is your recommendation? – CR, Email Question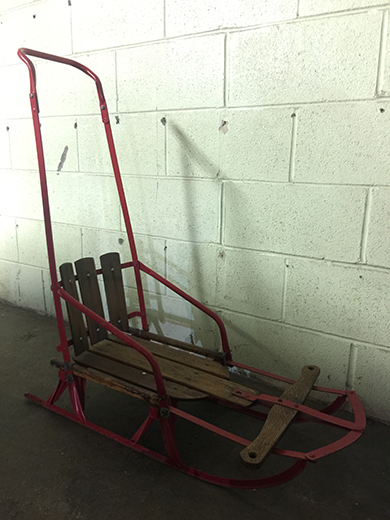 ANSWER: Joan Palicia's "Great Sleds & Wagons," published in 2009 by Schiffer Publishing Company, provides a detailed history Auto Wheel Coaster Company, previously known as the Buffalo Sled Company, from its founding in 1904, the name change in 1921, and the end of operations. Although "sled" was in the Buffalo title, the company only produced wagons under the Auto Wheel Coaster brand name. Auto Wheel Coaster went bankrupt in 1964, one of the many companies that succumbed to cheap foreign imports.
Starting in the 1920s, Auto Wheel Coaster produced sleds and bobsleds under the trademarks Coaster Kings, Cyclone Racers, Fleetwood Flash, and Fleetwood Racer. The number on a sled or bobsled usually indicated its length.
Buffalo Sled and Auto Wheel Coaster promoted their products through giveaway programs such as a captain's cap and shirts. "Auto-Wheel Spokesman," a monthly newsletter, helped promote the product lines. In the early 1920s, the company held numerous contests. The prize was a metal bank picturing an Auto Wheel Coaster. The goal was to encourage children to save their nickels and dimes so they could purchase a new sled. The hook was that only an Auto Wheel coaster sales agent had the key that opened the bank.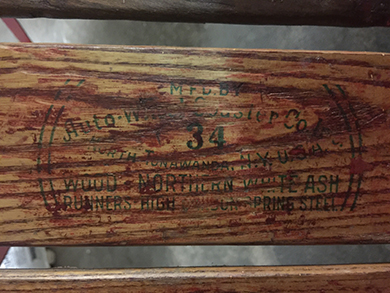 The pictures that accompany your email suggest the slide retains its period finish and paint and is in very good to fine condition. This makes the decision to restore a difficult one. I favor a little soap and water to clear off the dirt. Evaluate the sled's appearance once that is done. The paint has mellowed, meaning its period brightness is gone. Can you live with this?
If your goal is to make the sled appear "like new," just as it looked when it came off the assembly line, then refinish the wood and repaint the metal. Make certain to preserve the decal on the top surface and brand trademark on the back. If you take this restoration approach, you will destroy the aging that adds to the character of the sled.
An alternative is to remove the varnish from the wood and apply a new coat. This will snap up the sled. My preference is to leave the metal parts untouched.
Cleaned up but not restored, your sled has a value between $125.00 and $175.00, based on the very purpose for which you used it – a decorative accent piece. Restored professionally, not by you, its value will double to triple to a sled collector.
The sled is not a museum piece. It belongs to you. You decide what is right and do it.
---
Harry L. Rinker welcomes questions from readers about collectibles, those mass-produced items from the twentieth and twenty-first centuries. Selected letters will be answered in this column. Harry cannot provide personal answers. Photos and other material submitted cannot be returned. Send your questions to: Rinker on Collectibles, 5955 Mill Point Court SE, Kentwood, MI 49512. You also can e-mail your questions to harrylrinker@aol.com. Only e-mails containing a full name and mailing address will be considered.
You can listen and participate in WHATCHA GOT?, Harry's antiques and collectibles radio call-in show, on Sunday mornings between 8:00 AM and 10:00 AM Eastern Time. If you cannot find it on a station in your area, WHATCHA GOT? streams live on the Internet at www.gcnlive.com.
SELL, KEEP OR TOSS?: HOW TO DOWNSIZE A HOME, SETTLE AN ESTATE, AND APPRAISE PERSONAL PROPERTY (House of Collectibles, an imprint of Random House Information Group, $17.99), Harry's latest book, is available at your favorite bookstore and via www.harryrinker.com.